Where to invest in Japan's local regions
Ibaraki
Active in Attracting Foreign Companies
Tsukuba Science City
Kashima port with a developed petrochemical complex
Bring Innovation to Your Business by Establishing an R&D Center in Ibaraki Prefecture
Regional News
Contact
International Public Relations Team, Department of Business Strategy
Kasahara-cho 978-6, Mito City, Ibaraki Prefecture, 310-8555
---
Basic information
Population *1
Labor force *1
Nominal GDP*2
Number of Establishments*3
JETRO office
*1

Population Census 2015, Ministry of Internal Affairs and Communications

*2

Prefectural Citizens'Economic Accounts 2018, Cabinet Office

*3

"2016 Economic Sensus", Statstics Bureau, Ministry of Internal Affairs and Communications
Basic information updated on:Jan. 2022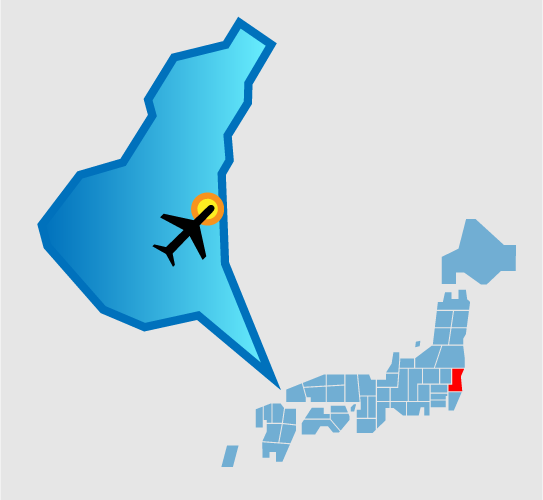 Business Environment
Ibaraki Prefecture is located about 100km from Tokyo and has a population of around 3 million. It comprises a vast flat terrain, which is highly suitable for industrial development. It is home to Tsukuba, Japan's most extensive research and academic city, and the birthplace of Hitachi, Ltd.
Ibaraki boasts one of the nation's leading industrial agglomerations with the Hitachi City, where Hitachi-related businesses cluster, and the Kashima Coastal Industrial Zone (Kashima Industrial Complex), with the concentration of petrochemical and other materials industries. In recent years, Hino Motors, Megmilk Snow Brand, and other companies have expanded into the area one after another. Ibaraki has established a high reputation as an industrial base close to the Tokyo metropolitan area.
Among foreign-affiliated companies, Valeo Japan Co., Ltd., an automotive parts supplier, Autoliv Japan Ltd., an automotive parts manufacturer, and Acty Co., Ltd., which conducts research and development of advanced technologies and high-performance materials, have established operations.
Incentives
Subsidy for the Establishment of a Project Facility
Subsidies
Subsidy of up to 6.6 million yen is available to foreign-owned businesses establishing new offices, etc., in the prefecture to cover part of related expenses.

Establishing expenses: 1/2 of them is granted up to 2 million yen (Market research expenses when establishing the corporation, expenses for various registration procedures for incorporation, expenses for obtaining a resident status, interpretation and translation expenses related to the above)

Rent: 1/2 of rent is granted up to 2.4 million yen (up to 12 months from the lease inception date)

R&D expenses: 1/4 of them is granted up to 2 million yen (Personnel, outsourcing, supplies, depreciation expense, etc. related to research and development)
Exemption from prefectural and municipal taxes
Others
Exemption from prefectural and municipal taxes when establishing or expanding an office, etc., in the prefecture. (subject to certain conditions)

Corporate enterprise tax: Exemption from corporate enterprise tax for three years depending on the number of employees increasing with the establishment or expansion of offices, etc.

Real estate acquisition tax: Exemption from real estate acquisition tax on buildings and land (building sites only) related to the establishment or expansion of offices, etc.

Fixed assets tax: Exemption from fixed assets tax associated with the establishment or expansion of new plants, offices, etc. (only in some municipalities.)
Reduction of industrial water tariffs
Others
Reduction of the industrial water supply rate of enterprises establishing a business in the designated area to one-half for three years from the start of water supply.
Startup Visa
Industrial cluster information
R&D bases
Tsukuba City, Ibaraki Prefecture, is home to one-third of the national research institutes, forming Japan's largest science city. These research institutes are actively conducting joint development with private companies. Private companies can also use the facilities of these research institutes. Moreover, the Tsukuba Life Science Promotion Association (TLSK) has established a network consisting of 60 research institutions, universities, and companies. Ibaraki prefecture offers the optimum environment as a research and development base.
Local companies

CYBERDYNE,INC, Valeo Japan Co., Ltd., Autoliv Japan Ltd.
Educational/research institutes of the industry

University of Tsukuba, National Institute of Advanced Industrial Science and Technology (AIST), National Institute for Materials Science(NIMS), KEK, the High Energy Accelerator Research Organization, a total of 29 research institutes
Industries that use innovative technologies and skills, such as IT and robotics
Hitachi City, Ibaraki Prefecture, is the birthplace of Hitachi, Ltd., a general electrical machinery manufacturer. The city has developed as one of Japan's leading industrial clusters consisting of approximately 350 manufacturing companies. The companies in this region have the production technology necessary for the manufacturing industry, such as electric machinery and metal products, and the high technical skills to ensure Hitachi's quality standards. The city has an optimal environment for companies looking to materialize innovative ideas such as IoT and robotics into products.
Local companies

Hitachi, Ltd., Mitsubishi Power, Ltd., EVO Japan K.K.
Educational/research institutes of the industry
Links
Local governments
Educational institutions
Research institutions
Living environment
Ibaraki Prefecture enjoys good access to Tokyo and Narita Airport. At the same time, it has a vast plain and a rich natural environment such as the sea and mountains, offering a well-balanced living environment.
In Ibaraki Prefecture, the prefectural government and the Ibaraki International Association, and municipalities cooperate to support foreign residents' living matters in various fields.
Hospitals with foreign language support
Logistics and infrastructures
Ibaraki Prefecture is about 100 kilometers from Tokyo, the center of Japan's economy, and is also close to Narita Airport, and accessible in about an hour from both. The prefecture has two major ports: Ibaraki Port (Hitachi District, Hitachinaka District, and Oarai District) and Kashima Port. The prefecture's major ports and places are connected to Tokyo and Narita by four expressways, providing excellent access to overseas and the rest of Japan.
Air: Approx. 55 minutes from Narita Airport to Tsukuba City
Land: 45 minutes from Akihabara Station (Tokyo) to Tsukuba Station by Tsukuba Express
Map of Ibaraki
Support
We promise smooth business development in Ibaraki through one-stop services, such as introductions to research institutions and support agencies, real estate information, and incubation facilities!
Active in Attracting Foreign Companies
*Local governments that are active in attracting foreign-affiliated companies" are the local governments that are active in bringing in foreign companies in JETRO's support program. For details, please refer to the support program pages.
Success Stories in Ibaraki
Business Expanding
Contact Us
Investing in Japan
We will do our very best to support your business expansion into and within Japan. Please feel free to contact us via the form below for any inquiries.
Inquiry Form
JETRO Worldwide
Our network covers over 50 countries worldwide. You can contact us at one of our local offices near you for consultation.
Overseas Offices