Where to invest in Japan's local regions
Sagamihara city
Around Hashimoto Station (planned site for Linear Chuo Shinkansen Station)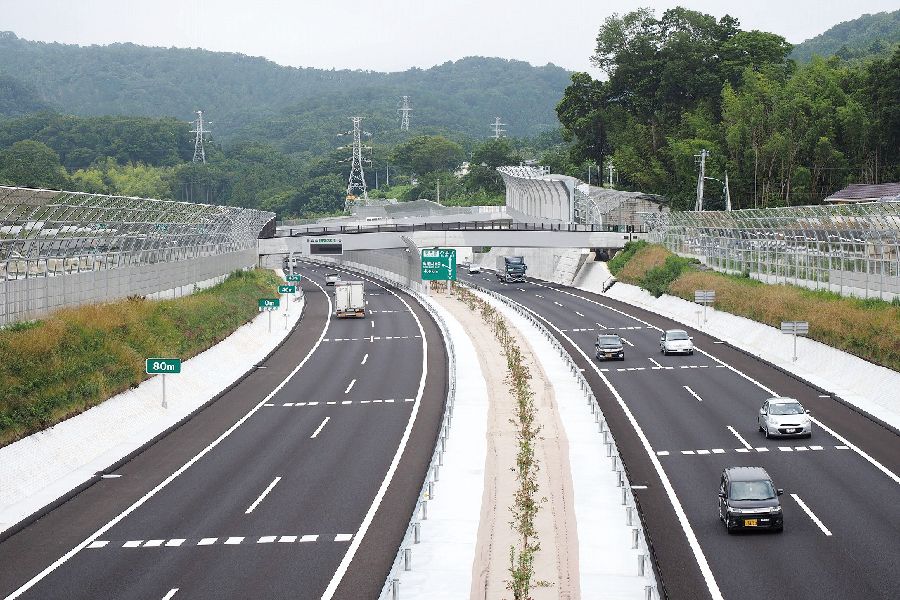 Metropolitan Inter-City (Ken-O) Expressway Sagamihara IC
Sagamihara, aiming to become a global robotics business base
Regional News
Contact
Industrial and employment policy division
2-11-15 Chuo, Chuo-ku, Sagamihara-city, Kanagawa Prefecture, 252-5277
---
Basic information
Population *1
Labor force *1
Nominal GDP*2
Number of Establishments*3
JETRO office
*1

Population Census 2015, Ministry of Internal Affairs and Communications

*2

Prefectural Citizens'Economic Accounts 2018, Cabinet Office

*3

"2016 Economic Sensus", Statstics Bureau, Ministry of Internal Affairs and Communications
Basic information updated on:Jan. 2022
Business Environment
Sagamihara City, organized as a municipality in 1954, has developed as a leading inland industrial city in Japan since it introduced the "ordinance for attracting factories" in 1955 by developing industrial parks and encouraging global companies to establish a business in the City.
Consequently, the City has accumulated industries with advanced technologies and attracted numerous manufacturing companies winning markets in Japan and overseas.
Moreover, Sagahimara City has been selected as a site for the Linear Chuo Shinkansen station, boosting the City's future potential.
Incentives
Sagamihara industrial accumulation promotion program (STEP50)
Subsidies
Subsidy to cover up to 40% (maximum amount: 1billion yen) of the expenditures for establishing a factory etc.
(The following items 1 to 3 can be used in combination.)

Land acquisition costs, building construction costs
1. Companies qualifying as engaging in leading industries ("Aerospace" and "Robotics"): 20% (maximum amount: 1 billion yen)
2. Companies relocating their headquarters functions to the City when establishing a factory, etc. in the City: 10% (maximum amount: 1 billion yen)
3. Companies without an existing factory etc. in the City, who establish a business base in the City for the first time: 10% (maximum amount: 1 billion yen)

Building construction costs
Companies that have been operating in the City for 30 years or more: 10% (maximum amount: 400 million yen)
Industrial cluster information
Robotics-related industries
Aiming to become an international base for robotics business, Sagamihara City is focusing on attracting robotics-related industries. In addition to enhancing incentives offered for establishing a robotics-related industry base in Sagamihara, Sagamihara Robot Support Center was established in September 2015 to promote the development of human resources specializing in robotics and the introduction of industrial robots.
Local companies

Aichi Sangyo Co ., Ltd., Fuyou Jitsugyo Co., Ltd. Sagamihara Plant
Educational/research institutes of the industry

Sagamihara Robot Business Council
Links
Living environment
Sagamihara City Hall provides a consultation counter for foreign residents to help them in day-to-day matters. Advisors provide information in Chinese, Spanish, Portuguese, and English. It has also established Sagamihara International Lounge as a place for foreign residents to access information, foreign residents support organizations to conduct activities and promote international social exchange.
Logistics and infrastructures
Sagamihara City is located in the southwestern part of the Tokyo area, just 40 km away from central Tokyo.
The City boasts good accessibility to central Tokyo, taking advantage of a variety of well-organized public transportation networks: Odakyu Line, Keio Line, JR Chuo Line, Chuo Expressway, JR Yokohama Line/Sagami Line, and arterial-road networks, such as National Routes 16, 20 and 129 and the Ken-O Expressway. Moreover, Sagahimara City has been selected as a site for the Linear Chuo Shinkansen station, boosting the City's future potential.
Tomei Expressway (Yokohama Machida Interchange)
Chuo Expressway (Sagamiko Interchange)
Ken-O Expressway(Sagamihara Aikawa Interchange and Sagamihara Interchange)
Approx. 1 hour and 15 minutes from the Haneda Airport by train
Approx. 1 hour from Port of Yokohama by car
Haneda Airport to Hashimoto: 75 minutes
Shin-Yokohama to Hashimoto: 30 minutes
Shinjuku to Hashimoto: 37 minutes
Shinjuku to Sagami-Ono: 30 minutes
Shinjuku to Lake Sagami: 50 minutes
Map of Sagamihara city
Support
Sagamihara Incubation Center is a business incubation center to support startups and venture businesses. It provides office space and laboratories and offers various support measures for industry-academia collaboration and R&D, human resource development, and overseas sales channel development.
Success Stories in Sagamihara city
Business Expanding
Contact Us
Investing in Japan
We will do our very best to support your business expansion into and within Japan. Please feel free to contact us via the form below for any inquiries.
Inquiry Form
JETRO Worldwide
Our network covers over 50 countries worldwide. You can contact us at one of our local offices near you for consultation.
Overseas Offices