Reason1. World's third largest economy
Domestic Competition
(Market competitiveness evaluated on the extent of market dominance, competiti on in services etc.)
World
No. 5
The Global Competitiveness Report 2019(World Economic Forum)
---
| Rank | Country | Nominal GDP |
| --- | --- | --- |
| 1 | United States | 213,744 |
| 2 | China | 143,429 |
| 3 | Japan | 50,818 |
| 4 | Germany | 38,456 |
| 5 | India | 28,751 |
| Rank | Country | Nominal GDP |
| --- | --- | --- |
| 6 | United Kingdom | 28,271 |
| 7 | France | 27,155 |
| 8 | Italy | 20,012 |
| 9 | Brazil | 18,398 |
| 10 | Canada | 17,364 |
[Source] "GDP (Current US$)" (World Bank)
---
[Source]Ministry of Finance and Bank of Japan "International Investment Position", Cabinet Office "National Accounts of Japan"
---
Japan's regional economies have GDPs as big as those of other countries
Japan's economic power is not limited to Tokyo.
Japan's regional economies have GDPs as big as those of European and Asian countries.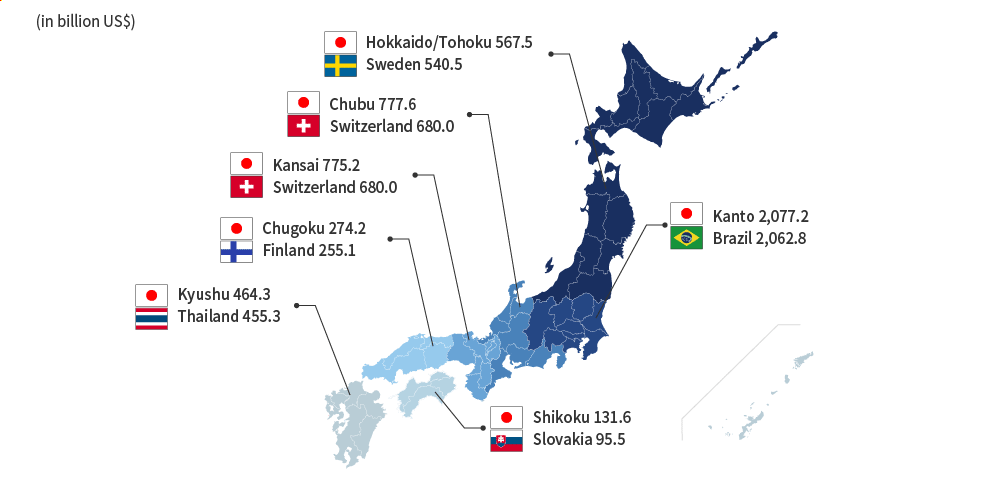 [Source] Cabinet Office, Fiscal 2017 Prefectural Accounts, October 2020.
---
Evaluation by Foreign Affiliates:The Greatest Attractiveness of Japan is its market
The attractiveness of investing in Japan for companies is "the large market size" and "the potentiality to verify new products and services' competitiveness."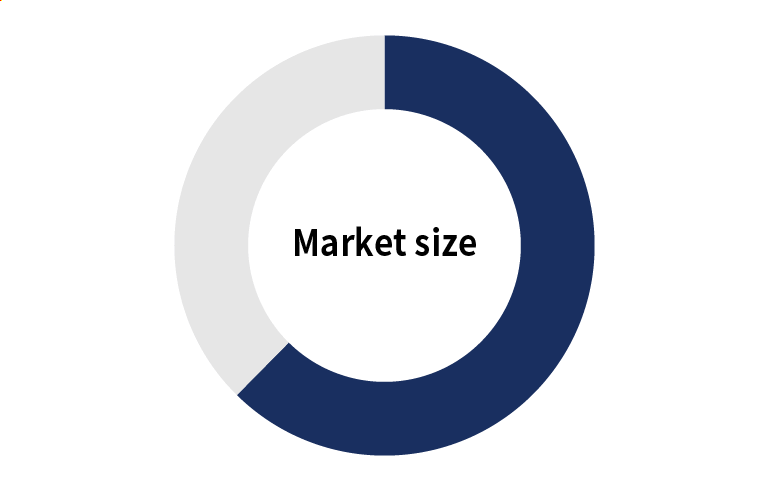 ---
High income levels and large customer base for
products and services
(Large market size)
---
Sensitive to the added value and trends of products and services and can verify new products' and services' competitiveness.
[N.B.] A total of 2558 companies responded. Respondents selected up to five "attractiveness in business development in Japan" in the questionnaire.

[Source] Compiled from "53rd Survey of Trends in Business Activities of Foreign Affiliates (conducted in connection with business for FY2018)" (METI)
---
Japan aims to be the "frontrunner in solving social challenges"
As Japan faces various social issues such as the declining birthrate and aging population and regional disparities, there is a strong need for digital innovation and diverse businesses.
[Source]"Global Structural Changes and Japanese Responses (May 2018)" (METI)
---
---
WHY JAPAN? "5 Reasons to Invest in JAPAN"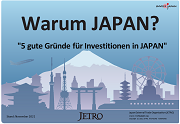 Reason 1 World's third largest economy

Reason 2 Open as an innovation hub

Reason 3 Excellent business environment

Reason 4 Stable infrastructure

Reason 5 Livable society