Where to invest in Japan's local regions
Gunma
PR video:VISIT GUNMA "Bathed in Beauty" (1分12秒)
Tomioka Silk Mill and Gunma-chan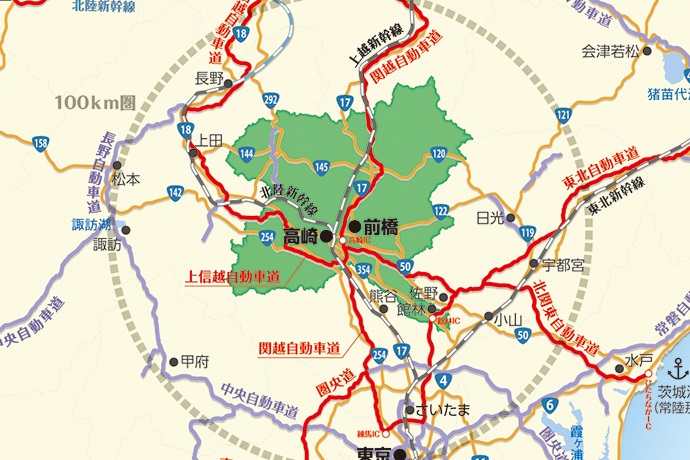 Transportation network
Gunma Prefecture - an ideal inland location with an extensive express transportation network and less natural disasters
Regional News
Contact
Future Investment Promotion Office
1-1-1, Ote-machi, Maebashi-shi, Gunma, 371-8570
---
Basic information
Population *1
Labor force *1
Nominal GDP*2
Number of Establishments*3
JETRO office
*1

Population Census 2015, Ministry of Internal Affairs and Communications

*2

Prefectural Citizens'Economic Accounts 2018, Cabinet Office

*3

"2016 Economic Sensus", Statstics Bureau, Ministry of Internal Affairs and Communications
Basic information updated on:Jan. 2022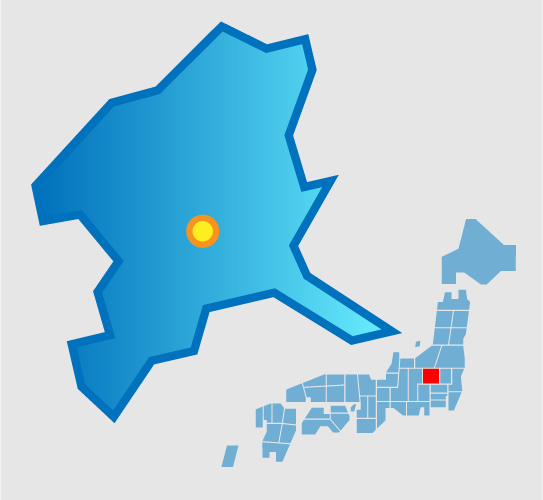 Business Environment
Gunma Prefecture, home to large corporations such as Subaru Corporation, is known as a hub of automotive, electrical equipment and food industries. Gunma is blessed with beautiful and rich nature, and high quality and abundant water resources. It is an area with easy access to the large market of Tokyo and the rest of Japan through the express transportation network, and it has low risk of disasters, making the prefecture ideal not only for factories but also for distribution functions and backup bases.
Incentives
Preferential treatment based on the Regional Future Investment Promotion Act
Tax reduction
When conducting a project that creates high added value taking advantage of the characteristics of the region and invigorates the regional economy with economic ripple effects (leading projects for invigorating regional economies), preferential measures such as the Prefectural Tax System to Promote Regional Future Investment can be utilized by preparing a "plan of a leading project for invigorating the regional economy" in line with the Gunma Prefectural Basic Plan and receiving approval from the governor (and consent from the national government).
Industrial cluster information
Transportation machinery-related industries
Gunma Prefecture is a "manufacturing prefecture" where the manufacturing industry accounts for more than 30% of the prefecture's total production. Along with major companies including Subaru Corporation, the prefecture has a concentration of small and medium-sized enterprises with high technological capabilities in fundamental technologies such as mold designing/manufacturing and metalworking. Industries related to transportation equipment account for about 40% of shipment value of products made in the prefecture.
Local companies

SUBARU CORPORATION, IHI AEROSPACE Co., Ltd.
Educational/research institutes of the industry

Department of Production Systems Engineering, School of Science and Technology, Faculty of Engineering, Gunma University, Maebashi Institute of Technology, National Institute of Technology, Gunma College
Environment and energy-related industries
Based on the industrial clusters, technologies, human resources and regional resources related to "manufacturing" that have been cultivated over the years, various efforts are being made to aggregate and promote "environment and energy-related industries" that will create environmental technologies and products associated with energy-saving and utilization of new energy.
Educational/research institutes of the industry

Department of Production Systems Engineering, School of Science and Technology, Gunma University, Faculty of Engineering, Maebashi Institute of Technology, and National Institute of Technology, Gunma College
Healthcare and food industries
In Gunma Prefecture, industry, academia, and government are working integrally to establish a base for advanced medical industry, backed by the presence of universities and hospitals that are the nation's leading centers of education and research in medicine and healthcare, and companies with world-class biotechnology. The prefecture also has a cluster of large corporations producing "national-brand" products as well as SMEs taking advantage of regional agricultural resources.
Local companies

Kyowa Kirin Co., Ltd., Meiji Co., Ltd., Suntory Holdings Limited, POKKA SAPPORO FOOD & BEVERAGE LTD.
Educational/research institutes of the industry

Gunma University, Higher education institutions such as Maebashi Institute of Technology, Takasaki Advanced Radiation Research Institute, National Institutes for Quantum and Radiological Science and Technology, and Gunma Industrial Technology Center
Living environment
Gunma Prefecture has a lot of beautiful nature, such as the Oze National Park. The abundant and clean water flowing from the mountains surrounding the prefecture becomes the Tone River, bringing many blessings to the Kanto Plain. The prefecture is also rich in hot spring and there are many hot spring resorts throughout the prefecture, which are famous nationwide. Gunma Prefecture not only offers an excellent operating environment for companies with its well-developed expressways, etc., but also offers an excellent living environment for employees with its nature that is close to them, including mountains and hot springs, as well as its abundant and clean water that nurtures fresh vegetables, and its proactive efforts to ensure food safety as an agricultural prefecture.
Hospitals with foreign language support
Logistics and infrastructures
Gunma Prefecture is about 100 km from Tokyo; one of the major markets, and about one hour away by using express transportation. It is located in the "crossroads of express transportation" with the Kanetsu Expressway, Tohoku Expressway, and Joetsu Shinkansen to the north and south, and the Joshinetsu Expressway, Kita-Kanto Expressway, and Hokuriku Shinkansen to the east and west, enabling speedy business development considering access to other locations throughout the country.
By land: About one hour each to Tokyo, Niigata, and Nagano by Joetsu Shinkansen or Nagano Shinkansen
Map of Gunma
Support
The Public-Private Joint Creation Space NETSUGEN established on the 32nd floor of the prefectural government building, is a place where people who want to shape their ideas by using digital technology, entrepreneurs who aim to develop their businesses, and people and businesses who support them meet and interact with each other. The aim is to form a virtuous cycle with ideas at the core, in which regional issues to be solved, human resources, digital technology and knowledge are accumulated and combined to create a series of new innovations that will lead to social change. In addition, there is the Gunma Industrial Technology Center, which provides various assistances, including technical support, R&D, provision of information, and human resource development for companies in the prefecture.
Success Stories in Gunma
Business Expanding
Contact Us
Investing in Japan
We will do our very best to support your business expansion into and within Japan. Please feel free to contact us via the form below for any inquiries.
Inquiry Form
JETRO Worldwide
Our network covers over 50 countries worldwide. You can contact us at one of our local offices near you for consultation.
Overseas Offices