JETRO Invest Japan Report 2021
Chapter3. JETRO's Efforts to Promote Investment in JapanSection1. JETRO's Track Record of Supporting Foreign Companies
96 successful invitations in fiscal 2020
The "Basic Policies for Economic and Fiscal Management and Reform 2021" released by the Japanese government in June 2021 states that Japan will further promote foreign direct investment in Japan in order to attract advanced human resources, technologies and funds from overseas, and link them with Japan's technological and R&D capabilities, leading to the creation of innovation, and strengthening supply chains. The government continues to place importance on attracting foreign companies as it contributes to the development of the Japanese economy and society.
JETRO continues to support foreign companies in establishing bases in Japan, and developing business in the Japanese market. In fiscal 2020, JETRO provided support to 1,020 companies through its Japan Investment Promotion Project, and 96 of them established bases or expanded their business in Japan (Chart 3-1).
Chart 3-1: Investment Projects Supported and Successfully Attracted by JETRO in FY2020

| Fiscal Year | 2020 |
| --- | --- |
| Successful Investment | 96 |
| Project Supported | 1020 |
Looking at the number of successful cases in fiscal 2020 by region of origin of the parent company, the percentages were 37.5% in Asia, 29.2% in Europe, and 28.1% in North America (Chart 3-2).
As in previous years, the U.S. accounted for the largest share of all countries with 22.9% (Chart 3-3). China was the second largest at 14.6% of the total, followed by Germany (10.4%), France (6.3%), and other European countries.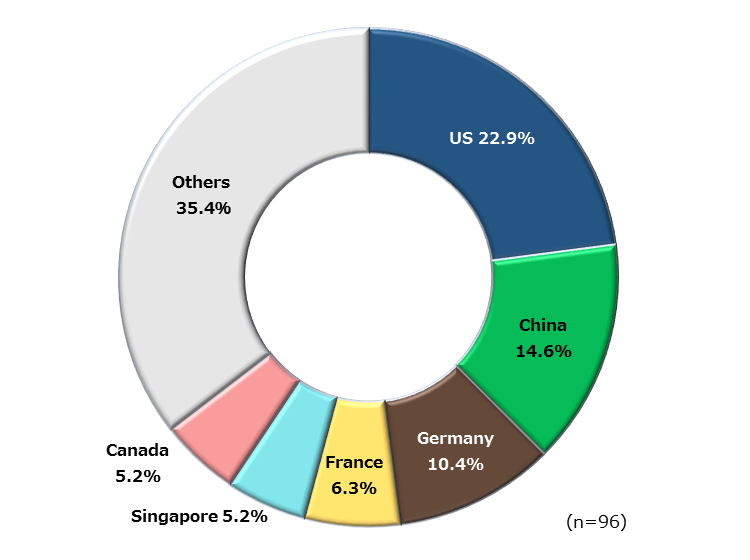 Looking at successful projects by industry in fiscal 2020,as in fiscal 2019, ICT and telecommunications continued to be the largest (34.4% of the total), followed by electrical and electronic equipment and parts (13.5%), pharmaceuticals and medical equipment, and related services (11.5%) (Chart 3-4). A breakdown of successful projects in Japan shows 60.4% in Tokyo, 11.5% in Kanagawa, and 5.2% in Osaka (Chart 3-5).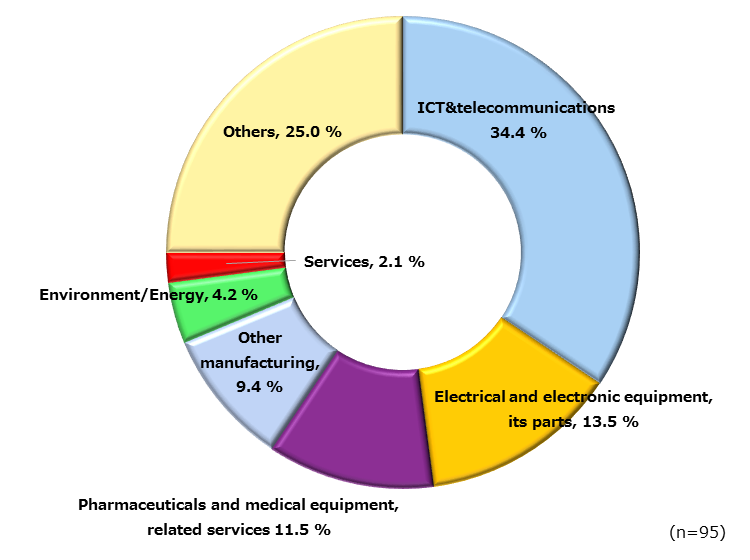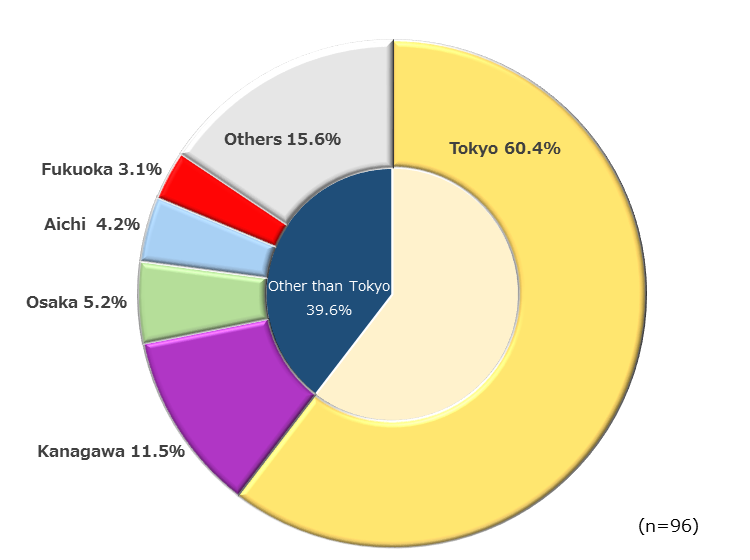 Since fiscal 2019, JETRO has strengthened its support for foreign companies, especially engaged in the following industries, in order to contribute to the creation of innovation in Japan through the attraction of foreign companies (Chart 3-6).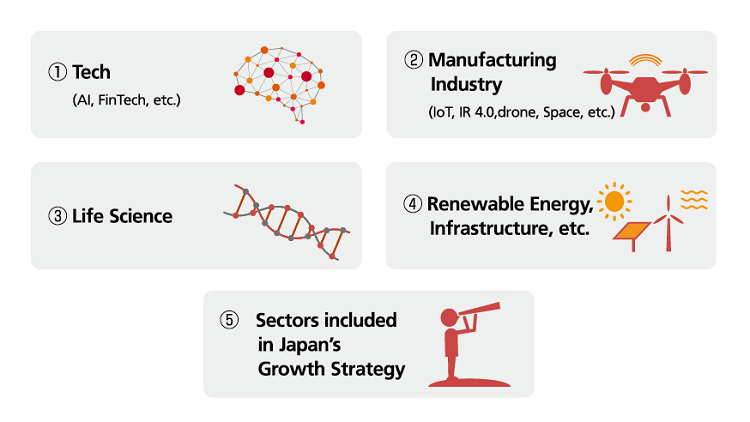 Looking at the companies that have established bases with support from JETRO in 2020, there are companies that are active in the COVID-19 pandemic, including MiRXES, a Singapore company which has successfully mass-produced PCR test kits for COVID-19, and Schulke & Myer GmbH, a German company which manufactures and sells anti-infective products for medical institutions. In addition, Companies that help solve Japan's social issues, such as Exotec, a French company which develops and manufactures automation solutions for retail and manufacturing warehouses, have entered the Japanese market, in response to the demand for automation due to the declining birthrate and aging population, as well as regional disparities (Chart 3-7)
Chart 3-7: Foreign companies that have expanded into Japan with the support from JETRO
Corporate Name:
Nationality:
Overview:
MiRXES Japan Corporation
Singapore
MiRXES (Singapore) is a biotech company that develops and expands the world's first testing tool for diagnostics of early-stage gastric cancer using microRNAs (miRNA) in the blood as biomarkers. In 2020, it succeeded in mass production of Fortitude Kit, a RT-PCR test kit for COVID-19, using this technology. The product, which has been tested and demonstrated in more than 80% of all Singapore hospitals, is deployed in more than 20 countries, including New Zealand, and Southeast Asian and Latin American countries.
In January 2020, the company established MiRXES Japan Co., Ltd. in Chiyoda-ku, Tokyo. The company's innovative microRNA technologies and will enable simpler and more precise diagnostics for common cancers in Japan, such as gastric cancer. Upon establishing its Japanese base, JETRO's Invest Japan Business Support Center (IBSC) provided consultation (labor and registrations), information (regulatory affairs), introduction of service providers, and PR support.
Schulke & Mayr GmbH
Germany
Schulke & Mayr GmbH (Schulke & Mayr) is a German medical and hygiene company that manufactures and sells infectious disease control products for medical institutions. In 2015, as Air Liquide Japan's healthcare and hygiene business unit, the company took over hand disinfection products from Johnson & Johnson and provided infectious disease control products to medical institutions.
With the outbreak of the novel coronavirus disease (COVID-19) worldwide, the study conducted by the German headquarters showed that mikrozid® Universal Wipes Premium, disinfection wipes with low alcohol content used mainly in medical facilities, and mikrozid® Sensitive Wipes, alcohol-free wipes primarily used in dental clinics and scientific research facilities, and both passed the European standards (EN14476) using the novel coronavirus (SARS-CoV-2). These two products, which are not subject to the Japanese pharmaceutical laws and regulations (categorized as miscellaneous products), are already sold in Japan, contributing to the prevention of infections, including COVID-19, at Japanese medical facilities.
To accommodate the expanding business, the company established Schulke Japan LLC in Tokyo in June 2020. Upon establishing its Japanese base, JETRO's Invest Japan Business Support Center (IBSC) provided consulting (tax) and market information.
EXOTEC
France
Exotec is a French robotics manufacturer that develops and manufactures flexible automation solutions for warehouses of retailers, e-commerce players, and manufacturers. Founded in 2015, it has a total of 300 employees in Europe, United States, and in Japan. The company is developing its business in nine countries around the world with revenues expected to exceed 100 million dollars in 2021. In September 2020, the company raised 90 million dollars in a Series C round of investment.
The company's automated picking robot system Skypod can move in three-dimensions up to a height of 12 meters at a speed of 4 meters/second with a loading capacity of 30kg. By effectively utilizing space to store inventory at a high density, the storage volume can be increased five times compared to the conventional shelf-type picking. In addition, it is possible to introduce additional shelves and robots quickly and in stages according to inventory volume and business flow without interrupting operations, which is one of the features of the system that allows client companies to invest in warehouses at the pace of their business expansion. The warehouse control system ASTAR manages the work plan, and tracks and records the positions of cases and robots in the warehouse in real time.
In January 2020, the company established EXOTEC NIHON CO., LTD. in Tokyo with the aim of cultivating new customers and responding to existing customers. In Q1 of the same year, it established a warehouse in Kyoto Prefecture, and began full-scale activities in Japan. In 4Q of 2021, its Tokyo office will relocate to Minato Ward. Upon establishing its Japanese base, JETRO's Invest Japan Business Support Center (IBSC) provided regulatory and institutional information, introduced service providers and arranged meetings with them, and provided subsidies and incentives information, real estate property information, and also provided consultation (registration, visa, tax, and labor).
JETRO Invest Japan Report 2021
Chapter1.

Macroeconomic and Inward/Outward Foreign Direct Investment Trends in the World and Japan

---

Chapter2.

Japan's Business Environment and Foreign-Affiliated Companies

Section1.

Section2.

Section3.

Chapter3.

JETRO's Efforts to Promote Investment in Japan

---
PDF
お問い合わせ
フォームでのお問い合わせ
ジェトロはみなさまの日本進出・日本国内での事業拡大を全力でサポートします。以下のフォームからお気軽にお問い合わせください。
お問い合わせフォーム
お電話でのお問い合わせ
拠点設立・事業拡大のご相談:

自治体向けサポート:

その他の対日投資に関するお問い合わせ:
受付時間
平日9時00分~12時00分/13時00分~17時00分
(土日、祝祭日・年末年始を除く)