Where to invest in Japan's local regions
Tottori
Tottori Sand Dunes
Matsuba crab
Tottori, aiming to agglomerate three growing industries - automobile, aircraft, and medical devices
Regional News
Contact
Department of Commerce, Industry and Labor Industrial Location Strategy Division
1-220 Higashimachi, Tottori-city, Tottori Prefecture, 680-8570
---
Basic information
Population *1
Labor force *1
Nominal GDP*2
Number of Establishments*3
JETRO office
*1

Population Census 2015, Ministry of Internal Affairs and Communications

*2

Prefectural Citizens'Economic Accounts 2018, Cabinet Office

*3

"2016 Economic Sensus", Statstics Bureau, Ministry of Internal Affairs and Communications
Basic information updated on:Jan. 2022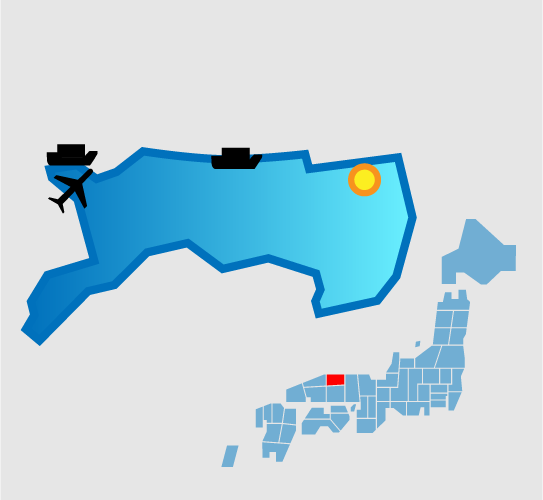 Business Environment
The prefecture boasts the manufacturing industry as a core industry, thanks to the electronic components and devices industries that established their mass productions in the prefecture from around the late 1980s to early 1990s. The product shipment value in the prefecture was 80.55 million yen (2019 Census of Manufacturers). The prefecture is the home of clusters in a variety of industries. Manufacturers of electronic components and devices, information and communications equipment, and electrical parts and devices gather in the prefectures' eastern and central areas. The prefecture has been proactively engaging in creating new industries by medical innovation, such as medical equipment and drug discovery, and service innovation, including BPO, data center, tourism industry, and content industry, which attract public attention as growing fields.
Incentives
Our incentive programs
Subsidies
Tottori Prefecture offers some of the most generous incentive programs in Japan, to support companies moving into the prefecture. Municipalities also have their own subsidy programs that can be effectively combined with the prefecture programs.

- Support for foreign companies establishing business
- Port/harbor use promotion funds
- Funding to assist the overseas development of companies based in Tottori
- Sakaiminato: subsidy program for new overseas container shippers
- Subsidies to support industrial growth
- Subsidies to create next generation software industries, etc.
Industrial cluster information
Automobile, Aircraft, Medical devices
The prefecture strategically attracts companies by utilizing technologies and services that have developed around the cluster of electromechanical industry, including electronic components/devices. Tottori can also provide ample numbers of skilled personnel.
Local companies

INATEC, IMAI AERO-Equipment MFG. CO. LTD, MICOTO Technology Inc., J.MORITA MFC. CORP.
Educational/research institutes of the industry

Tottori Industrial Promotion Organization, Tottori Institute of Industrial Technology, Tottori University, Yonago National College of Technology, Industrial high schools throughout the prefecture
Living environment
The clear blue waters of the Sea of Japan and rich green mountains are part of Tottori's inspiring natural surroundings. 20th Century pears and many other farm products are grown, and fresh seafood lands here. This rich environment enables residents to enjoy peaceful and slow-paced lives. Both the prefectural government and municipalities offer a variety of programs to attract permanent residents in Tottori Prefecture.
Logistics and infrastructures
Tottori Prefecture is in western Honshu. Its location along the beautiful coastline of the Sea of Japan and the verdant mountainous area of Chugoku is blessed with striking natural surroundings. The Sakaiminato Foreign Access Zone (FAZ), is a gateway for land (Yonago Expressway), sea (Sakai Port), and air (Yonago Airport) transport, and one of the largest port/harbor zones in the San-in District. It is developing as a "western Japan base for promoting interactions among the Sea of Japan rim," linking locations such as China, the Korean peninsula, Russia, the Kansai Region, and around the Seto Inland Sea. The Takeuchi Industrial Park located within the Sakaiminato FAZ is adjacent to the international trading port of Sakaiminato and offers easy access to Yonago Airport, which operates scheduled international flights to and from Seoul, South Korea, and Hong Kong.
Yonago Airport:
Seoul - Yonago: 3 flights weekly (1 hour 30 minutes)
Tokyo - Yonago: 6 flights daily (1 hour 10 minutes)
Hong Kong - Yonago: 2 flights weekly (1 hour)
Tottori Airport:
Tokyo - Tottori: 5 flights daily (1 hour)
Both airports are located adjacent to the city (about 20 minutes by car)
Map of Tottori
Support
Advice on the matters related to entering the Japanese market
Provision of facilities including an incubation office
Success Stories in Tottori
Business Expanding