Where to invest in Japan's local regions
Nagoya city
Active in Attracting Foreign Companies
PR video:NAGOYA'S POTENTIAL REVEALED (4'53")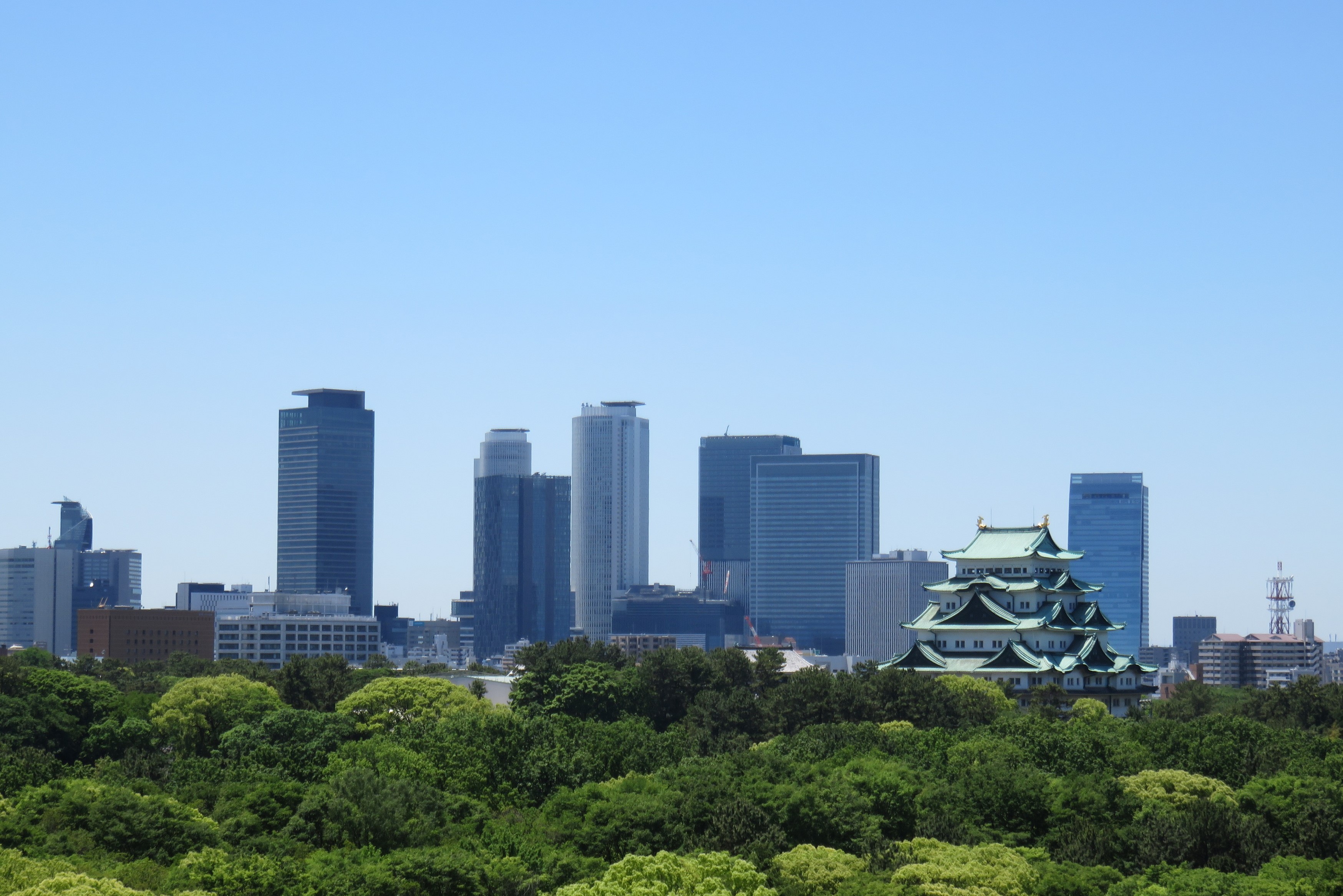 Nagoya Station Nagoya Castle
Nagoya city
The central city of Greater Nagoya - one of the world's largest centers for monodzukuri (manufacturing)
Regional News
Contact
Domestic and International Industrial & Commercial Properties Office, Innovation Promotion Department, Economic Affairs Bureau
1-1, Sannomaru 3-chome, Naka-ku, Nagoya, 460-8508
---
Basic information
Population *1
Labor force *1
Nominal GDP*2
Number of Establishments*3
JETRO office
*1

Population Census 2015, Ministry of Internal Affairs and Communications

*2

Prefectural Citizens'Economic Accounts 2018, Cabinet Office

*3

"2016 Economic Sensus", Statstics Bureau, Ministry of Internal Affairs and Communications
Basic information updated on:Jan. 2022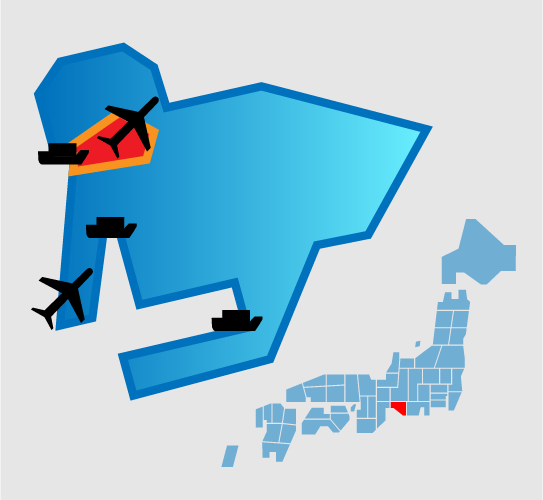 Business Environment
Nagoya area is one of Japan's three major economic regions, where manufacturing industries such as automobile, aircraft, and machine tools agglomerate. Its scale is the largest in Japan. Commerce and service businesses have flourished in Nagoya, the region's central city, building upon its extensive manufacturing industry base. Consequently, the city has a well-balanced industrial structure. Because of its central location in Japan and well-developed land, marine, and air traffic networks, the city benefits from convenient access from overseas and other parts of Japan. Nagoya City welcomes companies seeking new business opportunities with the best environment.
Incentives
Subsidy for the Promotion of Advancing into City of Nagoya for Foreign Companies
Subsidies
Eligible Companies: Foreign companies mainly engaged in a business in the following key industries: industries for solving environmental and energy problems, medical, welfare and health industries, creative industries, cutting-edge industries, and support industries
Requirements: For companies opening their first office in Nagoya City (First Entry in Nagoya City Type), office floor space of 20sqm or more, and two or more permanent employees.
For companies expanding their business within five years after entering the city (Business Expansion Type), increasing the floor space by 30sqm or more and hiring at least three new permanent employees.

Subsidized Expenses: 1/2 of the annual rent (excluding common area maintenance charges, security deposits, consumption tax, etc.)
Maximum Subsidy Amount: 3 million yen
Application Deadline: One day before signing the office/building lease agreement.
City of Nagoya Subsidy Program for Promoting Clusters of ICT and Other Companies
Subsidies
Eligible Companies: Companies mainly engaged in a business in the ICT, robots, digital contents, or creative industries.
Companies opening their first office in the city
Requirements (all of the followings must be met): floor space of 30sqm or more, 2 or more engineers and/or similar staff permanently stationed at the office opening
Subsidized Expenses: 1/2 of the annual rent, 1/2 of the costs of purchasing equipment, etc.
Maximum Subsidy Amount: 5 million yen
Companies expanding office floor area or leasing a new building within 5 years after opening the first office in Nagoya city.
Requirements (all of the followings must be met): expand office floor area by 30sqm or more for business expansion, employ 2 or more new full-time engineers or similar staff, invest 3 million yen or more in equipment, etc.
Subsidized Expenses: 1/2 of the annual rent, 1/2 of the costs of purchasing equipment, etc., 1 million yen subsidy per new employee
Maximum Subsidy Amount: 10 million yen
GNI Business Start-up Support Program
Subsidies
The Greater Nagoya Initiative Center (GNIC) supports foreign companies expanding into the Greater Nagoya and launching businesses.
(Implementing Organization: Greater Nagoya Initiative (GNI) Center)
GNIC provides the following subsidies for the following expenses to foreign-owned companies that meet the standards as a corporation or a foreign-owned company in the Greater Nagoya region, registering a corporation or branch, establishing a sales office, and testing research facility.
Expenses professional (attorneys at law, judicial scriveners, certified public accountants, certified tax accountants, administrative scriveners, social insurance and labor consultants) fees for legal advice, social insurance-related matters, and translation of registration-related materials, etc.) required for company registration and visa acquisition, expenses for recruitment advertisements or recruitment agency fees, real estate brokerage fees.
The upper limit for the sum of expenses and fees: 0.5 million yen for a company with planned investment (the amount of share capital) of 10 million yen or more, 0.3 million yen for a company with a planned investment of 5 million yen and less than 10 million yen, 0.2 million yen for a registered branch, business office, or testing research facility.
Startup Visa
Industrial cluster information
Nagoya's five key industrial sectors
The Nagoya area, centered on Nagoya City, is Japan's most significant hub of the automobile, fine ceramics, aerospace, and other high-tech industries. Many world's leading companies operate in this region and attract clusters of small and medium-sized companies with superior technical capabilities in a wide range of fields to support those companies.
Nagoya City designates five priority industries (environment and energy problem-solving industries, medical/welfare/health industries, creative industries, cutting-edge industries, and support industries) and actively attracts companies in these industries.
Prominent companies in the Nagoya area include automobile (Toyota Motor Corporation), fine ceramics (Noritake Co., Ltd.), and machine tool (MORI SEIKI CO., LTD.).
There are many research institutes and private companies in Nagoya Science Park. It aims to create a unique hub for research and development to promote advanced science technologies and new industries.
Nagoya University and Nagoya Institute of Technology are among the science and engineering universities clustered in the area. There also are institutions such as Nanzan University that are proactive in welcoming international students.
Local companies

OKAYA & CO., LTD., Brother Industries, Ltd., Daido Steel Co., Ltd., DMG Mori Co. ,Ltd. Noritake Co., Limited., NIPPON SHARYO, LTD., DAIDO METAL CO., LTD, Aichi Machine Industry Co., Ltd.
Educational/research institutes of the industry

Nagoya University, Nagoya Institute of Technology, Nagoya City University, Aichi Gakuin University, Daido University, Toyota Technological Institute, Meijo University, Kinjo Gakuin University, Aichi Institute of Technology
Others

Nagoya Chamber of Commerce & Industry, Central Japan Economic Federation, MESSE NAGOYA
Links
Research institutions
Others
Living environment
Nagoya City provides comfortable living conditions for foreign residents, such as spacious housing compared to Tokyo, well-developed road signs for foreign residents, and international schools conducting English language classes. The Nagoya International Center (NIC) provides information about daily living and offers a free consultation for foreign residents regarding the city services. The NIC Nihongo-no-Kai has organized Japanese language classrooms staffed by volunteers to provide basic Japanese language lessons and resident and lifestyle information to foreign residents in the Nagoya area.
Hospitals with foreign language support
Logistics and infrastructures
Nagoya City has well-developed land, sea, and air traffic networks. The Shinkansen trains, JR local trains, Meitetsu trains, Kintetsu trains, and long-haul bus lines directly connect with the giant Nagoya terminal station, which serves nearly 1 million passengers per day. The Chubu International Airport, a gateway to the world, is only 30 minutes away from the city. When the Linear Chuo Shinkansen starts operations, the travel time between Nagoya and Tokyo will be only about 40 minutes, and that between Nagoya and Osaka about 30 minutes. The Port of Nagoya, one of the world's largest trade ports in terms of total cargo throughput and the trade value, is directly linked to land transport's trunk routes, enabling efficient integrated seaborne and land transport. It has developed into an integrated international port equipped with logistic, production, disaster prevention, exchange, and transportation functions. It connects with 160 countries and regions worldwide and has been selected as the International Bulk Strategic Port.
Air: Approximately 30 minutes from Nagoya Station to Chubu Centrair International Airport. About 20 minutes from Nagoya Station to the prefectural Nagoya Airport.
Land route 1: Approximately 100 minutes for Tokyo and 50 minutes for Osaka using the Shinkansen. With the launch of the Linear Chuo Shinkansen, it will be possible to travel in about 40 minutes between Nagoya and Tokyo and about 30 minutes between Nagoya and Osaka.
Land Route 2: Nagoya, which is equipped with roads, is located at the center of the Tomei Expressway connected to the Tokyo District and the Meishin Expressway connected to the Kansai District. It takes approximately 4 hours to Tokyo and approximately 2 hours to Osaka.
Map of Nagoya city
Support
GNIC
It has a one-stop contact point for foreign companies interested in business development and expansion in Greater Nagoya. It provides information on the region, invites, arranges interviews, and supports expansion into overseas markets. It also provides information for companies to expand overseas, and dispatches missions.
Aichi-Nagoya International Business Access Center
I-BAC is a one-stop service organization that offers information, various consultation services and advice to foreign companies that plan to establish a presence in Aichi Prefecture and Nagoya.
Nagoya Business Incubator
As the most historical incubation office in Nagoya, this facility provides a place for IT venture companies and R&D venture companies to carve out warm eggs and grow them into outstanding birds. The company provides technical and management support services through industry-academia-government collaboration, centered on specialized incubation managers (IMs), and strives to grow and development startup enterprises and enterprises development new fields.
Active in Attracting Foreign Companies
*Local governments that are active in attracting foreign-affiliated companies" are the local governments that are active in bringing in foreign companies in JETRO's support program. For details, please refer to the support program pages.
Success Stories in Nagoya city
Business Expanding