JETRO Invest Japan Report 2017 (Summary)

4. Perception of the Business Environment in Japan among Foreign-affiliated Companies
Foreign-affiliated companies are generally performing well and positive about economic prospects
A questionnaire was sent to about 1,600 companies with a focus on foreign affiliates supported by JETRO in their entry into the Japanese market. 260 companies responded.
Foreign-affiliated companies are generally performing well and positive about economic prospects.
Outlook of the business conditions in Japan (over the next one or two years)
The business environment is getting better in Japan
The business environment in Japan is evaluated as improving as a whole.
Business environment in Japan – changes in comparison with past one to two years
[Note] Ratio of companies answering "It has been improved" or "It has been slightly improved" is shown as positive, while that of answering "It has got worse" or "It has got worse slightly" is shown as negative. Ratio of answers "It remains unchanged" is not shown in the chart.
70% of foreign-affiliated companies plan to expand their business and employment
70% of foreign-affiliated companies plan to increase investment within the next five years (expand their business/employment)
As locations for the secondary investment, Tokyo, Osaka, Kanagawa and Aichi and other large cities with a large market are ranked high.
In respect to business functions, Kanagawa and Hyogo were chosen for "R&D," Aichi and Okinawa for "Manufacturing" and Fukuoka for "Logistics," which reveals regional strengths.
Investment plans within the next five years

Projected number of employees in Japan (within the next five years)
Locations of secondary investment (top two prefectures)
Locations of secondary investment (top two prefectures) and types of business to expand(-: no data is available)
Locations of secondary investment (top two prefectures) and types of business to expand

| Rank | Prefecture | No. of projects | Most selected | Second most selected | Third most selected |
| --- | --- | --- | --- | --- | --- |
| 1 | Tokyo | 93 | Sales | Customer Service | Manufacturing, R&D |
| 2 | Osaka | 43 | Sales | Customer Service | Manufacturing, R&D |
| 3 | Kanagawa | 37 | Sales | Customer Service | R&D |
| 4 | Aichi | 25 | Sales | Customer Service | Manufacturing |
| 5 | Fukuoka | 14 | Sales | Customer Service | Logistics |
| 6 | Hyogo | 8 | Sales | R&D | Manufacturing |
| 7 | Hokkaido | 7 | Sales | Customer Service | Other |
| 8 | Tochigi | 4 | Manufacturing, R&D | - | - |
| 8 | Okinawa | 4 | Manufacturing | Sales, Customer Service | - |
| NA | Other | 35 | | | |
Foreign-affiliated companies' efforts to enhance productivity
More than 40% of foreign-affiliated companies answered that their productivity has improved compared with one or two years ago.
A considerable number of the companies have enhanced productivity by efforts related to so-called "work-style reform."
Company productivity compared with one or two years ago
Measures implemented in order to enhance productivity (multiple answers)
The first-ranking appeal is the "Japanese market" followed by "Stability of nation and society"
Attractiveness of doing business in Japan is "The Japanese market" and "Stability of nation and society."
Attractiveness of doing business in Japan (top three options)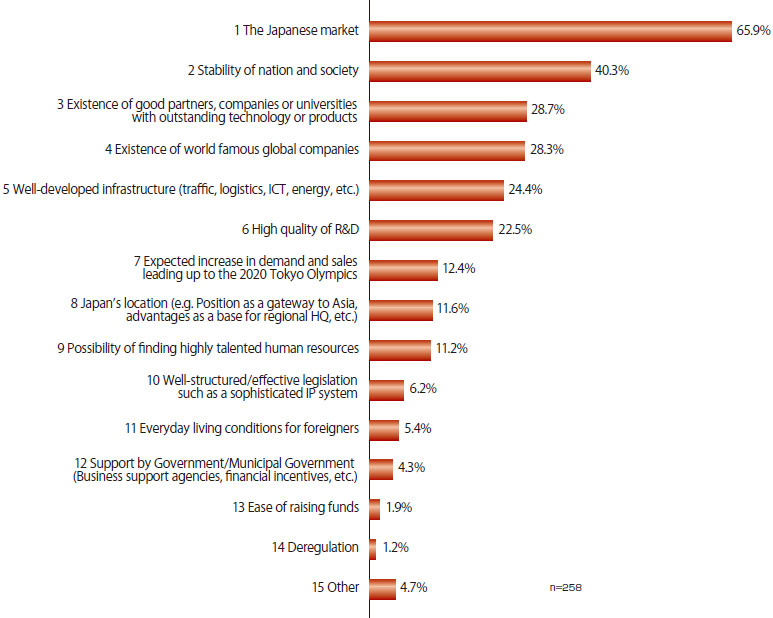 Request for improvement by the Japanese government or industries
The most frequent request for improvement by the Japanese government or industries is "Fostering globally competitive human resources (Japanese)."


The items for which you would like to see improvement by the Japanese government or industries (multiple answers)




Foreign-affiliated companies' issues for securing human resources include "Lack of human resources who can communicate in foreign languages," and "Difficulty in finding specialists."
By category of job, "Engineering" is most difficult to fill.

Issues particularly troublesome for securing human resources (top two options)




Category of jobs most difficult to fill (multiple answers)




Regarding administrative procedures and regulations, the most frequent answers were "Tax matters," "Labor matters," "Status of residence (visa)."
For specific issues needing improvement, the largest percentage answered "Complicated administrative procedures (Too many procedures and points of contact)" followed by "Internationally unharmonized and incompatible business permits/licenses."

Administrative procedures and regulations that need improvement (top two options)




Specific issues needing improvement regarding administrative procedures/regulations (top two options)