Where to invest in Japan's local regions
Kobe city
Active in Attracting Foreign Companies
Port of Kobe
Former foreign settlement along Kaigan-dori Street
Prime Location for Business
Regional News
Contact
Kobe Enterprise Promotion Bureau Foreign Investment Group
6-5-1 Kano-cho, Chuo-ku, Kobe-city, Hyogo, 650-8570
---
Basic information
Population *1
Labor force *1
Nominal GDP*2
Number of Establishments*3
JETRO office
*1

Population Census 2015, Ministry of Internal Affairs and Communications

*2

Prefectural Citizens'Economic Accounts 2018, Cabinet Office

*3

"2016 Economic Sensus", Statstics Bureau, Ministry of Internal Affairs and Communications
Basic information updated on:Jan. 2022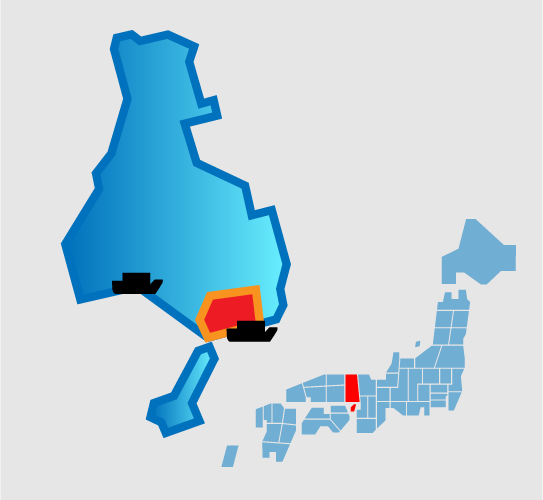 Business Environment
Since the opening of its port to the world in 1868, Kobe has developed as an international port city. Its cosmopolitan living environment (schools, hospitals, etc.) attracts over 40,000 foreign-nationals from 123 countries to the city. Impressed by these features, many overseas and foreign-affiliated companies have located their head offices in the city. Major cities, including Tokyo, Osaka, and Nagoya, are easily accessible from Kobe. It is a city blessed with abundant nature, offering a pleasant business environment. Many foreign-affiliated companies in various industries operate from their headquarters in the city, such as shipbuilding, Kobe's signature industry, aerospace and other heavy industries, and the medical industry.
Incentives
Office Rent Subsidy for Foreign and Foreign-affiliated companies
Subsidies
Up to 1/2 (1/4 from Hyogo prefecture and 1/4 from Kobe city) of rent (excluding common area charges and consumption tax). Up to 1500 yen per square meter per month, and up to 10 million yen per year for companies occupying offices in the city for up to three years (subject to some other requirements)
Reduction of Enterprise Tax (Hyogo Prefecture)
Tax reduction
Refund of 1/3 of the prefectural enterprise tax to companies moving into Kobe City from outside of Hyogo Prefecture for up to 5 years. (1/2 to companies establishing headquarter functions within the Kobe International Economic Zone).
(Requirements: 11 or more new regular employees (no need to be a resident in Hyogo Prefecture), and other requirements)
Industrial cluster information
Medical care, biotechnology
In the second phase of the Port Island project, the city develops a cutting-edge medical research base on the artificial island off the city's coast. It is working with businesses and universities in the Kansai area to create the Kobe Biomedical Innovation Cluster, a city with a high concentration of medical-related companies. Companies, research institutions, and universities in life sciences have accumulated in the area, forming one of Japan's most significant biomedical clusters.
Local companies
Educational/research institutes of the industry

Institute of Biomedical Research and Innovation
Links
Local governments
Educational institutions
Research institutions
Living environment
Kobe offers a great living environment. While boasting sufficient urban functions, the city provides spacious housing, a low cost of living, a smooth and short commute, good public safety, and an excellent work-life balance. On the other hand, the city also has a vibrant natural environment (the area of parks per capita is the highest among all the 20 ordinance-designated cities). Bound by the Seto Inland Sea in the south and the Rokko mountains in the north, the city offers easy access to seasonal leisure activities such as mountain climbing and skiing in Mt. Rokko and beaches in Suma and Maiko. There are also shrines, temples, and hot springs throughout the city to enjoy traditional Japanese culture.
Hospitals with foreign language support
Logistics and infrastructures
Kobe undoubtedly offers ideal convenience as a business base. Major cities nationwide - including Tokyo, Nagoya, Sapporo, Fukuoka, and Hiroshima - can be reached in one to three hours. The opening of Kobe Airport offers three-way access (air, sea, and ground) to the city. A new transport system connecting the airport with the city center in 18 minutes and extensive railway and roadway networks makes travel convenient. Regarding logistics, a world-class container seaport, distribution hubs, and depot are located adjacent to the airport, enabling smooth and speedy connections between air, marine, and land transport.
The Port Liner, a new transport system that runs right up to the passenger terminal, provides direct access to Sannomiya in approximately 18 minutes, helping to speed up business.
Map of Kobe city
Support
Advice on the matters related to entering into the Japanese market.
Consultation on the matters related to establishing a Japanese base, Provision of facilities including an incubation office.
Active in Attracting Foreign Companies
*Local governments that are active in attracting foreign-affiliated companies" are the local governments that are active in bringing in foreign companies in JETRO's support program. For details, please refer to the support program pages.
Success Stories in Kobe city
Business Expanding
Contact Us
Investing in Japan
We will do our very best to support your business expansion into and within Japan. Please feel free to contact us via the form below for any inquiries.
Inquiry Form
JETRO Worldwide
Our network covers over 50 countries worldwide. You can contact us at one of our local offices near you for consultation.
Overseas Offices