Latest Updates

IBA, Belgian company and worldwide leader in proton therapy systems opens its Japanese subsidiary in Tokyo
IBA (Ion Beam Applications)

is a Belgian company founded in 1986 as a spin-off of the Cyclotron Research Center of the Catholic University of Louvain-la-Neuve (UCL, Belgium). IBA is a global medical technology company focused on bringing integrated and innovative solutions for the diagnosis and treatment of cancer. The company is the worldwide technology leader in the field of proton therapy, considered to be the most advanced form of radiation therapy available today. IBA's proton therapy solutions are flexible and adaptable, allowing customers to choose from universal full-scale proton therapy centers as well as compact, single room solutions. Headquartered in Belgium and employing about 1,500 people worldwide, IBA has 40+ systems in operations or installation across the world. The company is listed on the pan-European stock exchange NYSE EURONEXT and boasts the world's top share (over 50%) in the manufacturer of proton therapy equipment. The IBA branches are located in the United States, China, Germany and sell products and maintenance services in North America, Europe, Latin America, CIS, Asia and the Pacific region.
After having signed two new Proteus ONE projects in 2014 and in order to address the Japanese market locally, IBA Japan Co., Ltd. has been established in Tokyo in April 2017.
For the establishment of its Japanese base, JETRO's Invest Japan Business Support Center (IBSC) provided consultation on registration, visa and taxation matters as well as labor issues. Information was also provided through a medical advisor and other specialist regarding licensing for medical equipment manufacturing and construction. Also referrals were made to an administrative scrivener office and an environmental, health and safety (EHS) consulting company.
Proteus®ONE Treatment Room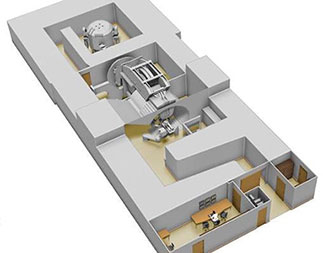 Proteus®ONE Layout
*Single room solution with one treatment room
Contact Us
Investing in Japan
We will do our very best to support your business expansion into and within Japan. Please feel free to contact us via the form below for any inquiries.
Inquiry Form
JETRO Worldwide
Our network covers over 50 countries worldwide. You can contact us at one of our local offices near you for consultation.
Overseas Offices