The certification program of Japanese Food and Ingredient Supporter Stores Overseas
Interview of Supporter Stores

魚清

A supermarket in which customers buy fresh seafood and eat them on the spot in a festive izakaya-like atmosphere has won over the hearts of many locals

Beijing / China
A Fresh produce supermarket embraced by locals in Beijing
Uosei is a supermarket specialized in fresh produce located in Liangmaqiao area in which many Japanese people in Beijing live and work. The supermarket is very popular as a place where customers can easily find a variety of Japanese food including sashimi, sake as well as Japanese seasonings, frozen foods, rice and cup ramen noodles imported from Japan.
"We are proud of the freshness of our seafood," Mr. 頼芳清, General Manager of Uosei, says. He knows so much about fish and, by utilizing that knowledge, procures seafood only from the suppliers whom he can really trust. Display cases of the store's fish section are filled with a variety of seafood including not only the staple ones such as maguro (tuna) and salmon but also uni (sea urchin), shirako (sperm sac of cod) and ikura (salmon roe). Recently, Uosei started selling the kinds of seafood that are rare in China such as ei (ray), kamasu (barracuda) and isaki (grunt). The store also boasts a wide selection of sake comprising 40 to 50 varieties, all of which pair well with seafood.
Purchased seafood can be tasted inside the store
Recalling the time Lai visited seafood markets in Japan, he said "I was surprised and impressed to see the customers eating and enjoying seafood they purchased on the spot." Determined to establish in Beijing a seafood market similar to the ones he saw in Japan, he first opened a smaller fresh produce supermarket with an eatery in 2014. In 2019, he relocated the store to the current location to expand the eatery section, making it a place in which customers can have their purchased fish fillets made into sashimi or sushi and also enjoy their seafood cooked in ways suitable to each ingredient such as tempura or grilled fish in a festive atmosphere reminiscent of izakaya. All the dishes offered in the eatery are cooked by experienced chefs. In the new store, Lai also started offering a new service for the customers who want to enjoy their fish at home. In this new service, customers can have their purchased fish cleaned and cooked by the chefs and take away the prepared dishes.
Lai is also considering the possibility of turning his store into a central kitchen for local Japanese restaurants. To that end, he plans to set up a wholesale section in the store to enable the local Japanese restaurants, including small ones, to procure a wide variety of fresh seafood.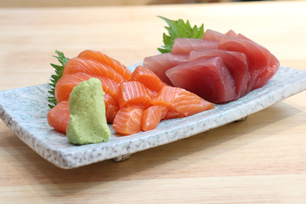 The eateries in the store have gained popularity among customers from various age groups
Traditionally, Chinese people had avoided eating raw food. However, Lai says that their eating habits have changed in the past several years. "More and more Chinese people have started to prefer eating fresh seafood with sake. These Chinese people are now coming to my supermarket, which makes me feel very pleased." Nowadays, sashimi has become popular among many Chinese people, and some 70% of the customers coming to Uosei are now local Chinese. The eateries are now full of Chinese customers, especially the ones in their 20s to 40s, including groups of business colleagues stopping by after work, couples and families. According to Lai, now that it has become difficult for people to travel to Japan from China due to the Covid-19 pandemic, most of the Chinese people who ate in his store's eatery section even once have become repeat customers. There are even customers who have become so hooked on the fresh and reasonable seafood sold in the store that they come to its eatery section as many as four times a week or have lunch there alone and come back in the same day for dinner with their friends.
"I want more and more people to discover the beauty of sashimi"
In 2022, Lai expanded the store by opening up a bar and a ramen noodle restaurant as Uosei's affiliated businesses. With this new expansion, customers coming to Uosei can now taste fresh seafood in the supermarket, take their time to enjoy Japanese whiskey at the bar if they feel like drinking more, and if they feel like eating more, have a quick bowl of ramen noodles soaked in the rich soup broth simmered for eight hours, all under one roof.
Lai now has a plan to open the second store of Uosei within the Tongli Market Complex in the northern part of Beijing and is hoping to open Uosei stores in many other places such as Shanghai, Guangzhou, Shenzen and Amoi so as to let more and more Chinese people discover the beauty of sashimi.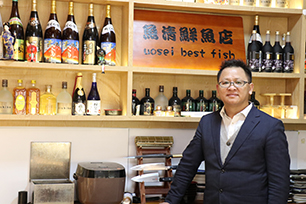 ---
List of shops
魚清

北京市朝陽区麦子店西路3号新恒基国際大厦1階商舗04、05号


+86-10-6500-0642