Japanese agriculture, forestry, fisheries and food
Highlighted Japanese Ingredient

Organic rice
Organic rice makes rice balls and sushi even better
In Japan, which has an especially advanced rice culture, farmers have long selectively bred cultivars of rice in search of rice that is higher quality and suitable for various purposes.
For example, Koshihikari, brand-name rice that is popular outside of Japan as well, and Yumepirika, which has recently become popular, boast a soft and springy texture, bright luster, and strong fragrance and sweetness. They're also delicious even after cooling off, which makes them perfect for rice balls. Meanwhile, Sasanishiki isn't very sticky and is therefore popular for hand-rolled sushi due to the moderate way it comes apart in one's mouth.
Organic versions of these types of brand-name rice are also produced. In general, the percentage and popularity of each kind of rice organically grown in Japan match the trends of the non-organic equivalents.
Popular among people sensitive to health and environmental-protection needs
Organic farming has been a hot topic in Japan ever since around 1970, when interest in food safety increased as a result of pesticides and food additives. This was followed by an increase in global environmental problems and other issues, which increased the interest in organic farming even more.
Japan has around 2.41 million hectares*1 of paddy fields, but only around 2,900 hectares*2 have received organic JAS certification, a measly 0.12%, and the production volume is hardly high. However, among organic agricultural products bought by consumers, rice is second place behind vegetables in terms of the amount bought. The reasons people buy organic products include not only a sense of security but also the use of environmentally-friendly production methods as well as producers (places of production) consumers can see.
Some consumers buy organic rice directly from the farms that produce it. For them, being able to see the farmer's face and having a direct relationship with them can help to increase their peace of mind even more.
*1 and *2 are both results from fiscal year 2017.
Organic farming exploits the productive power of paddy fields
In Japan, the Ministry of Agriculture, Forestry and Fisheries introduced the organic JAS standards in 2000. Under these standards, the organic JAS mark is applied to organic agricultural products that satisfy certain conditions. Specifically, for these products, cultivars that do not use genetic recombination technology must be utilized, the soil must be kept in good condition by using compost, etc., and the products must be grown on cultivated land for which pesticides and chemical fertilizers have not been used for at least two years. Organic rice is grown by exploiting the natural productive power of paddy fields without relying on pesticides or chemical fertilizers. In addition, if the above conditions are not certified by a third party, the rice will not receive organic JAS certification. Organic rice is therefore carefully managed.
Organic farming by using ducks and similar methods
Growing rice without relying on pesticides or chemical fertilizers also reduces the burden on the local environment. However, it is still necessary to deal with weeds and pests.
One way to do this is rice-duck farming. Rice-duck farming involves releasing ducklings in paddy fields after planting rice seedlings so that they can eat weeds and pests. Some commercial farmers even say that, as the ducks disturb the soil while moving around, the oxygen that is supplied to the paddy field works effectively on the rice. There are also commercial farms where carps are released in the paddy fields for weeding purposes.
Use of organic rice to continuously create delicious ingredients that instill peace of mind
The most important thing for organic rice is to keep the soil in good condition. Since ancient times, commercial rice farmers have fermented piles of rice straw and rice hulls to use as compost. There are also commercial farms where such compost is tilled in for the paddy fields after the autumn harvest. Nowadays, we understand that rice straw and rice hulls contain many ingredients that enrich the soil, which is why using compost made of them can increase the fertility of soil, such as by increasing its breathability, permeability, and nutrient retention, but commercial farmers learned all this through experience. The use of organically grown rice straw and rice hulls as next year's fertilizer is a cultivation method that can certainly put one's mind at ease.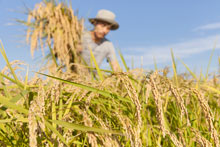 Many Japanese farmers also grow vegetables in addition to rice, and compost made of rice straw, etc. has long been used for vegetable fields as well. The use of organically grown rice straw, etc. as compost leads to peace of mind in terms of vegetable production as well.
Given the above cycle, it should come as no surprise that Japan, which is home to many commercial rice farms and paddy fields, is also a place where the increased cultivation and popularity of organic rice are leading to an increase in ingredients that instill more peace of mind.