Section 4. Human Resource Management
Reference
1. Corporate benefit costs
The expenses that a company spends on the welfare benefits of its employees can generally be divided into two groups: statutory welfare expenses, which include labor and social insurance premiums, as well as other legally required costs; and voluntary welfare expenses. According to a study*1 carried out in FY2019 (April 2019 through March 2020), the portion of wages comprised of welfare benefits was 19.8%. Specifically, the aforementioned statutory welfare expenses took up 15.4%, while voluntary welfare benefits amounted to 4.4% of the total (excluding lump-sum retirement allowances and retirement pensions).
Voluntary welfare benefits include providing accommodation, health check-ups and other health-related benefits, general life assistance such as subsidized meals at in-house cafeterias, and the provision of recreational facilities.
The ratio of lump-sum retirement allowances and retirement pensions to the total cash wages was 8.1%.
*1

Performed by the Japan Federation of Economic Organizations (Since the numbers were rounded off, the total number may not be equal to the sum total.).
2. Labor unions
In Japan, the right of its labor unions to carry out their activities is guaranteed by law. Employers cannot employ a person on the condition that he/she does not join a union, and cannot cause any disadvantage to an employee because he/she is a union member. Furthermore, no company may refuse its labor union's request for collective negotiations without due cause.
According to a survey by the Ministry of Health, Labour and Welfare, the unionization rate of Japan's unions as of June 2020 was estimated to be 17.1%, a slight increase from the previous year. By company size (private sector only), 41.8% of the workers at companies with 1,000 or more employees are unionized, 11.4% at companies with between 100 and 999 employees, and 0.9% at companies with less than 100 employees.
3. Coverage of temporary workers by labor law
The term "Temporary worker" refers to a worker that enters into a labor contract with a temporary staffing agency (the company that temporarily places the worker), and who, under the orders of the agency, reports for work at a client company of that agency (i.e., a company that enters into a temporary worker placement contract with the agency, and then accepts temporary placement of the worker), and who performs duties under the orders of the client company.
Labor laws such as the Labor Standards Act, the Industrial Safety and Health Act, and the Equal Employment Opportunity Act apply to temporary workers. Companies that accept placement of temporary workers bear the responsibility of complying with the provisions of the Labor Standards Act pertaining to working hours, breaks and days off; those companies may have temporary workers work overtime within the scope allowed by the Labor Standards Act provided they enter into a labor agreement regarding workers' overtime with the agency that places the temporary worker. In this case, the temporary staffing agency bears the responsibility to pay increased rate of wages.
It is the temporary staffing agency's responsibility to ensure temporary workers' annual paid leave, and to supply the client company with a replacement worker if necessary while the original temporary worker is on annual paid leave. Furthermore, it is the temporary staffing agency rather than the client company that must take out labor insurance (Workers' Accident Compensation Insurance and Employment Insurance) and social insurance (Employees' Pension Insurance and Health Insurance) for the temporary worker and pay the appropriate premiums.
If a client company accepts illegal supply of temporary workers (exceeding period limitations, disguised contract, unauthorized supply service, etc.), a direct employment relationship is deemed to have been established between the client company and the temporary workers at the time of accepting such supply of temporary workers.
4. Consultation with specialists on human resource management
Labor and social security attorneys are human resource management experts with special nationally administered qualifications. As well as payroll accounting, they perform a range of services at companies' request, including:
(1)

Carrying out labor and social insurance-related procedures and other administrative work as a proxy for companies when hiring staff.

(2)

Consulting services in relation to safety and hygiene, as well as labor management (including drawing up work rules, planning and redesigning wage structures, as well as settling employment problems).

(3)

Mediation in individual employment disputes.

(4)

Consulting and handling of claims regarding pensions.

(5)

Other employment-related tasks.
(Performance of services covered by (1) and (3) by persons other than labor and social security attorneys in private practice, certified social insurance labor and social security attorney corporations, or attorneys is prohibited by law.)
Social and labor insurances procedures when setting up a company or hiring staff/workers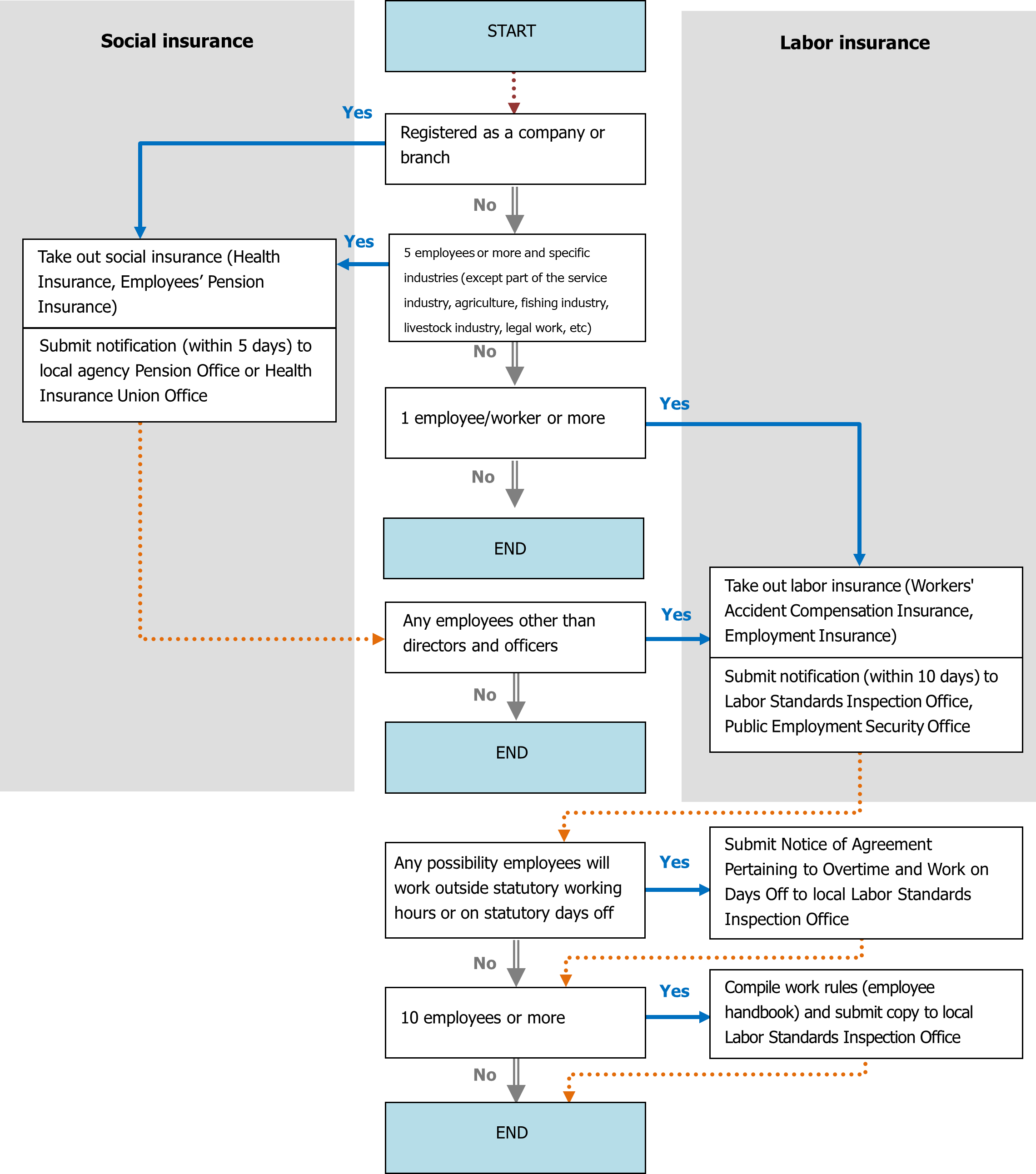 Annual procedures
Section4: Table of Contents
4.1

4.2

4.3

4.4

4.5

4.6

4.7

4.8

4.9
---
Section4: Documents businesses are required to submit to authorities
Materials listed as 'Reference' contain samples of documents regarding registration, visa, taxation, personnel and labor matters that are necessary when a foreign company establishes a corporation or other entity in Japan. These documents are not published by competent authorities and therefore are not official. For those who are going through the official procedures, please obtain the latest official documents from the competent authorities and related bodies or consult a person who specializes in advising on such information and procedures.
The information contained in this documents should be used at the reader's independent discretion. While JETRO makes every effort to ensure the accuracy of the information it provides, no responsibility is accepted by JETRO for any loss or damage incurred as a result of actions based on the information provided in these documents or provided by the external links listed on these pages.