Reason4. Excellent business Environment, Reliable Infrastructure
Excellent Business Environment Supported by Political Stability and Sound Legal and Regulatory System
Political Environment in Major East Asian and Oceanian Countries and Economies
Country / Region
Political environment
(1-10)
Political stability
(1-10)
Government stance towards business (1-5)
Transparency and fairness of legal system (1-5)
Investment protection scheme (1-5)
Japan
8.6
9.2
4.0
4.0
4.0
Australia
9.1
9.3
4.0
5.0
4.0
China
4.7
5.1
3.0
1.0
3.2
Hong Kong
7.9
6.7
5.0
4.5
4.0
South Korea
7.2
7.0
3.2
3.2
4.0
Taiwan
7.0
6.8
4.0
3.2
3.2
Source:

Compiled from "Economist Intelligence Data Tool" 2020 (The Economist Intelligence Unit)
What business leaders say
"Japan's legal system is fair and globally harmonized. It covers IP, commerce, and other business areas. This really promotes ease-of-doing business and ease of collaboration. The EPA strongly promotes business as it allows free access to markets and smooth processes." Cecilia Edebo, CEO, CELLINK.
Source: Invest in Japan: Testimonials from Global Business Leaders (Prime Minister's Office of Japan)
---
Regulatory Reforms to Improve Business Environment
Through exceptional regulatory measures, Japan creates a business environment to implement novel ideas responding to economic and social changes or new businesses and technologies without being bound by existing regulations.
National Strategic Special Zones
Comprehensive and intensive development of exceptional regulatory measures and implementation of related reforms
Since the program launch in December 2013, over 400 approved projects are conducted in ten designated special zones. (as of end-March 2022)
Urban renaissance
Speedy permission process for urban development projects
Underground water intake for buildings
Agriculture and forestry
Relaxed requirements for agricultural production corporations [expanded nationwide]
Farmers' restaurants in farmland [expanded nationwide]
Shortened period for removing designation as protection forests [expanded nationwide]
Medical care
Authorization of remote prescription of medicine (depopulated areas, urban areas)[expanded nationwide]
Permission of foreign doctors to practice
Exemption from the standard number of hospital beds rule
Establishment of a faculty of medicine
Tourism
Exemption from Hotel Business Act for traditional houses [expanded nationwide]
Establishment of the private lodging system in special zones
Permission of ride-share for toursits
Childcare
Nursery schools in urban parks [expanded nationwide]
Small-scale licensed nursery schools (expansion of age range)
Regional nursery teachers
Foreign talent
Startup visa
Status of residence for foreigners conducting housekeeping services
---
Regulatory Sandbox
Enables new technologies and business models to conduct demonstrations without being subject to the existing regulations and use the outcomes to promote regulatory reform.
Since its launch in June 2018, 23 projects by 142 businesses in various fields, such as FinTech, mobility, blockchain, healthcare, AI and IoT, have been approved by the system. (as of end-March 2022)
Urban renaissance
Act on Prevention of Transfer of Criminal Proceeds & data
Insurtech (P2P insurance)
Small amount short-term insurance (P2P insurance)
Healthcare
Online service for recommending a physician visit & diagnostic kits
Emercency medicine & biometric authentification
Sports & real-time blood sampling test
Medicine & vending machines
Voluntary manual for POP displays for vegetables
Mobility
Electric kickboard sharing
Hybrid motorcycle-bicycle
Sharing of interior space of vehicle
AI・ IoT
IoT & home appliances (power line communication)
IoT & recycling
IoT & real estate (electronic contract)
IoT & notice of claim assignment
IoT & employment of persons with diabilities
IoT & short-term property lease agreement
AI & unstaffed cafe
Blockchain
Crypto assets
Knowledge, clinical data
Perfection against a third party
---
Digital Agency Launched in September 2021
The government established the Digital Agency to drive Japan's digital transformation (DX), including the digitalization of public services, for realizing the digital society.
About 750 staff members, 1/3 from the private sector (as of July 2022)
Plays the principal role in conducting a cross-sectional review and propelling structural reforms suitable for the digital age, including digital, regulatory, and administrative reforms.
Currently working on projects in the following three priority areas.
Delivering Citizen-Centric Public Service
Increasing the adoption of My Number Cards
Expanding online public services- (one-stop service for social insurance and tax procedures, digitalizing passport application, status of residence and immigration procedures)
Unification / standardization of information systems in local governments
Cashless payment for administrative service fees
Modernizing Digital Infrastructure for Inclusive Growth
Abolishing analog regulations
Setting data-handling rules, developing public and open database
Promoting DX in medical care and education
Develop optical fiber, 5G, semiconductor strategy, data centers, and domestic submarine cable based on the "Digital Garden City National Infrastructure Development Plan," etc.
Provide brokerage for linking data among various services nationwide, including disaster risk management and traffic.
Strengthening Digital Resilience
Promoting the government cloud (Cloud-by-Default Principle)
"Government Solution Service" to provide a common, standardized business execution environment for government organizations for improved productivity and security.
Promoting DEFT (Data Free Flow with Trust) and furthering international cooperation
---
Competitive Office Rent Compared with Other Global Cities
Source:

"Global Premium Office Rent Tracker" December 2021 (JLL)
---
World's Top Level Transport Infrastructure to Support Your Business
Source:

"The Global Competitiveness Report 2019" (World Economic Forum)
---
Convenient access to major business hubs in Asia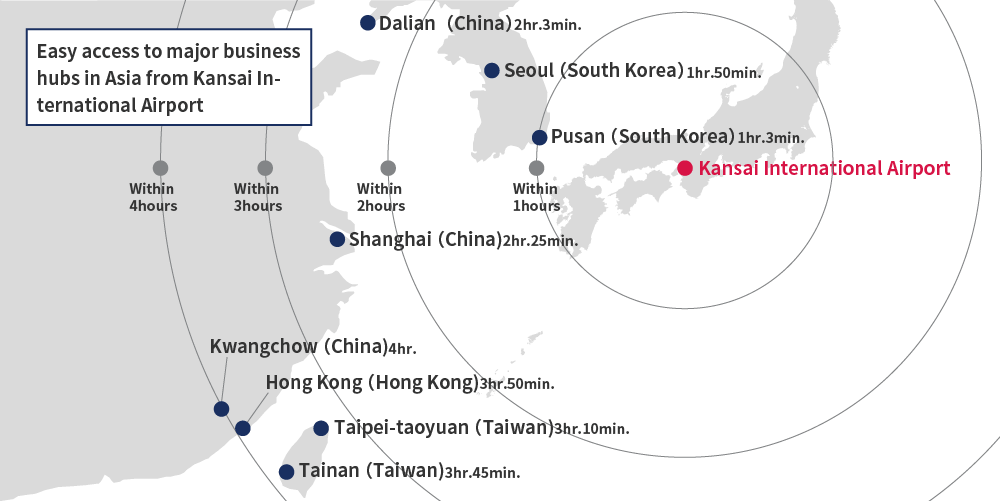 ---
Excellent nationwide transport network
Travel time on the Shinkansen
Sendai-Tokyo 1 hour 33 minutes, Tokyo-Shin Osaka 2 hours 23 minutes
Shin Osaka-Hakata 2hours 25 minutes

Travel time on an airplane
Tokyo-Fukuoka 2 hours, Tokyo-Sapporo 1 hours 30 minutes, Sapporo-Fukuoka 2 hours 35 minutes
---
---