Acceleration Program for IP-oriented Startup Companies
A 10 month program which begins with a boot camp in Tokyo presented by Silicon Valley innovation leaders. Services of the program include 1-on-1 mentoring, attending startup events and conferences, connecting with venture capitalists and other potential investors, and business pitch practice.

Meetings are arranged with key contacts from several fortune 500 companies. Several successful companies have graduated from this program and have gone on to have a successful business presence in the US.
---
Key Partners
The US Market Access Center (USMAC) is a business accelerator and trade gateway into the United States for international tech companies.
USMAC specializes in US market entry for small to mid-sized companies in the information and communications, clean technology, and the life sciences sectors planning to expand their marketing, sales and operations to the United States.
---
TECHMATCH PROGRAM ALUMNI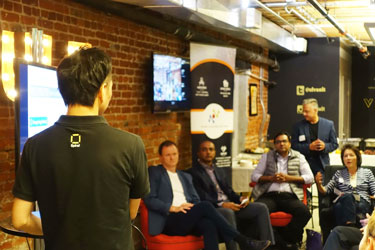 USMAC's TechMatch in Silicon Valley program focuses on matching top international startups with the needs of Silicon Valley corporate investors and VCs. Since 2013, USMAC has held several TechMatch events in Silicon Valley and Europe. In total, over 100 startups from more than 20 countries have engaged with 50+ Silicon Valley-based corporate investors and VCs. As a result, more than 60% of participating startups have succeeded in building partnerships with corporate executives in the USA. In the program, top startups will participate in a 4-day program in Silicon Valley that includes pitch training, two 'Pitch Days' for startups to present their innovations to global corporations & investors, and meetings with prospects. The program also includes substantial training and coaching of the selected startups prior to their participation in the TechMatch event in Silicon Valley.

ALUMNI BY YEAR:

2019

2018 2017 2016


---
About JETRO
The Japan External Trade Organization (JETRO) is a non-profit organization that provides business support services to companies expanding to Japan. Since 2003, JETRO has supported more than 15,000 business investment projects and helped over 1,500 companies successfully invest in Japan. With the support of JETRO's dedicated staff, clients can incorporate their business; receive visa, immigration, and HR support; find dedicated office space; identify local government subsidies; get tailored market studies; and more.