The certification program of Japanese Food and Ingredient Supporter Stores Overseas
Interview of Supporter Stores

Restaurante Sato

Restaurante Sato is a Japanese restaurant that combines a deep understanding of Japanese cuisine and local flair

Leon / Mexico
We want to convey a gastronomic experience feeling as if you are walking through the streets of Japan
Mexico's Central Highland Bajio district is an area that is the home of automobile-related manufacturers from Japan, Europe, and the United States. The city of Leon, Guanajuato, has the largest population in the area. Restaurante Sato is a popular restaurant in a neighborhood called "Casa de Piedra" that is well-known in Leon for its high-end restaurants.
Thanks to the growth of Japanese culture and the expansion of Japanese companies in this area, there are many Japanese-friendly Mexicans in León, Guanajuato, and many customers support Sato, making it a popular restaurant crowded with Mexicans and Japanese. You can dine at Sato, which offers authentic Japanese cuisine, on various occasions, such as business dinners or for a family and friends gathering to celebrate a birthday.
Mr. Felipe Ytuarte Nuñez, General Director of the fynso Group which operates Restaurante Sato, said: "We welcome our customers every day with an awareness that through the gastronomic experience at Sato, our customers will feel like they are walking through the streets of Japan."
Started as a sushi-based fast-food restaurant
Felipe and Noemi are from a small town called Tapachula in Chiapas, where many Japanese people have immigrated and have been living for many years. Felipe moved to Mexico City more than 30 years ago and started his career as an on-site chef at a Japanese restaurant.
Then in 1993, Felipe opened the first sushi-based fast-food restaurant, Sushi Tai, in Leon. The restaurant, which serves sushi in a casual atmosphere, was unfamiliar to Mexicans at the time. Sushi Tai achieved great success immediately after its opening. Amid planning to further expand his business while embarking on the development of multiple Sushi Tai restaurants, it was announced that Japanese car-related companies would be coming to the Bajio area. Knowing that Japanese companies were going to expand rapidly and that the number of Japanese immigrants was going to increase quickly, Felipe decided to open a new type of restaurant serving authentic Japanese cuisine. Felipe began exploring Japanese cuisine with the help of his Mexican employees.
I've refined the "experience of authentic Japan"
"I have traveled to Japan and the United States many times to refine my service and cuisine. Wherever I go, I have been inspired by meeting many chefs who are passionate about their work," said Felipe.
Felipe has visited Japan with Mexican chefs who work for the fynso Group and has made sure that the on-site chefs get a firsthand experience of authentic Japan. He has shared the knowledge he has gained locally within the company and has continued to convey the essence of Japan to his customers. Additionally, Felipe says that to bring Japan to Sato's customers, it is important not only to improve the skills of the chefs but also to use ingredients and alcoholic beverages that come from Japan.
As for our Japanese ingredients, we not only use miso and spices from Japan, which are indispensable for preparing Japanese food, but we also serve Japanese yellowtail as sashimi and as grilled steak. With respect to alcoholic beverages, Japanese whiskey Hibiki is one of our good sellers and Japanese sake such as Kikusui's Junmai Ginjo sake is popular among many people. We have noticed that there are quite a few sake drinkers.
Felipe's new challenge as Japanese Cuisine Goodwill Ambassador
Felipe is an important figure who has been leading the Japanese food market in Mexico. On December 14, 2022, Japan's Ministry of Agriculture, Forestry and Fisheries appointed Felipe as a Japanese Cuisine Goodwill Ambassador to promote Japanese culinary and pass on the appeal of Japanese food and food culture abroad. It goes without saying that Felipe's efforts and extensive research of Japanese cuisine have led him to be appointed as a Goodwill Ambassador.
Felipe has said that Japanese cuisine has been rapidly evolving in Mexico, and the demand for Japanese food has increased in recent years. In the future, to overcome the harsh competition, it will be important to build a great team that is constantly learning, trying to differentiate itself with a commitment to ingredients and an inquisitive mind that pursues the real thing.
The fynso Group, led by Felipe, has established various types of Japanese restaurants that utilize his understanding of Mexican people's tastes and sensibilities as a foundation. In the future, they are contemplating opening a real traditional sushi restaurant that would feature Japanese ingredients and alcoholic beverages.
"We would like to expand Sato into a highly popular chain in the Bajío region, where Japanese companies have a strong presence. We want to make our customers feel closer to Japan by way of our commitment to ingredients and our inquisitive mind that pursues authenticity", says Felipe. He expressed a strong desire to continue to lead the Japanese food market in Mexico and to create a new food culture through his own experience and expertise.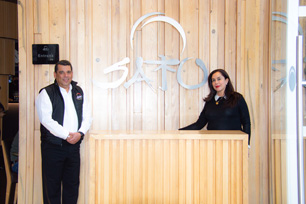 ---
List of shops
Restaurante Sato

Av Cerro Gordo 12, Casa de Piedra, 37120 León, Gto. +52 477 718 1213
https://satorestaurante.com.mx/