JETRO Global Connection -Accelerate Innovation with Japan-
Report


Issues for the Startup Visa in Kyoto


Startup Capital Kyoto: Becoming a Global City for Startups (5)

(Japan)
March 22, 2022
*This article was originally published in Japanese. All information in this article is as of November 17, 2021.
Kyoto implemented the Startup Visa in April 2020 to support foreign nationals to start their own business. Through such support, a number of issues have also become apparent in building a globally open startup ecosystem.
In this fifth and final article, we will study how support should be provided to foreign entrepreneurs by looking into how Kyoto has been dealing with two issues: building an inclusive community with foreign entrepreneurs and spreading information to reach those outside of Kyoto.
Building an inclusive community with foreign entrepreneurs
Kyoto is known for being compact in size despite being a metropolitan city. However, it is not easy for newly launched startup companies to build a network in this city. Ong Ling, who acquired a Startup Visa, says, "We are having difficulty finding logistics service providers who can help us reduce costs."
Hila Yamada of the Glocal Human Development Resources Center, who also helps with the operation of the Kyoto International Entrepreneurs Community (KIEC), says, "Communities are definitely being created in different parts of Kyoto, but we cannot see what kinds of communities are out there, so those who don't belong to those communities have a hard time finding them. And Kyoto still places strong importance on having lateral communications and has a rooted culture in getting to know others through introductions, so the lack of support provided in foreign languages is making it more difficult for foreign nationals to start their business here."*1
Kyoto Prefecture, City of Kyoto, JETRO, and Kyoto Chiesangyo Sozonomori therefore opened in March 2021 an online community on Slack called Startup Capital Kyoto. The community was created to provide entrepreneurs and supporters from both in and outside of Japan with a place to easily exchange information, in this situation where actual face-to-face meetings are being restricted by the novel coronavirus. The community uses the highly advanced translation software, Deep L, to make it possible to send out information in multiple different languages. Users can immediately read the posts in 24 different languages, including Japanese, English, and Chinese, just by pressing a pictogram button. The community has approximately 300 participants as of the end of September 2021.
Source: Slack online community "Startup Capital Kyoto

Meanwhile, startups need support not only from government agencies, but also from the entire town including the local companies and residents. It goes without saying that newly launched businesses must endure a number of trials and errors. And particularly for foreign entrepreneurs who remain minority in the society, they need to have them understood and supported by the surrounding community, in order to expand their business.
The Szechuan skewer-style hot pot restaurant Gyuka Hachiba, a Chinese restaurant in Kyoto City, has been using Funfo's mobile ordering system since the restaurant opened in March 2020. When Zhou Shuyouan who manages the restaurant was interviewed by JETRO, she said that it took courage for her to adopt a product from a company that had not yet been established, especially at a time when the novel coronavirus just started spreading and it was difficult to predict future sales under uncertain circumstance. Even so, she says, "I decided to introduce Funfo's system because I thought that would be the most ideal for the customers. With Funfo's system, customers can order from the menu without direct contact with staff. At the beginning, the system didn't work properly and it was awful. Even so, we informed Funfo of the problems and continued using their system patiently, and then their system has been improved."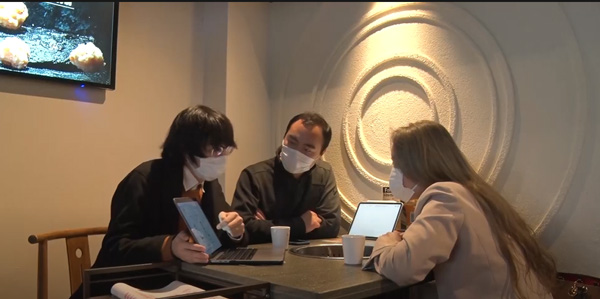 Funfo's. Qiao Hengyue (left) and Wang Yuanyuan (center) explaining the product to Zhou Shuyouan (right) (Photo by JETRO)
Improving Kyoto's impressions that people from outside Kyoto have
People in Japan think it is extremely difficult to start a business in Kyoto because of the impression that Kyoto residents do not welcome outsiders. Actually, one foreign company that had considered establishing its office in Kyoto decided to give it up because they heard that it is difficult to get new services accepted in Kyoto. And while Kyoto is internationally known as a tourism destination, people outside Japan rarely think of it as a place to work or to start a business.
However, the culture in Kyoto actually has an affinity for startup companies, and Kyoto is an area that has been actively accepting people from outside the area. Companies such as Kyocera, Omron, and Wacoal that started in Kyoto were founded by people that came from outside Kyoto. And since the Emperor and the aristocracy used to reside in Kyoto, regional specialty items were brought to Kyoto from all over Japan. Thus, items that did not offer added value were obsoleted from the market, which created a tradition of pursuing originality.*2 Kyoto also offers the following additional strengths: a spirit of manufacturing that gave birth to traditional industries, including the Nishijin-ori textiles; an accumulation of wisdom from cultural and academic research, centered on Kyoto University that has produced many Nobel Prize winners; and open innovation initiatives conducted by the collective partnership between the industries, government, and academia at the Kansai Science City (Keihanna Science City).
The key issue is how to appeal the benefits of starting a new business in Kyoto to people outside. JETRO Kyoto is making efforts to reach the outside audience mainly by using online means, such as through startup events held both in and outside Japan, using SNS such as LinkedIn and Facebook which have now become essential for overseas business, and by posting videos and articles related to the startup ecosystem. JETRO Kyoto is also implementing other activities. For example, in October 2020, JETRO Kyoto conducted a pitch event in partnership with Estonia's Latitude59, which hosts the largest startup event in Northern Europe. And it also offered the Startup Capital Kyoto Award, which takes the name from the Startup Visa program in Kyoto, to outstanding foreign entrepreneurs at the Japan Hackathon held in September 2020 and at the Healthcare Venture Conference Kyoto (HVCKYOTO) that was held in October 2020 and July 2021.
To become an international city for startups
As we mentioned in the first article of this series, foreign entrepreneurs have the potential of bringing the benefits of creating new innovations from diversity, promoting global business expansion, and bringing vitality into entrepreneurship. We may enhance local development and improve global competitiveness by bringing in innovations from overseas, while taking into consideration our national security and the employment protection for the Japanese people. As explained in the second article of the series, global efforts to acquire startup talents will continue to be intensified by using such policies as the Startup Visa. Although the novel coronavirus hinders people's chance to move around, and we see increasing penetration of digitalization, many entrepreneurs wish to establish their business in an environment where they can easily obtain the latest information and have access to human resources. There will always be demand for places where people can encounter others to generate innovations.
In this situation, what should Japan do to attract outstanding entrepreneurs to its regions? As pointed out in the third article, we need to create a framework for a startup ecosystem connecting foreign entrepreneurs with local economic development. In the fourth and fifth articles, we looked at the Startup Visa efforts being made in Kyoto, and pointed out the importance of building a community within the area and sending out information to those outside the area. In reality, the startup ecosystem is formed as a circulative structure where diverse elements are linked with one another. Thus, it is important to have more actors implementing various initiatives.
According to the "Global Startup Ecosystem Index Report

" announced in June 2021 by StartupBlink, which ranks the startup ecosystem of 1,000 cities in 100 countries, Kyoto ranked 124th, raising its standing by 127 slots from the previous year. This means that among the cities in Japan, Kyoto ranks second after Tokyo. It ranked 14th in the health technologies field which is the highest ranking of all cities in Japan, demonstrating that Kyoto received high recognition for its accumulation of research in the medical field. Kyoto's international recognition as a startup ecosystem is steadily rising. Furthermore, Kyoto was listed for the first time in The Global Startup Ecosystem Report 2021 that was announced in September 2021 by Startup Genome. Giving support to foreign entrepreneurs means making new use of the capabilities of people who may contribute to the future success of the region, but have not been well recognized by the Japanese society in which foreign entrepreneurs remain minority. Kyoto has historically been an international city created by the interaction among people. We need to develop a startup environment that also includes foreign nationals, in order to build a foundation for a sustainable city that will continue to thrive into the future.
---
*1 In recent years, there is a need to build communities where entrepreneurs and supporters can easily meet one another, in order to develop a startup ecosystem in the area. Brad Feld, a joint founder of the globally famous accelerator Techstars, which was founded in the United States, pointed out the importance of formulating a community centered around startup communities in order to develop the ecosystem. Brad Feld and Ian Hathaway, The Startup Community Way: Evolving an Entrepreneurial Ecosystem, 2020, Wiley.
*2 "Kyoto Companies – produced by its History and Atmosphere", written and edited by Yoshihiro Tokuga, Chuo-Keizai Inc., 2016, p. 294 - 296 ".
"Kyoto Companies will Change the World -Corporate Value Creation and Stock Investment", written and edited by Hidetaka Kawakita and Kazunari Okuno, Kinzai, 2015, P. 20 – 21.
Startup Capital Kyoto: Becoming a Global City for Startups
Report by:

OI Hiroki, JETRO Kyoto