The certification program of Japanese Food and Ingredient Supporter Stores Overseas
Interview of Supporter Stores

Teavolution

Budapest shop sells high-quality loose-leaf tea and accessories

Budapest / Hungary
Budapest shop sells high-quality loose-leaf tea and accessories
Teavolution is a small, premium-grade loose-leaf tea shop located just north of the center of Budapest, Hungary's capital city. The shop sells tea leaves from Japan, Taiwan and China, all of which are high-quality and carefully selected. The leaves themselves are not actually displayed in the shop, but are kept away in sealed bags, refrigerated or sometimes frozen to preserve their quality. On the other hand, teapot sets, tea accessories and a range of Japanese incense products are handsomely displayed and available for sale.
The shop consists of a tasting area and a small meeting room on the mezzanine floor where tea seminars or workshops can be held. Co-owners Balázs Nagy and Dóra Kapás say that Teavolution is not just a retail shop but a 'showroom' as well. They have extensive knowledge about tea and are happy to share their insights with customers.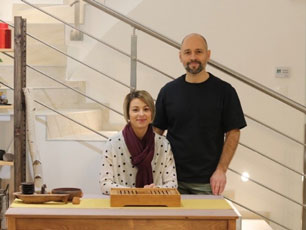 Sharing and promoting a love of tea culture
Nagy decided to leave a stable job and enter the world of tea trading with his partner, Kapás, several years after receiving some tea leaves from a Taiwanese friend in 2013: they were quickly astonished by the sheer differences in taste, depending on the type of leaves used.
"There was no need to add milk or sugar to enhance the flavor," Nagy explains. "We couldn't help but be delighted at the taste of the leaves themselves."
Since then, Nagy and Kapás have become diligent students of tea history and leaf types in Japan, China and Taiwan, and the duo are drawn now more than ever to their passion. While continuing to explore tea culture, they are dedicating their lives to promoting authentic tea culture in Hungary. Teavolution, the result of their enthusiasm, opened in downtown Budapest in 2017 and moved to its current location in October 2020.
Nagy prefers working directly with tea farmers: no middle man, no broker
Teavolution mostly sells tea leaves that Nagy buys directly from Japanese farmers. He visits their farms to watch the growing and processing of the leaves to ensure consistently good quality and to broaden his tea knowledge. Even though he does not speak Japanese, tea farmers in Shizuoka, Kagoshima and Uji, Japan's historic tea-producing area, opened up to Nagy during his visits when they understood the depth of his knowledge and enthusiasm. The fact that he has been taking Urasenke tea ceremony classes and Shodo calligraphy lessons also help to earn the farmers' trust. Nagy does deal with big importers and wholesalers, but he prefers to work with and learn from family-run businesses and to cultivate good relationships with them.
Nagy sells up to 25 varieties of tealeaves from Japan (such as matcha, sencha, genmaicha and hojicha), though the selection varies depending on the season. Matcha and sencha products are particularly popular with Hungarian customers.
For matcha, Nagy offers roughly 10 ceremonial-grade and three culinary-grade products from two established farmers, Maruri Yoshida Meichaen and Horii Shichimeien. The favourite matcha varieties from the former include Matsuno sono and Shouju, while the latter's include Seishin no Shiro and Narino. Nagy also sells several dozens of leaf varieties of white tea, green tea, oolong tea and black tea from China and Taiwan.
Focusing on quality
Matcha has gained in popularity in Budapest in recent years, with cafes offering matcha lattes and desserts at reasonable prices. On the other hand, considering the low average income of Hungarians, Teavolution's matcha powders are a definite luxury. Thirty-gram containers of matcha powders range from 5,400 to 19,000 forints (1,800 to 6,700 yen).
Nagy, however, has no intention of compromising his mission or standards. "This is a niche market," he says. "Of course, one can earn more quickly by selling mass-produced, lower-quality matcha, but I want people to experience the pleasure that only the most authentic and finest tea can create. This is a longer approach towards success, but I am certain that interest and appreciation will grow in the future."
Education is the key
Nagy believes that 'education' is the key to spreading tea culture. He is active on social media and runs a website that not only functions as a web store but also features his own articles and tutorial videos on traditional tea preparation.
He also organizes monthly and twice-monthly workshops. He starts with how to select a proper type of water and the right temperature (tap water in Hungary is less than optimal, as it tends to be too hard). He then goes on to explain each step in detail, from how to warm a cup to the process of whisking. Workshop participants then get to taste and savor different types of tea leaves, making the experience very similar to wine-tasting.
As for the future, Nagy also aspires to reach Europeans beyond Hungary and has made his website content available in English
"Just as a third-wave movement arrived for coffee, I am convinced that tea will bring a new movement. There might not be a market just yet, but one can be created," Nagy concludes. "Meanwhile, it's just education, education and education!"
Teavolution

1036 Budapest, Nagyszombat utca 1/C.
Nagyszombat utca 1/C.
(+36) 30-552-1981
(+36) 30-953-4939
E-mail:Info@teavolution.eu
https://teavolution.eu/
https://www.facebook.com/teavolution/
https://www.instagram.com/teavolution/