The certification program of Japanese Food and Ingredient Supporter Stores Overseas
Interview of Supporter Stores

POPOROYA

First "Sushi-ba" in Milan, Run by Mr. Minoru Hirasawa, aka "Shiro," an Advocator for the Charms of Japanese Cuisine

Milan / Italy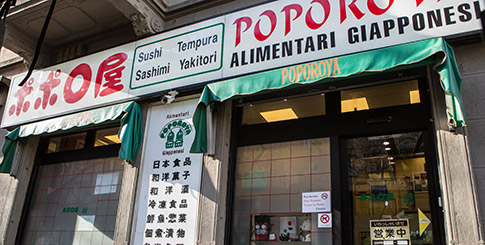 Poporoya, a long-time contributor to the popularity of sushi and Japanese cuisine in Italy
Poporoya was founded as a Japanese food store. In 1989, the store opened a Japanese restaurant in it, which was the first "sushi-ba" in Milan. Mr. Minoru Hirasawa, the owner of the store-cum-restaurant, intentionally calls the restaurant "sushi-ba" (lit. "sushi space"), instead of "sushi bar." Soon after he opened the restaurant, the situation was far from the current abundance of sushi in the eating habits of local people. Most guests of his restaurant were Japanese. Mr. Hirasawa recalls, "Since Italians were not accustomed to eating raw fish, including sashimi and sushi, few Italian guests visited us." However, the situation was reversed as a result of the owner's passionate enthusiasm to share the charms of Japanese cuisine and his sustained efforts to match with the taste of Italian people. Nowadays, most guests of his restaurant are Italians.
When guests enter the restaurant in which Japanese enka songs always play, energetic Mr. Hirasawa, nicknamed "Shiro," speaks to them cheerfully in Italian over the counter. Regular guests would answer, "How are you doing, Shiro?" beginning a friendly conversation with the owner. The restaurant is thus filled with a lively atmosphere just like a sushi restaurant in Japan. Poporoya serves not only sushi, chirashi-zushi (vinegared rice topped with various ingredients) and sashimi, but also tempura, grilled chicken, tofu, vinegared dishes, and miso soup. Since the restaurant has enjoyed high reputation for serving authentic but affordable Japanese dishes, there is always busy traffic of guests.
The restaurant strives to spread Japanese cuisine as a member of the Association of Japanese Restaurant Owners in Italy and the Japan Sushi Environmental Health Federation.
A family-run restaurant with a warm atmosphere, supported by Mr. Minoru Hirasawa—a sushi chef and a father—and Ms. Mami Hirasawa—the manager of the restaurant and the eldest daughter of the chef
Born in Nagano Prefecture, Japan, Mr. Hirasawa is a professional cook in the true sense of the word, graduating from the Tsuji Culinary Institute. Before Mr. Hirasawa began to work in Italy, School Headmaster Tsuji said to him, "Italy certainly boasts excellent cuisine, but Italians are too conservative about food to fully accept Japanese cuisine." This advice on the contrary ignited Mr. Hirasawa's enthusiasm to spread Japanese dishes around Italy. He began his career in Rome and then moved to Milan, where he opened his "sushi-ba" and launched his full-scale efforts as a missionary for Japanese cuisine.
"Soon after I began to serve sushi, guests often got angry at me for the small size of vinegared rice balls of nigiri-zushi. I devised various methods to meet the needs of guests, such as increasing the amount of sushi rice and inserting topping ingredients in the vinegared rice of chirashi-zushi. Such selfless efforts of mine to satisfy the taste of Italians have produced good results," Mr. Hirasawa says with joy. With Ms. Mami Hirasawa, his eldest daughter who grew up in Italy, joining the business as a trustworthy next-generation manager, the restaurant has become able to build more harmonious relationships with business partners in Japan.
Using ingredients produced in Japan, including seaweeds that are essential for Japanese cuisine and seasonings on which the flavors of all dishes depend
Against the backdrop of current trends toward dieting and health management, Italians are very interested in having seaweed as low-calorie food. Poporoya serves various vinegared dishes of seaweeds grown in Japan, such as wakame, mozuku, tosaka-nori, kanten, and shirataki (konjak noodles) produced in Gunma Prefecture, Japan. In addition, nori seaweed and mentaiko (spiced cod roe) used at the restaurant are also imported from Japan.
Green tea, an often ordered beverage at the restaurant, is also brewed with leaves of the Ono tea grown in Yamaguchi Prefecture, Japan. The tea is popular among guests for its full-bodied flavor and excellent aroma.
Furthermore, since water in Italy is harder than water in Japan, it is not easy to bring out the authentic flavors of Japanese dishes. Therefore, seasonings used at Poporoya are selected with special care. About 90% of seasonings that the restaurant uses, including soy sauce, miso, mirin (sweet sake for seasoning) and vinegar, are produced in Japan.
Kyoto-produced soft Wagyu beef, which is used as a topping for nigiri-zushi, is one of the Japanese-produced ingredients that appeal to, and are popular among, Italian gourmands. Wagyu beef is also served as Japanese-style steak with grated radish at the requests of guests.
A wide variety of sake in small 180 or 360 ml bottles
A noren curtain with the logo of Poporoya adds an accent to the interior space of the restaurant. In a glass showcase, fresh fish for sushi toppings are neatly arranged, stimulating guests' appetite. Sushi plates stacked in a casual manner seem to contribute immensely to creating a Japanese-flavored atmosphere. The walls are almost completely covered with posters and article clippings about Japanese foods and beverages, performing the advertising function by arousing guests' curiosity. In front of the counter are tables with a soy sauce bottle put on each of them. Just when the business hours begin, guests rush into the restaurant impatiently, filling the space with a bustle in a flash.
Ms. Mami Hirasawa states, "Many of the repeat purchasers of beer produced in Japan are connoisseurs who know the difference." She says that pilsner produced in Niigata Prefecture and rice beer with smooth and comfortable mouthfeel are rapidly growing in popularity. To enable guests to easily enjoy sake, which has attracted growing attention of Italians, the restaurant also boasts a wide variety of brands of sake in small bottles. She plans to further broaden the lineup of beverages that can be stably supplied from Japan.
A compact Japanese food store with a wide product lineup, attached to the restaurant
The attached store basically sells the same ingredients as those used at the "sushi-ba." The product lineup includes seasonings produced in Japan, such as soy sauce, vinegar and sauce for okonomiyaki (Japanese-style savory pancake), nori seaweed, instant miso soup, snacks, and Japanese varieties of rice grown in Spain.
Since Expo 2015 held in Milan with the main focus placed on food, a remarkably increasing number of Italian people have become interested in cooking Japanese dishes at home. Therefore, a steadily growing number of Italian customers have begun to visit the store to buy Japanese foods.
Keeping in mind Shiro's aspiration to expand the circle of fans of Japanese food, the store staff carefully serve customers who come to buy Japanese ingredients while thoroughly explaining how to use them.
POPOROYA Sushi Bar

Via Eustachi 17 - 20129 Milano
+39 02 29406797
https://www.poporoyamilano.com/ja/home
Ristorante Shiro Poporoya

Via Eustachi 20 - 20129 Milano
+39 02 29512635
https://www.ristoranteshiropoporoya.it/ja/home