The certification program of Japanese Food and Ingredient Supporter Stores Overseas
Interview of Supporter Stores

Nishimura

Persist in using Japanese ingredients that arrive daily by air only

Hong Kong / China
Pioneer of Japanese food
With 32 years history in Hong Kong, Nishimura Japanese Restaurant has been a pioneer in offering Japanese cuisine made with Japanese ingredients. Now, 25 years have passed since Chef Kato came to Hong Kong as a sushi chef. To adhere to the traditions, meticulous selection of ingredients is necessary. From fish to meat, vegetable and seasonings, only Japanese products are used. Chef Kato has learnt from his culinary experience in high-class restaurants including those in 5-star hotels that, to make delicious sushi and sashimi, using fresh and safe ingredients is the most important.
Fresh Ingredients Supported by Air Transport
When the restaurant first opened, the logistics system was still immature, Japanese ingredients could only be purchased twice a week. Now with a comprehensive logistics system, not only can fresh ingredients be obtained, but the food quality is also improved. Some customers even say that they can now eat sushi fresher than that in Japan.
According to Choi Shiu Ha May (Managing Director of the Nishimura Japanese Restaurant chain group), since fresh and seasonal ingredients from Tokyo, Fukuoka, Osaka, Okinawa and Hokkaido are shipped to Hong Kong by air on a daily basis, all necessary ingredients can be obtained within a short time. In particular, they insist on providing seasonal ingredients when they are the most delicious. For instance, in autumn, dishes made with seasonal food such as crab, fresh chestnuts, precious "matsutake" mushroom are provided.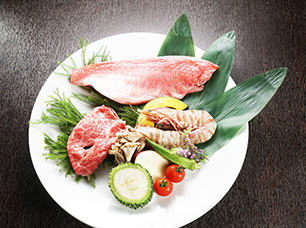 Lunch Boxes that Reflect the Season
This time a colorful lunch box is introduced. It is popular among Hong Kong customers and is a collection of seasonal ingredients from all over Japan, including golden eye snapper from Tokyo, tomato from Hokkaido, bitter gourd from Okinawa, "Maitake" mushroom from Fukuoka, "Wagyu" from Miyazaki and Japanese prawns. The dessert after dinner, made with melon from Shizuoka and mandarin orange from Oita and "filled with the seasonal deliciousness of Japan from north to south", is Kato chef's pride. As a restaurant that has been certified, they are going to promote sake in addition to Japanese ingredients. In autumn, the restaurant will encourage customers to pair the oily Pacific saury from Hokkaido with sake from all over Japan.
Expectation of the Certification System
The restaurant has always been using Japanese ingredients since its opening, and many customers know well about our commitment to quality. This is why we are certified as a "Japanese Food Supporter Store". I hope that new customers will be more confident of the restaurant knowing that we are using Japanese ingredients.
Nishimura Japanese Restaurant

Shop 602, The Marco Polo Hong Kong Hotel, Harbour City, Tsimshatsui, Kowloon, Hong Kong
852-2735-6899
http://www.nishimura.com.hk/