The certification program of Japanese Food and Ingredient Supporter Stores Overseas
Interview of Supporter Stores

Naoki Japanese Restaurant

High quality and reasonable food
Attentive service to make every customer happy

Vientiane / Laos
Relentless pursuit of the best ingredients
Over the past few years, the culture of eating out has rapidly taken root among the people of Vientiane, the growing capital of Laos and where eating out had not been common. Naoki Japanese Restaurant is one of restaurants with a Japanese atmosphere decorated with red lanterns at the front. Bounpanh Sovilay, the owner, began research on Japanese restaurants five years ago and found that Japanese food was overpriced in Laos. "I love Japanese food, and I want to start a high quality yet reasonable Japanese restaurant to satisfy all customers." With this in mind, he opened Naoki Japanese Restaurant.
Before opening the restaurant, he conducted extensive research to determine the best sources of ingredients, and sought to achieve a balance between the taste and price. These efforts paid off and the restaurant became full every day from the start. He has expanded the chain to four directly managed restaurants and four franchise restaurants. The restaurants are loved by a wide range of customers, from students and young adults to businesspeople and families. He has recently been focusing on direct import of Japanese quality and Japanese products through direct online negotiations with Japanese suppliers through "Japan Street," a catalog site provided by JETRO.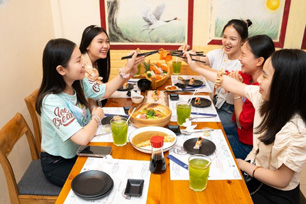 Hospitality provided through steady staff training
The restaurants' most popular menu are sashimi and sushi using salmon and tuna. As for drinks, sake and sweet ume (plum) wine are popular, especially among women. The restaurant places great importance on greeting customers and providing detailed explanations about the food served. Customers can enjoy the dishes after receiving explanation on the ingredients and the taste. The owner puts special emphasis on staff training and gives monthly awards and incentives (rewards) to staff members who have worked hard. There are few professional chefs of Japanese cuisine in Laos and it takes time to train them. By signing a memorandum of cooperation with a culinary school and accepting interns, he is trying to train prospective young chefs by providing a training program and helping to have a concrete image of working as a chef from an early stage.
Diversification of business not being content with restaurant operation
Even before the time delivery services attracted attention amid the COVID-19 pandemic, the restaurant had developed an app "Naoki" to take orders from customers on the app and deliver the food to their designated places. Sauvilai proudly says that even when the restaurant was on lockdown due to the spread of the infection and had no customers at the restaurants, he was able to keep his entire staff employed thanks to the delivery service.
Besides the restaurant business, he opened a mini-supermarket "Naoki Food For You (Naoki Mart)" in 2021, which sells seafood and Japanese products. Popular items are seafood, rice, soba noodles, beverages including sake, and seasonings. By operating this store, it became possible to stock many of the ingredients and seasonings used for cooking and drinks while at the same time selling them to customers, who can then enjoy Japanese food and buy the items they liked.
Certification as Supporter Store and future prospects
"We are very grateful to have been certified as a Japanese Food and Ingredient Supporter Store in June 2022, and now more than ever, our customers recognize the quality of Japanese food products," says Sauvilai. In fact, the response has been so great that the number of customers has increased 1.2 times, and the number of customers using the catering service has actually doubled.
The company plans to increase the number of "Naoki To Go" franchisees to 50 and to update the Naoki app, which currently has about 9,000 users, to make it more convenient for customers. For example, users will be able to order food from restaurants and also order Japanese products from "Naoki Food For You" (Naoki Mart). He added enthusiastically, "We aim to further expand the Naoki Group and become the supplier and distributor of imported Japanese food products in Laos."
---
List of shops
Naoki Japanese Restaurant (Numpu)

Xiengyuen Village, Chanthabouri District, Vientiane
+856 30 49 12 477
https://m.facebook.com/naokijapanese/

Naoki Japanese Restaurant (Dongdok)

Khamhong Village, Saythany District, Vientiane
+856 20 58 445 677

Naoki Japanese Restaurant (Phonesaart)

Phonesaart Village, Saysettha District, Vientiane
+856 20 58 974 477

Naoki Japanese Restaurant (Luk8)

Hathxaykhao Village, Hathxayfong District, Vientiane
+856 20 52 228 977

Naoki Food For You (Naoki Mart)

Phonethan Village, Saysettha District, Vientiane
+856 20 55 965 669
https://www.facebook.com/profile.php?id=100063949939207