The certification program of Japanese Food and Ingredient Supporter Stores Overseas
Interview of Supporter Stores

KOMEYUI

Superb Rice Connects Japan and Australia

Melbourne / Australia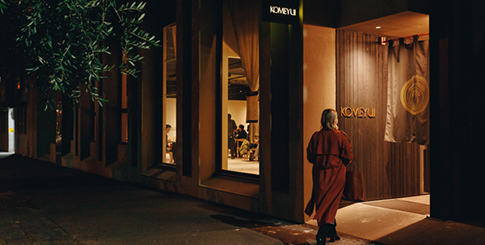 "Connecting (
結

)" cultures through "Rice (

米

)"
Melbourne is located in Victoria state in southeastern Australia. It is the second largest city after Sydney in terms of the size of economy, and it is a popular city which has ranked the world's most livable city for six consecutive years. KOMEYUI is located south of the Yarra River, which runs through the heart of Melbourne.
In the area with many stylish cafes and a historical market close by, KOMEYUI has celebrated its 10th anniversary in 2021. The owner, Mr. Kumano's passion is expressed in the two kanji characters used in the name of the restaurant, "米 (rice)" which is the staple food of Japan, and "結 (knot)" which connects people and various things. Mr. Kumano, who is originally from Hokkaido, says "I want to connect cultures through rice." Carefully selected rice made in Hokkaido is used in the restaurant's sushi dishes, which are one of the most popular menu items. What's more is that the restaurant uses a cast iron Hagama rice cooker to cook rice. They have been using the same Hagama rice cooker since the restaurant first opened. Delicately and carefully cooked rice is just superb, wowing the foodies.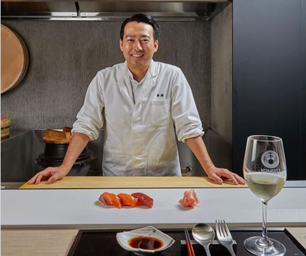 The next popular menu item is sake
The restaurant's second popular menu item is Japanese sake. Since a wide variety of inexpensive alcohol drinks such as wine and beer are available in Australia, there still aren't many consumers who are interested in drinking sake. When we asked how they serve sake, they said they pair sake with a course called "Omakase." Mr. Kumano says "we choose not to increase the number of brands excessively." With sake paring, customers can enjoy different types of sake every time. The restaurant keeps the description of sake to a minimum because "we want our customers to enjoy it in their own ways." They only provide information such as where the sake was made in, and let customers simply enjoy the paring with food. Nevertheless, when the restaurant first opened, they had a hard time introducing sake to people and they tried various things such as offering free sake to customers. Their sake paring menu was born out of their continuous ingenuity and effort, and is definitely a must-try menu item.
Bringing together the essence of various countries with an Australian spirit
One of the values of KOMEYUI is to cherish local produce and respect local communities. Mr. Kumano says "the origin of sushi is to use ingredients that are available locally in the first place", and actively uses local ingredients. He also puts a lot of thoughts into the restaurant in various aspects besides the food so that it will be accepted by consumers of Australia, which is a multicultural nation with many immigrants. For example, KOMEYUI has chefs who come from various cultural backgrounds including Indonesia and Malaysia, and all menu items are created through discussion with them. People from different cultural backgrounds expect different things from a restaurant. Mr. Kumano says, "Many of our Asian customers come to the restaurant for our food, while many of our customers from Western backgrounds see our restaurant as a place to socialize with their friends and family. We want to satisfy both needs." It makes sense that their customers say "KOMEYUI's food is better than the Japanese food we ate in Japan."
Going beyond selling food to spread the culture.
Mr. Kumano says he is interested in using delicacies, fermented food and preserved food in the future. "While the culture of preserving food such as preserving food with salt or vinegar is seen all over the world, I also get inspiration from Japanese regional dishes." He reads specialized magazines and books on the Japanese food culture, however, those foods may not be accepted in Australia if they are served the same way as in Japan. He cheerfully says "my lifetime theme is to spread the culture of preserved food and delicacies here from Australia" while devising ways so people in Australia feel comfortable eating them. He believes in not just selling food but also spreading the culture. What kind of a new food culture will he create? In the past ten years, KOMEYUI has been combining different cultures and local ingredients to offer one-of-a-kind Japanese dishes using superb rice, and their food is loved by so many people in Australia. We very much look forward to the next ten years.
---
List of shops
KOMEYUI

181 Ferrars St, South Melbourne, VIC 3205, Australia
+61-3-9645-5420
https://komeyui.com.au/
https://www.instagram.com/komeyui_melb/?hl=en
https://www.facebook.com/Komeyui/