JETRO reveals details on CeBIT 2017 Japan Pavilion and events
Tokyo, Japan (February 15, 2017) – The Japan External Trade Organization (JETRO) will host the Japan Pavilion at the CeBIT 2017, the world's foremost event on everything essential to the wave of digitalization and the world's largest exhibition showcasing B-to-B solutions utilizing cutting-edge technologies including IoT, big data, artificial intelligence and robotics, held in Hannover, Germany, from March 20 to 24.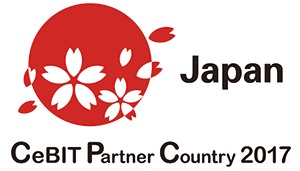 The massive Japan Pavilion will feature 118 companies and organizations, occupying 7,200 square meters of floor space and showcasing technologies from Partner Country Japan to a global audience. A preview of booth contents and exhibitor highlights are now available. The booths will cover everything from infrastructure and factories to professional life and daily living, with presenting companies active in fields ranging from medical care and welfare, agriculture and construction to music, games and sports offering their unique technologies, products services and cutting-edge solutions and ideas characterized by the diversity of the Society 5.0* concept. (Please refer to CeBIT2017 Japan Pavilion Exhibitor highlights)
In addition to the Pavilion, JETRO will also host four events during CeBIT, including a symposium and a networking event. The events will also serve to assist Japanese businesses by supporting the cultivation of overseas sales channels and the creation of IoT-related business models in a variety of fields.
CeBIT 2017, the first event featuring Japan as the official Partner Country, is only a month away. Be sure not to miss the show packed with uniquely Japanese technologies and inventions that will pave the way for a new era.
* Society 5.0 is a catchphrase adopted by the Japanese government in relation to scientific and technological planning. It refers to the next stage of social evolution, the previous stages being hunter gatherer, agrarian, industrial and information societies.
---
Event outline
1. Japan Summit
Time:

March 20, 2017 (Monday) 11:30-13:00 (Scheduled)

Venue:

Hall 8, Sakura Stage

Outline:

Symposium jointly organized by JETRO and Deutsche Messe, designed to showcase Japan's approach to the new possibilities IoT offers by exhibiting successful cases of Japanese-German cooperation in related fields. The event will emphasize the proactive role Japan intends to take by leveraging the strengths of its unique technologies, ideas and originality and by forming partnerships with Germany and other nations around the world toward creating a super "smart society," one which maximizes use of IoT by integrating cyber and physical spaces.
2. Business networking
Time:

March 21, 2017 (Tuesday) 18:00-19:30 (Scheduled)

Venue:

Hall 4, Shared Space in the Japan Pavilion

Outline:

Networking event for small and medium-sized firms exhibiting at the Japan Pavilion and German companies interested in establishing business relations with them. Members of a trade mission from Japan consisting of Japanese SMEs to the CeBIT fair will also join this event. JETRO is aiming to foster contacts and create business opportunities for Japanese and German companies following an agreement reached by national leaders in 2015.
3. Japan Night
Time:

March 22, 2017 (Wednesday) 18:30-20:00 (Scheduled)

Venue:

Hall 8, Ginkgo Stage

Outline:

A networking opportunity for overseas companies and Japanese companies presenting at the Japan Pavilion.
4. Exhibitor presentations
Time:

March 20 – 24, 2017 (Monday-Friday) (Scheduled)

Venue:

Hall 4 and Hall 12, Presentation Zone of the Japan Pavilion

Outline:

Exhibitors pitch their ideas to visitors with presentations.
*Please apply for a Press ID through official website for covering events on site
http://www.cebit.de/en/register-plan/for-journalists/press-id/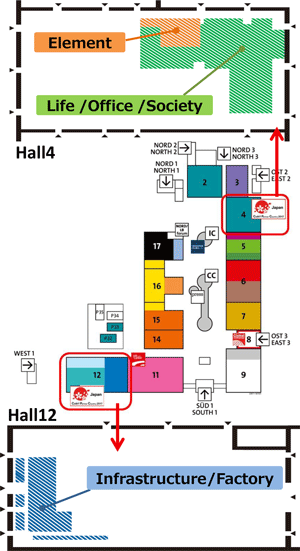 Related press releases
Contact in Germany

JETRO Berlin
Ms. Basalla
E-mail: katrin_basalla@jetro.go.jp, cebit-berlin@jetro.go.jp

Contact in Japan

Inquiries related to the Japan Pavilion or Japan Night

JETRO Tokyo
Mr. Takano and Ms. Wanami, Trade Fair Department
E-mail: faa-cebit@jetro.go.jp

Inquiries related to Japan Summit or Business Networking

JETRO Tokyo
Mr. Ebara and Mr. Tanaka, Manufacturing Industry Department
E-mail: mono@jetro.go.jp

Inquiries related to requests for interviews for attending companies

CeBIT Japan Pavilion PR Secretariat (Dentsu Public Relations Inc.)
Ms. Mamiko Tominaga, Ms. Mina Sakai
Tel: +81-(0)3- 5565-8996 E-mail: CeBIT2017jppress@group.dentsu-pr.co.jp