JETRO to host largest-ever national pavilion at CeBIT 2017
Tokyo, Japan (January 25, 2017) – Japan External Trade Organization (JETRO) will host a Japan Pavilion at the CeBIT 2017, the world's foremost event on everything essential to the wave of digitalization and the world's largest exhibition showcasing B-to-B solutions utilizing cutting-edge technologies including IoT, big data, artificial intelligence and robotics, held in Hannover, Germany, from March 20 to 24.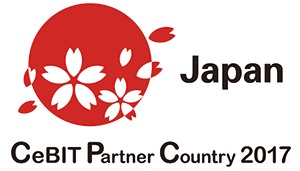 This year, Japan will be starring as the official Partner Country of CeBIT for the first time. With 118 companies and organizations participating, the Japan Pavilion will consist of three zones designed around the theme of Create a New World with Japan – Society 5.0, Another Perspective. The Pavilion will be the largest scale exhibition of its kind in the history of CeBIT, in total occupying 7,200 m2 of space in Hall 4 (Digital Business Solutions) and Hall 12 (Datacenter Infrastructure, IoT, Communication & Networks) of the Hannover Fairground.
The latest digital technologies, including virtual reality, humanoid robots, artificial intelligence, the Internet of Things and even life on Mars will be in the spotlight at CeBIT 2017. The Japan Pavilion will showcase to a global audience a wide range of revolutionary next-generation technologies, products and services from Japan, including sensing technology, biometric authentication technology, wearable devices, communicating robots, exoskeletons, personal mobility vehicles, drones, and automated driving systems. Approximately half of the 118 participating companies and organizations are small or medium size, with several that are making their first forays into exporting their products and services outside of Japan.
JETRO assists Japanese businesses by supporting the cultivation of overseas markets and the creation of IoT-related business models in a variety of fields. Be sure not to miss the Japan Pavilion, packed with uniquely Japanese technologies and inventions that will pave the way for a new era from the front lines of medical care and welfare, agriculture, construction and manufacturing to music and games.
CeBIT 2017
Name:

CeBIT 2017

Time:

March 20-24, 2017 (Monday-Friday)
9:00 – 18:00 on all days

Location:

Hannover, Germany

Venue:

Hannover Fairground

Visitors:

Approx. 200,000*

Exhibitors:

3,300 companies & organizations
(from 70 countries/regions)*

Organizer:

Deutsche Messe AG

Genre:

Information and communications technology

Website:

http://www.cebit.de/home
*Calculated by organizer based on last year's attendance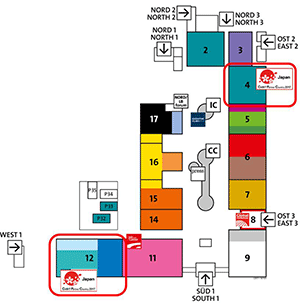 Japan Pavilion
Organizer:

Japan External Trade Organization (JETRO)

Supporters:

Ministry of Internal Affairs and Communications
Ministry of Economy, Trade and Industry

Exhibition area:

7,200 square meters

Exhibitors:

118 companies/organizations

Exhibition hall/stand number

Hall 4 / A38 and Hall 12 / D04
Theme:
Create a New World with Japan - Society 5.0, Another Perspective -
(Image of societies materially changing thanks to IoT and of Japan supporting countries around the world with its unique technologies and creative power while jointly pioneering a new age, and a concept which expresses these ideas.)
Three Zones:
Life/Office/Society (67 Exhibitors/Hall 4)
The Life/Office/Society Zone collects products and services that are changing the daily lives of consumers; ways of working in the office; shopping, dining, and other urban consumer experiences; as well as systems and services for the businesses that support them.
Infrastructure/Factory (35 Exhibitors/Hall 12)
The Infrastructure/Factory Zone collects systems and services which promote innovation in energy supply, transport, and transmission mechanisms; development of a range of resources and commodities; and other activities that support society in a variety of ways.
Element (16 Exhibitors/Hall 4)
The Element Zone collects the devices, elements, basic technologies, and other components that make the changes displayed in the Life/Office/Society zone and the Infrastructure/Factory Zone possible.
About JETRO
JETRO, or the Japan External Trade Organization, is a government-related organization that works to promote mutual trade and investment between Japan and the rest of the world. Originally established in 1958 to promote Japanese exports abroad, JETRO's core focus in the 21st century has shifted toward promoting foreign direct investment into Japan and helping small to medium-sized Japanese firms maximize their global export potential.
JETRO Berlin
Ms. Basalla
E-mail: katrin_basalla@jetro.go.jp

JETRO Tokyo Trade Fair Department
Mr. Takano and Ms. Wanami
E-mail: faa-cebit@jetro.go.jp