JETRO Global Connection -Accelerate Innovation with Japan-
Interview


Discussing Entrepreneurship and Startups with Tom Moss

(Japan)
November 2, 2022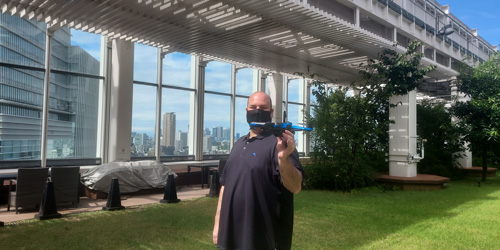 Today we're introducing Tom Moss, CEO of Skydio

and a serial entrepreneur who has worked in technology for about 20 years. He has led Skydio in Japan for the last two years. Exploring new technologies has always been something he loved, but he really got drawn into working in the technology industry in 2007 at Google. He was on the Android team at the time and ran go-to-market.
Working in technology, Tom has seen the Japanese startup ecosystem change and develop over the last 20 years. Since then, he has started several startups that were acquired, such as Nextbit Systems and he is also an angel investor. He has invested in startups in Japan, Europe and Silicon Valley.
Personally, he likes working closely with a small group of smart, highly motivated people on a common cause and trying to take on the world. Professionally, he sees the advantages of the startup model, being able to move faster and experiment more than large corporations.
Becoming An Entrepreneur
During his career, he developed a love for startups because of their power to transform ideas into reality. He explains, "I think startups are really wonderful for us, both for the people in them and for society in general. Everything a startup creates is new - new jobs, new products, and new technologies. It's a value-add into the economy, right from the very beginning."
After building several startups and having a family, Tom realized being an entrepreneur is a bit like parenting. You're never quite ready for it, it will take over your life, and you learn after jumping in and giving it your all. It's also a combination of harnessing inspiration and recognizing opportunities. He shares his advice on getting started, "If you passionately believe that now is the time to do something because of things that are playing out on a macro scale, then that's the right time. And what's happening in your life is almost secondary. It's going to be hard."
After spending much of his career working with consumer phone technologies, Tom was intrigued by the possibilities of autonomous drones for personal use. "I had kind of an aha moment riding my bicycle with my daughter and having both of us in the picture," he says. Documenting special events with your friends and family can mean you're experiencing those moments looking through a phone camera. "With the drone, you didn't have to make that choice anymore, you could capture the memory and live in that moment, and that was so liberating for me."
Tom Moss (Photographed by JETRO)
Changes in the Startup Ecosystem
Tom sees a turning point for the state of technology startups right now. He explains, "It could accelerate the development of many new kinds of core technology, be it synthetic biology, material science, space startups, things like that." Many methods developed for software or consumer startups could be utilized for deep tech startups.
Attitudes in Japan regarding startups have changed as well. He sees famous universities in Japan promoting startups and employees from big companies leaving to join startups more than they were a decade ago. Still, there is a bit of an image problem with startups. They are still seen as highly risky, a big barrier to overcome in Japan.
Tom believes the risk factor could be approached in several different ways. The government could lead the way, and support from organizations like JETRO is important for Japanese startups. Becoming a customer of startups is another way the government can encourage entrepreneurship as a purchaser of many different goods and services. "It would be great for the government to lead the way and show that it's okay for big companies and businesses to buy from startups," says Tom.
Entrepreneurs in Japan
Japan has a combination of large amounts of infrastructure, natural disasters and a very rapidly aging and shrinking population. This environment supports and creates demand for technology solutions. The first international office for Skydio was opened in Japan for this reason. If technology like autonomous drones could replace dangerous jobs currently done by people, it could benefit society as a whole. This technology has opportunities in other countries as well.
As mentioned earlier, macro and societal factors can greatly affect a startup's growth. Tom believes Japan's strength is the high quality of people and the quality of products that are developed here. "There's a very high level of quality, maybe a love of quality that is unparalleled, pretty much anywhere in the world. Many small and medium-sized businesses are very, very good at the things they do." Startups in Japan can also compete with bigger corporations in the Japanese ecosystem because they have far less overhead.
On the other hand, Tom has seen through his experience in Japan and Silicon Valley that the scale of ambition is not quite as wide for Japanese entrepreneurs. Building programs that expose Japanese entrepreneurs to overseas startups, or training in other countries could be an eye-opening initiative for the Japanese startup environment. If you dream big, it's not just about the greater financial rewards; you can also significantly impact society. If you have a good idea and think it could be big, just go for it!
Profile of Tom Moss

Tom Moss is a serial entrepreneur, executive and investor with deep hardware & software experience. He used to be Android executive at Google (2007-2010), and founder/CEO at 3LM (acquired by Motorola), EIR at Accel Partners, founder/CEO at Nextbit (acquired by Razer), SVP & GM Mobile at Razer. He is currently CEO of Skydio GK, the Asia-Pacific subsidiary of Skydio Inc., a maker of the world's most advanced autonomous drones.
Report by:

KAGA Yusuke, Innovation Promotion Department, JETRO