Business Expanding

Northleaf Capital Partners, a global private market investment firm, establishes a Japanese subsidiary
Northleaf Capital Partners Ltd.

("Northleaf") is a global private markets investment firm headquartered in Canada with US22 billion dollars in private equity, private credit and infrastructure commitments raised to date from public, corporate and multi-employer pension plans, endowments, foundations, financial institutions and family offices. Northleaf's more than 200-person team sources, evaluates and manages private markets investments globally, with a focus on mid-market companies and assets.
Establishment

2022/04
Destination

Tokyo
---
Finance & Insurance

Canada
In April 2022, Northleaf Capital Partners Japan K.K. was established in Tokyo. This is Northleaf's ninth location, following Toronto, Montreal, Chicago, Los Angeles, Menlo Park, New York, London, and Melbourne.
The company has been involved in investments in the Asia-Pacific region for nearly 25 years, and with the establishment of its Japanese subsidiary, they aim to strengthen relationships with Japanese investors and clients, and to increase its presence and commitment in the Asia-Pacific region.
Upon the establishment of Northleaf's Japanese subsidiary, JETRO's Investment and Business Support Center (IBSC) introduced service providers, provided consultation (registration, visas) and PR support.
Jeff Pentland, Managing Director & Head of Asia-Pacific
JETRO supports your business in Japan
JETRO IBSCs are located in Japan's major business hubs and provide one-stop support and service to foreign firms seeking to set up or expand business in Japan. The centers, which provide free temporary office space, consultation with expert advisors and access to a wealth of business information, tailor support according to the specific needs and phase of development of each firm.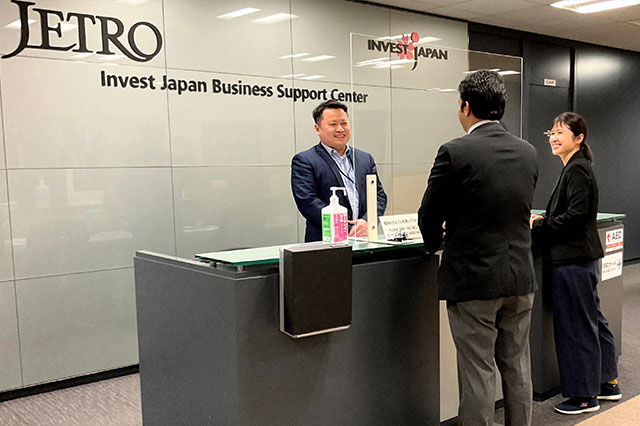 Contact Us
Investing in Japan
We will do our very best to support your business expansion into and within Japan. Please feel free to contact us via the form below for any inquiries.
Inquiry Form
JETRO Worldwide
Our network covers over 50 countries worldwide. You can contact us at one of our local offices near you for consultation.
Overseas Offices