Business Expanding

Argosy International, a U.S. company that provides advanced composite and related materials to reduce the weight of aircraft and automobiles, establishes a Japanese subsidiary in Nagoya, Aichi Prefecture
Argosy International Inc.

is a global market leader in the manufacture of high-quality aluminum honeycomb cores used in industries such as aerospace, rail transportation, electronics, construction, energy absorption and shipbuilding.
With more than 20 years of experience in the design, production and support of aluminum honeycomb cores and associated applications, Argosy is now placing focus on the automotive market through the development and manufacture of crash test barriers.
Establishment

2022/07
Destination

Aichi , Nagoya city
---
Automobiles &Transportation Equipment & Aviation

USA
Argosy recently established Argosy Japan Aerospace Materials Co., Ltd. ("Argosy Japan") to support the growth and expand market opportunities in Japan where it supplies aluminum and aramid honeycomb cores, crash test barriers, and now composite process materials for aerospace, automotive, transportation, and other light-weighting applications.
Paul Marks, Chairman, of the parent company Argosy International Inc., stated "The establishment of Argosy Japan will allow us to stock crash test barriers, composites, and composites process materials as well as invoice in local currency greatly expanding market opportunities as well as providing convenience for our Japanese customers." And he emphasized Nagoya is the perfect location for Argosy "due to its industrial focus on aerospace and automotive and the excellent support received from the Nagoya, Aichi local prefectures, the Greater Nagoya Initiative Center, and the Japanese External Trade Organization.
When the company established its Japanese base, JETRO Invest Japan Business Support Center (IBSC) provided consultation (registration, taxation, labor), introduced service providers (judicial scriveners, tax accountants, and labor and social security attorneys), arranged business meetings with the GNI Center and Nagoya City, rented temporary office space (IBSC Nagoya), and provided PR support.
JETRO supports your business in Japan
JETRO IBSCs are located in Japan's major business hubs and provide one-stop support and service to foreign firms seeking to set up or expand business in Japan. The centers, which provide free temporary office space, consultation with expert advisors and access to a wealth of business information, tailor support according to the specific needs and phase of development of each firm.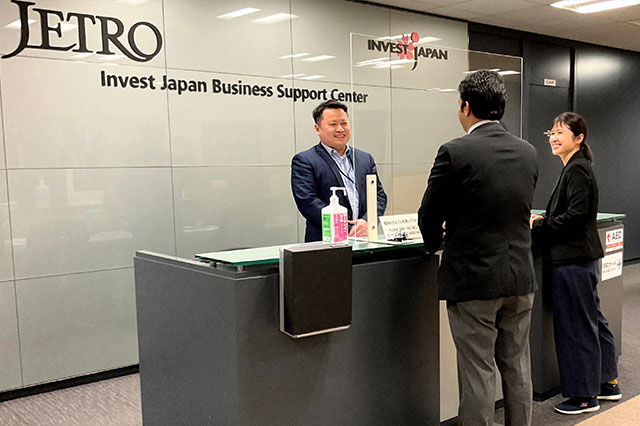 Contact Us
Investing in Japan
We will do our very best to support your business expansion into and within Japan. Please feel free to contact us via the form below for any inquiries.
Inquiry Form
JETRO Worldwide
Our network covers over 50 countries worldwide. You can contact us at one of our local offices near you for consultation.
Overseas Offices