Business Expanding

Webhelp, a leading global Business Process Outsourcing player, expands into Japan
Webhelp

is a leading global Business Process Outsourcing (BPO) player, creating game-changing customer journeys in today's digital world. Established in 2000 and headquartered in France, Webhelp has over 110,000 passionate employees across more than 55 countries to provide end-to-end customer experience solutions.
Establishment

2020/02
Destination

Tokyo
---
Service

France
From sales to service, content moderation to credit management, Webhelp thrives on making a difference for the world's most exciting brands. Enabled by technology and enriched by its people, Webhelp provides innovative solutions ranging from customer journey design, call center services, technical assistance and enterprise sales, to specialized process outsourcing for its more than 1,300 customers.
In February 2020, the company established WEBHELP JAPAN CO., LTD. in Tokyo. The company's presence in Japan enables it to extend its sectorial expertise and data-led consultation services to brands striving to achieve customer journey goals in Japanese market. It is committed to providing tailored solutions to support customers' call center and back office operations, delivering lasting, meaningful customer experiences.
To assist with establishing Webhelp's expansion into Japan, JETRO's Invest Japan Business Support Center (IBSC) provided consultation (visas and labor) and information to the company's APAC entity, which is promoting investment in Japan.
JETRO supports your business in Japan
JETRO IBSCs are located in Japan's major business hubs and provide one-stop support and service to foreign firms seeking to set up or expand business in Japan. The centers, which provide free temporary office space, consultation with expert advisors and access to a wealth of business information, tailor support according to the specific needs and phase of development of each firm.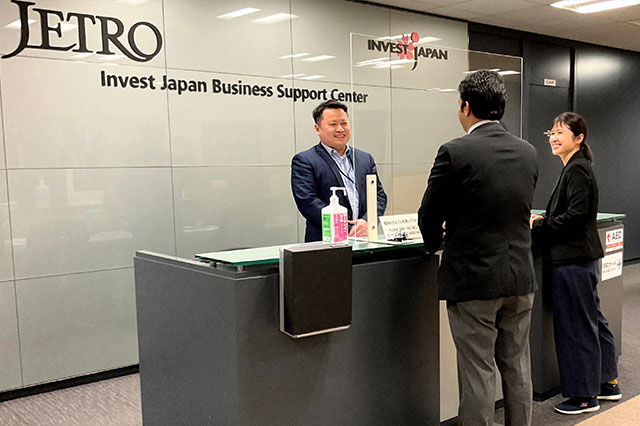 Contact Us
Investing in Japan
We will do our very best to support your business expansion into and within Japan. Please feel free to contact us via the form below for any inquiries.
Inquiry Form
JETRO Worldwide
Our network covers over 50 countries worldwide. You can contact us at one of our local offices near you for consultation.
Overseas Offices