Business Expanding

CLPS Incorporation, a global IT consulting and solutions service provider engaged in payment infrastructure development, establishes a Japanese subsidiary in Tokyo
CLPS Incorporation

("CLPS") is an IT service provider established in Shanghai in 2005, offering IT solutions and IT consulting services to financial companies, including but not limited to credit card issuers, banks, insurance, and e-commerce. It was listed on NASDAQ in 2018 and moved its headquarters to Hong Kong in 2020.
Establishment

2019/09
Destination

Tokyo
---
ICT

China
The main IT solutions provided by CLPS include the development of card payment infrastructure, system integration to migrate the systems used by banks and other financial institutions into cloud, and the construction and management of e-commerce platforms. In addition, it is currently developing blockchain-based financial system, which has gained traction in recent years. CLPS also provides DevOps IT consulting and solutions services, as well as offers IT talent training programs. It has delivery and R&D centers across Mainland China, Hong Kong SAR, the United States, Japan, Singapore, Malaysia, Australia, India, the Philippines, and Vietnam.
In September 2019, CLPS established CLPS Technology Japan Co., Ltd. in Tokyo to strengthen support for its existing clients in Japan and develop new ones.
To assist with the establishment of its Japanese subsidiary, JETRO Invest Japan Business Support Center (IBSC) provided legal, taxation, and labor- related consulting services, introduced service providers, assisted with personnel recruitment, introduced real estate properties, and issued JETRO support certificates to CLPS.
JETRO supports your business in Japan
JETRO IBSCs are located in Japan's major business hubs and provide one-stop support and service to foreign firms seeking to set up or expand business in Japan. The centers, which provide free temporary office space, consultation with expert advisors and access to a wealth of business information, tailor support according to the specific needs and phase of development of each firm.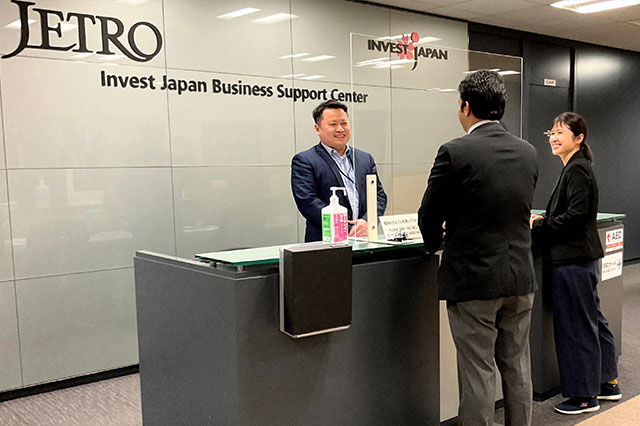 Contact Us
Investing in Japan
We will do our very best to support your business expansion into and within Japan. Please feel free to contact us via the form below for any inquiries.
Inquiry Form
JETRO Worldwide
Our network covers over 50 countries worldwide. You can contact us at one of our local offices near you for consultation.
Overseas Offices