Business Expanding

ELSA, a U.S. company of AI-based English Language Speech Assistant that helps improve English pronunciation, establishes a Japanese subsidiary in Tokyo
Founded in San Francisco in 2015, ELSA

is a U.S. EdTech company that develops a coaching app for English conversation that helps learners build a foundation for listening and speaking English. The unique speech recognition technology based on deep learning enables pronunciation correction through independent, self-paced learning.
Establishment

2022/11
Destination

Tokyo
---
ICT

USA
ELSA is used by about 40 million users in over 100 countries. It instantly analyzes the sounds the learner utters, compares the pronunciation to that of a native speaker, and gives a score as a percentage of how close it is to the correct pronunciation. This allows learners to identify their personal speaking weaknesses such as pronunciation, accent, intonation, fluency, vocabulary, and grammar, and improve them without the need for human, one-on-one, interview-style evaluations. By detecting pronunciation errors at three levels - phoneme, word, and sentence - and encouraging repeated independent practice through real-time feedback, the system not only improves pronunciation, but also improves listening comprehension.
Real-time speech recognition feedback enables the learner to quickly identify and learn the correct pronunciation.
App features 200+ topics, 5,000+ lessons and 26,000+ speaking exercises.
In Japan, ELSA has already been adopted by educational institutions, ranging from primary schools to universities, as well as local governments and businesses. Now that 'one student, one device' is becoming more common across Japan, this app acts as a pronunciation coach using natural language processing, which learners listen as many times as they want and are provided with real-time feedback to help them improve, until they get the pronunciation right. Learners can practice making English sounds that are not found in Japanese, which is said to be one of the reasons why English pronunciation is difficult, at their own pace and without having to hesitate to anyone until they gain confidence. From the teacher's perspective, as a learning management system, it visualizes students' learning and progress status, making it easier to give individualized advice and effectively facilitate English learning in and out of the classroom.
The company established ELSA Japan in Tokyo in November 2022. By using technology to assist learners in improving their ability to express themselves in English, with a special focus on pronunciation, the company aims to spark the interest in learning English and provide opportunities for practical English learning in Japan.
Teachers can stay up-to-date on minutes and lessons studied, as well as progress by student, class and department.
To assist with ELSA's market entry to Japan, JETRO's Invest Japan Business Support Center (IBSC) provided information on the EdTech market in Japan, provided consultation (registration, tax and labor), introduced service providers (recruiting, coworking space and tax accounting firms) and supported searching for business partners/business matching.
JETRO supports your business in Japan
JETRO IBSCs are located in Japan's major business hubs and provide one-stop support and service to foreign firms seeking to set up or expand business in Japan. The centers, which provide free temporary office space, consultation with expert advisors and access to a wealth of business information, tailor support according to the specific needs and phase of development of each firm.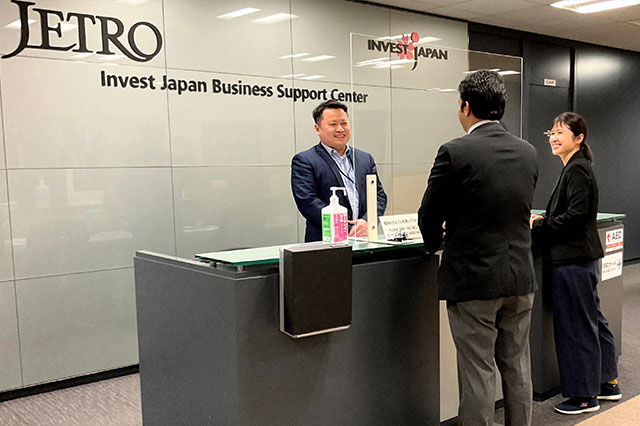 Contact Us
Investing in Japan
We will do our very best to support your business expansion into and within Japan. Please feel free to contact us via the form below for any inquiries.
Inquiry Form
JETRO Worldwide
Our network covers over 50 countries worldwide. You can contact us at one of our local offices near you for consultation.
Overseas Offices