Business Expanding

UPS Japan, a Major U.S. air cargo airline, Holds Ceremony to Commemorate Launch of Kitakyushu Airport Service
UPS Japan K.K.

("UPS Japan"), the Japanese subsidiary of UPS, a major U.S. air cargo company, held a ceremony on February 20, 2023, at Kitakyushu Airport to commemorate the launch of its new "Shenzhen-Kansai-Kitakyushu" service.
The flight will be operated five times a week (Monday-Friday) as a scheduled international cargo service, using the B767-300ERF aircraft.
Collaboration

2023/02
Location

Fukuoka
---
Service

USA
The company, which is the world's second largest air cargo carrier, has a hub in Kentucky, U.S.A., as well as at Shenzhen International Airport in China, with routes to various parts of the world.
In Japan, the company currently operates flights to Narita International Airport and Kansai International Airport, but this will be the company's first scheduled cargo flight to Kitakyushu, and it aims to build a new logistics network.
The company's Kitakyushu service will make it possible to connect the Kyushu region to more than 220 countries and regions around the world in as little as one to three days, and is expected to enhance the competitiveness of companies in the prefecture seeking to expand overseas by reducing transportation time.
First UPS flight arriving at Kita Kyushu Airport
The company aims to develop new customers and expand its services in Kyushu, especially for precision equipment such as semiconductor parts and electronic commerce (EC) products, which require speedy transportation.
To assist the company's entry into the Kitakyushu business, the JETRO Investment and Business Support Center (IBSC) introduced local government officials, arranged airport tours, matched them with companies in Fukuoka Prefecture, and provided support for introductions to events.
JETRO supports your business in Japan
JETRO IBSCs are located in Japan's major business hubs and provide one-stop support and service to foreign firms seeking to set up or expand business in Japan. The centers, which provide free temporary office space, consultation with expert advisors and access to a wealth of business information, tailor support according to the specific needs and phase of development of each firm.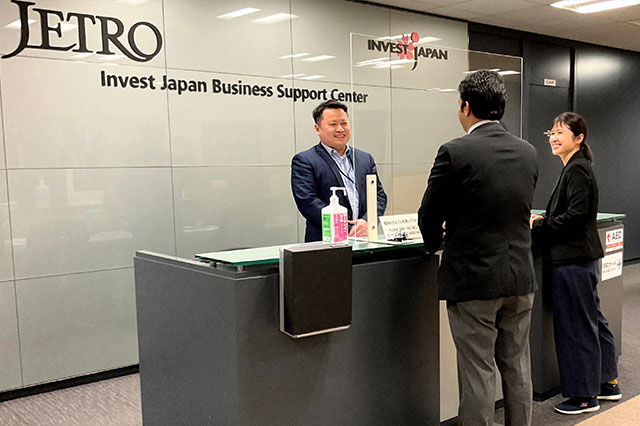 Contact Us
Investing in Japan
We will do our very best to support your business expansion into and within Japan. Please feel free to contact us via the form below for any inquiries.
Inquiry Form
JETRO Worldwide
Our network covers over 50 countries worldwide. You can contact us at one of our local offices near you for consultation.
Overseas Offices