Business Expanding

Rapsodo, a Singaporean sports-tech company, establishes a Japanese subsidiary in Kanagawa
Rapsodo

is a Singapore-based sports tech company. Established in 2011, the company has operations in the United States and Turkey, and employs about 140 people worldwide.
Establishment

2021/01
Destination

Yokohama city , Kanagawa
---
ICT

Singapore
The company develops and manufactures the Rapsodo, a 3D tracking system that uses computer vision and sophisticated radar to measure and analyze hitting and pitching data of baseball and softball, such as velocity, spin rate, inclination of axis, and amount of change.
Since a wide range of data can be acquired in real time, ranging from basic data such as pitch velocity to detailed data such as spin information, and release timing and angles, the company is developing products and services that maximize the potential of each player through comprehensive data analysis by visualizing the elements of hitting and pitching, which until now have only been sensory.
In addition to the current practice-specific measurement and analysis devices, the company is also conducting demonstration testing of "Rapsodo Stadium," a ballpark installation-type device, in the Japan Winter League, measuring pitches and hits during games and providing acquired data to participating players and scouts, thereby contributing to quantifying player performance.
Branch Manager of Japan office Mr.KEN SANDO
In addition to all 30 Major League Baseball (MLB) teams in the U.S. and more than 700 major colleges and baseball academies, the system has also been installed in Japan, by Japanese professional baseball (NPB) teams, amateur baseball teams, colleges, high schools, junior high schools, academies, sports gyms, medical institutions, and other organizations in Japan.
In the future, Rapsodo will expand the scope of its products to include other sports besides baseball, softball, and golf. As a manufacturer of ballistic measurement and analysis equipment, the company will promote the spread of efficient training based on data, not only for some athletes such as professionals and top amateurs, but also for all athletes who just "want to get better," to improve their performance, and to avoid injury. In collaboration with universities, it is also focusing on a project to train sports analysts who will help athletes and teams achieve their goals based on the collection and analysis of data.
In January 2021, the company established Rapsodo Japan KK in Yokohama City, Kanagawa Prefecture, to strengthen its customer support system and develop new customers in Japan.
To assist with establishing the company's Japanese base, JETRO's Invest Japan Business Support Center (IBSC) provided information (incentives), PR support, and consultations (labor, tax, and registration), lent temporary office space, and introduced service providers (banks) and local governments.
JETRO supports your business in Japan
JETRO IBSCs are located in Japan's major business hubs and provide one-stop support and service to foreign firms seeking to set up or expand business in Japan. The centers, which provide free temporary office space, consultation with expert advisors and access to a wealth of business information, tailor support according to the specific needs and phase of development of each firm.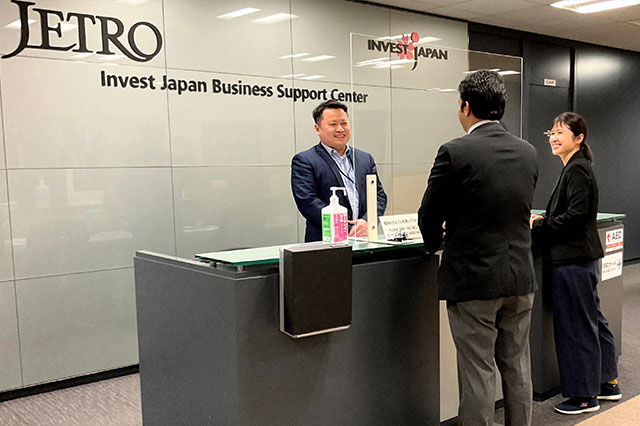 Contact Us
Investing in Japan
We will do our very best to support your business expansion into and within Japan. Please feel free to contact us via the form below for any inquiries.
Inquiry Form
JETRO Worldwide
Our network covers over 50 countries worldwide. You can contact us at one of our local offices near you for consultation.
Overseas Offices