Business Expanding

Zenitus, an IT consulting and software development company primarily focusing on serving the technology needs of Japanese and Global customers
Zenitus

is an IT and software development company founded in 2020 in Chennai, Indian by a founder who has many years of experience in developing IT systems and software in Japan.
Establishment

2021/03
Destination

Tokyo
---
ICT

India
The company's main businesses include designing and building IT systems, selling in-house packaged software, and consulting on outsourcing IT software development.
In particular, it is well-versed in insurance, financial and banking operations, and specializes in the development of high-quality, high-security, customer-specific software. It also develops web apps, mobile apps, and cloud software systems for automotive, oil and gas, healthcare, and airlines. The company has 4 Products, TrackZ (location tracking and analytics platform), ClaimZ (insurance application automation tool), ChatZ (custom chatbot using analytics), and EaZy UI (UI building utility), which have already been implemented by many customers.
The company's strengths lie in its quality, ease of use, and high reliability that set it apart from other IT companies that simply develop software based on specifications. In addition to Japanese staff, experienced IT engineers and bridge engineers from the head office provide bilingual support to clients. After development, maintenance is carried out both onsite and offsite 24 hours a day, 7 days a week to quickly respond to any problems that may arise.
The company established Zenitus Technologies Co., Ltd. in Tokyo in March 2021 to provide Japanese customers with services such as consulting on outsourcing, management of off-shore development in the home country, maintenance and testing of delivered apps and software, and technical training.
When the company established its Japanese base, JETRO Invest Japan Business Support Center (IBSC) provided information on real estate properties, introduced consultation (registration, visas and tax) service providers, and arranged business meetings.
An IT consulting and software development company primarily focusing to serve the technology needs of Japanese and Global customers
JETRO supports your business in Japan
JETRO IBSCs are located in Japan's major business hubs and provide one-stop support and service to foreign firms seeking to set up or expand business in Japan. The centers, which provide free temporary office space, consultation with expert advisors and access to a wealth of business information, tailor support according to the specific needs and phase of development of each firm.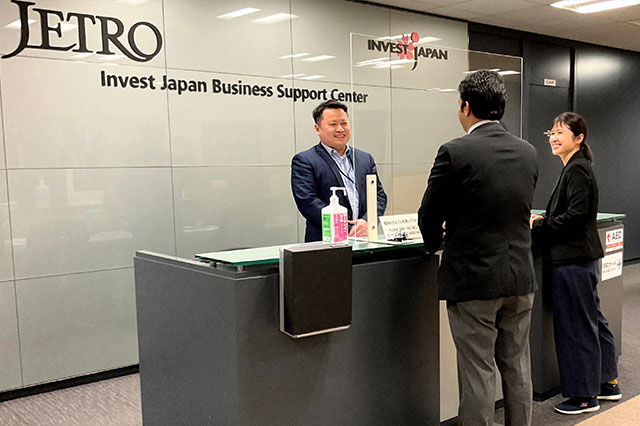 Contact Us
Investing in Japan
We will do our very best to support your business expansion into and within Japan. Please feel free to contact us via the form below for any inquiries.
Inquiry Form
JETRO Worldwide
Our network covers over 50 countries worldwide. You can contact us at one of our local offices near you for consultation.
Overseas Offices