Business Expanding

Contentsquare SAS, an online customer experience analytics company, establishes a Japanese subsidiary in Tokyo
Contentsquare SAS

("Contentsquare") is a startup founded in France in 2012 that provides online customer experience analytics solutions, which have been implemented by More than 800 companies worldwide, including Rakuten, Sony and T-Mobile.
Contentsquare's AI-powered platform provides rich customer insights (Note) that focus on background information such as customer behaviors, emotions, and intentions at every stage of the customer journey.
(Note)

Customer insight: The unintentional and intrinsic desires of customers that lead them to purchase products or use services. It is an important decision-making tool for developing marketing strategies and cultivating new demand.
Establishment

2022/02
Destination

Tokyo
---
ICT

France
Contentsquare provides AI solutions that analyze the online customer journey and help companies understand customer behaviors, emotions, and intentions to better connect with their customers. As a global leader in the field of customer digital experience analytics, the company helps companies win the trust of their customers in terms of security, privacy, and accessibility. Its technological capabilities and future potential have been highly valued, and so far, it has raised 810 million dollars in funding from leading investment companies such as SoftBank and BlackRock.
More than 800 companies in a wide range of fields have implemented the solutions, including AMEX, Best Buy, Dell, IKEA, LVMH, T-Mobile and Sephora. Its insights have helped improve the customer experience on more than one million websites worldwide. In Japan, its solutions are utilized by more than 30 companies, including the Rakuten Group, Oisix, Sony, JCB, and Recruit.
Contentsquare has established "Contentsquare Japan LLC" in Tokyo to provide AI-based insights based on the analysis of vast amounts of online behavioral data to enable Japanese companies and brands to deliver online experiences more in tune with the sensibilities of their Japanese customers.
Upon establishing its Japanese subsidiary, JETRO's Invest Japan Business Support Center (IBSC) provided consultations on registration and visas, introduced service providers, and assisted with public relations.
JETRO supports your business in Japan
JETRO IBSCs are located in Japan's major business hubs and provide one-stop support and service to foreign firms seeking to set up or expand business in Japan. The centers, which provide free temporary office space, consultation with expert advisors and access to a wealth of business information, tailor support according to the specific needs and phase of development of each firm.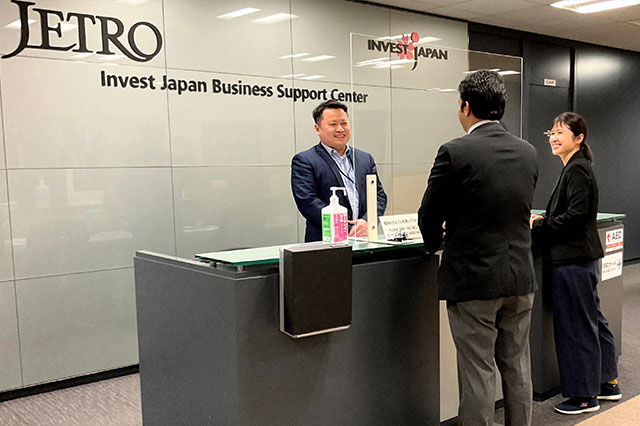 Contact Us
Investing in Japan
We will do our very best to support your business expansion into and within Japan. Please feel free to contact us via the form below for any inquiries.
Inquiry Form
JETRO Worldwide
Our network covers over 50 countries worldwide. You can contact us at one of our local offices near you for consultation.
Overseas Offices