Business Expanding

Cloud video surveillance provider worked with JETRO as it planned and executed its successful expansion into the Asia Pacific market and established its headquarters and data center in Tokyo
Eagle Eye Networks

is the global leader in cloud video surveillance, delivering cyber-secure, cloud-based video with artificial intelligence (AI) and analytics to make businesses more efficient and the world a safer place. Eagle Eye provides security and real-time business intelligence, helping organizations of all sizes and types optimize operations.
Establishment

2018/09
Destination

Tokyo
---
ICT

USA
Eagle Eye's 100 percent cloud-managed solutions are smart, simple, and secure. The Eagle Eye Cloud VMS (video management system) is the only platform robust and flexible enough to power the future of video surveillance and intelligence. Purpose built for the cloud and AI, it addresses customers' security needs with infinite scalability, flexible pricing plans, a wide array of advanced analytics, and an open RESTful API platform for unlimited customization. Eagle Eye sells through a global network of channel partners.
Founded in 2012, Eagle Eye is headquartered in Austin, Texas, with offices in Amsterdam, Bangalore, and Tokyo. Eagle Eye decided to open an office and locate a global data center in Japan to support its growing customer base in the Asia-Pacific market. The company established a presence in Tokyo in 2018 to support existing clients and new client development; early in 2019, the company expanded and relocated its office in Tokyo.
Throughout the process, Eagle Eye Networks worked closely with JETRO's Investment and Business Support Center (IBSC) in Japan. The IBSC assisted Eagle Eye in utilizing temporary office space at the IBSC facility in Tokyo; provided consultation on visa procedures, and introduced service providers (administrative scriveners, tax accountants, real estate companies).
JETRO supports your business in Japan
JETRO IBSCs are located in Japan's major business hubs and provide one-stop support and service to foreign firms seeking to set up or expand business in Japan. The centers, which provide free temporary office space, consultation with expert advisors and access to a wealth of business information, tailor support according to the specific needs and phase of development of each firm.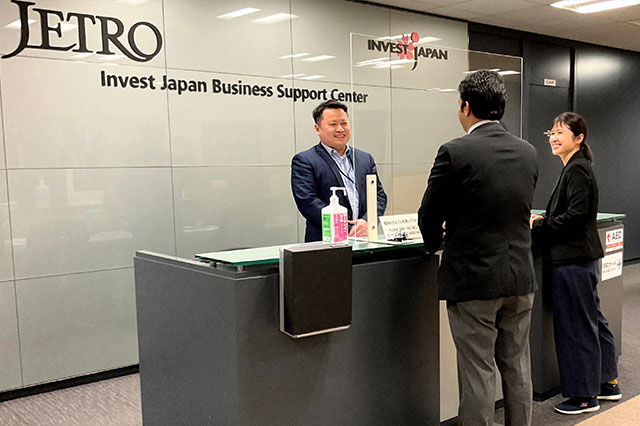 Contact Us
Investing in Japan
We will do our very best to support your business expansion into and within Japan. Please feel free to contact us via the form below for any inquiries.
Inquiry Form
JETRO Worldwide
Our network covers over 50 countries worldwide. You can contact us at one of our local offices near you for consultation.
Overseas Offices