Business Expanding

Pendo, a provider of solutions to optimize software products, establishes a Japanese subsidiary and expands its business
Pendo

's mission is to "improve the world's product experience with software" and provides a product platform that brings software closer to users' expectations.
Establishment

2020/09
Destination

Tokyo
---
ICT

USA
Compared to the easy-to-use cell phone apps that users use every day as consumers, business apps and software still have room for improvement, and Pendo is helping companies meet these growing user expectations. "Pendo" is the only platform that combines granular product analytics with in-app guides and user feedback to support smooth new software introduction and retention, as well as to facilitate the utilization of existing software.
For example, ISVs (Independent Software Vendors) can use "Pendo" to help their product teams combine qualitative and quantitative insights to smoothly improve their products. And for companies deploying internally developed software or SaaS, on-boarding, training and support can be conducted within the tools employees use in the workplace, allowing IT and HR teams improve employee proficiency and increase the ROI on software investments. In addition, internal DX personnel can use "Pendo" data to streamline and optimize software use.
Founded in 2013 in Raleigh, North Carolina, Pendo has grown to more than 900 employees with offices in seven locations worldwide. The company has over 2,600 customers, including Salesforce.com and Trend Micro, and "Pendo" is also introduced by many "Fortune 500" companies. The Japanese subsidiary, Pendo.io Japan KK, began operations in November 2020 and is expanding its business with a 100% partner model. Kiyomitsu Takayama, Country Manager of the Japanese subsidiary, also serves as President of the Japan Digital Adoption Association (JDIAA) established for the Digital Month in October 2022, and will focus on supporting DX in Japan.
In the company's business expansion in Japan, JETRO's Invest Japan Business Support Center (IBSC) introduced service providers (accounting firms and banks).
JETRO supports your business in Japan
JETRO IBSCs are located in Japan's major business hubs and provide one-stop support and service to foreign firms seeking to set up or expand business in Japan. The centers, which provide free temporary office space, consultation with expert advisors and access to a wealth of business information, tailor support according to the specific needs and phase of development of each firm.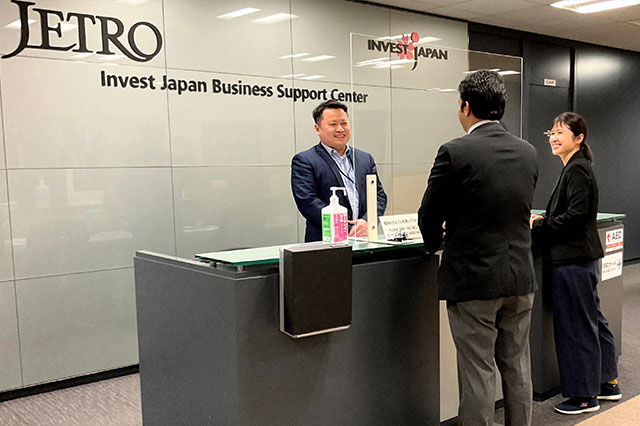 Contact Us
Investing in Japan
We will do our very best to support your business expansion into and within Japan. Please feel free to contact us via the form below for any inquiries.
Inquiry Form
JETRO Worldwide
Our network covers over 50 countries worldwide. You can contact us at one of our local offices near you for consultation.
Overseas Offices