Business Expanding

dApp, a Blockchain System Developer from Canada, Establishes Japanese Subsidiary
dApp Technology Inc.

("dApp") is a start-up company established in Canada in 2021. It was started as a student venture by a graduate of the University of Toronto, which is famous for computer science. Within one year of its establishment, the number of employees has grown to 50. So far, the company has been involved in more than 40 projects in five countries. The founder David is also a lecturer for a blockchain course at the University of Toronto.
Establishment

2022/07
Destination

Tokyo
---
ICT

Canada
dApp provides a full range of services from strategic planning to system development, utilizing cutting-edge know-how and technology related to blockchain. They experienced in building NFT marketplaces, control management systems, token issuance systems, and more. The company has a wide range of customers in IT, finance, retail, animation, and other industries.
In July 2022, the company established dApp Technology Japan Inc. in Tokyo to strengthen partnerships with Japanese clients and develop new clients.
Upon the establishment of dApp's Japanese subsidiary, JETRO's Investment and Business Support Center (IBSC) introduced service providers, and provided consultation (registration, visas).
JETRO supports your business in Japan
JETRO IBSCs are located in Japan's major business hubs and provide one-stop support and service to foreign firms seeking to set up or expand business in Japan. The centers, which provide free temporary office space, consultation with expert advisors and access to a wealth of business information, tailor support according to the specific needs and phase of development of each firm.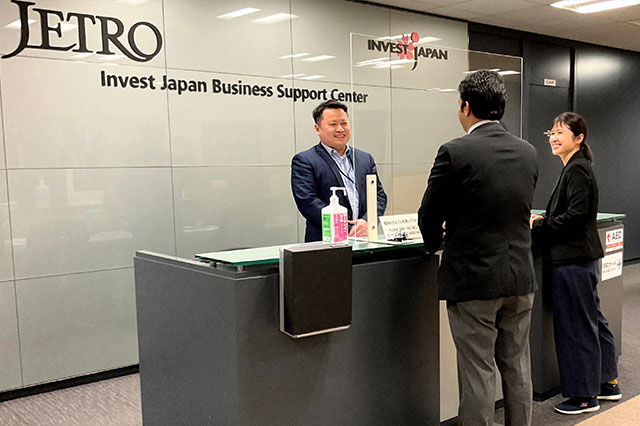 Contact Us
Investing in Japan
We will do our very best to support your business expansion into and within Japan. Please feel free to contact us via the form below for any inquiries.
Inquiry Form
JETRO Worldwide
Our network covers over 50 countries worldwide. You can contact us at one of our local offices near you for consultation.
Overseas Offices