Business Expanding

Norwegian software development company OPEN IT NORGE AS establishes a Japanese subsidiary, starts full-scale operations
OPEN IT NORGE AS

is a software development company founded in Norway in 1999. Known globally as Open iT, the company has overseas offices in Europe (Norway and Germany), the US, Mexico, India, and the Philippines.
Establishment

2021/08
Destination

Tokyo
---
ICT

Norway
The IT asset management system developed by Open iT is a solution that meters, analyzes, and optimizes software, hardware, cloud, and SaaS usage. As digitalization continues to progress, the management of IT assets owned by companies and research institutions becomes increasingly complex; however, this can be simplified using the company's system. By promoting the reduction of underutilized software licenses, it also helps reduce costs and improve business productivity.
Compared to its competitors, the company's strength lies in its long history of reflecting customer needs in its products. Specializing in the management of engineering software licenses with the capability to also track business applications, their system can meter over 6000 applications and over 35 license managers. Open iT has customers from various industries such as automotive, electronics, aerospace, oil and gas, and government. The company provides products and services to several companies and organizations around the world, including Global Fortune 500 customers.
Until recently, the company has been operating in the Japanese market through distributors. However, with the goal of further strengthening its sales structure and expanding its support system, it established the Japanese subsidiary, Open iT Japan GK, on August 2021 in Tokyo. Subsequently, Mr. Koichi Ohashi was appointed as the Japanese subsidiary's President, and six staff members were hired to create a structure that would enable the company to begin full-scale operations.
Upon the establishment of OPEN IT NORGE AS' Japanese subsidiary, JETRO's Investment and Business Support Center (IBSC) provided consultation services by professional experts (registration, tax, labor), introduced service providers (registration and tax agent), and provided various information and support on human resources recruitment.
JETRO supports your business in Japan
JETRO IBSCs are located in Japan's major business hubs and provide one-stop support and service to foreign firms seeking to set up or expand business in Japan. The centers, which provide free temporary office space, consultation with expert advisors and access to a wealth of business information, tailor support according to the specific needs and phase of development of each firm.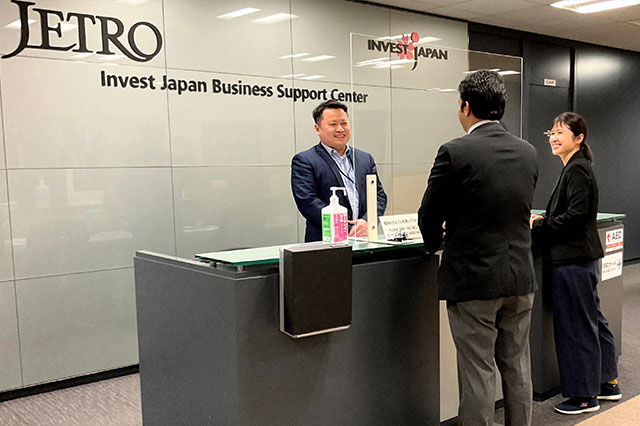 Contact Us
Investing in Japan
We will do our very best to support your business expansion into and within Japan. Please feel free to contact us via the form below for any inquiries.
Inquiry Form
JETRO Worldwide
Our network covers over 50 countries worldwide. You can contact us at one of our local offices near you for consultation.
Overseas Offices