Business Expanding

SAVE A CRUST PTE LTD, a Singaporean food tech company that upcycles food waste and loss, establishes a Japanese subsidiary
SAVE A CRUST PTE LTD

is a food tech company from Singapore, which, as CRUST Group, engages in sustainable production of beverages such as beer, from surplus bread and other ingredients otherwise to be wasted.
The company upcycles bread and rice that would otherwise go to waste, even though they are still edible, and develops CRUST, a line of sustainable craft beers in a variety of styles, and CROP, a line of non-alcoholic beverages made from fruit and vegetable peels and other food waste and loss, by using its own recipes and fermentation techniques. Since 2019, the company has reduced food losses by more than 2,536 kg and CO2 emissions by about 3,880 kg.
Establishment

2021/02
Destination

Osaka city
---
Environment & Energy

Singapore
The company established CRUST JAPAN K.K.in February 2021. It is focusing on expanding its business in Japan from the base in Osaka, where its management functions are located. With the cooperation of Osaka City and other agencies, the company provides many services to contribute to the SDGs, with a focus on improving food loss.
The company also won four awards, the Bronze Award and O-BIC Prize, at the global business plan contest of Hack Osaka 2021 for entrepreneurs' ideas and business models, Sigmaxyz award at the TECH PLANTER Food Tech Grand Prix 2021 and Startup category at TECH PLANTER Real Tech venture of the year 2022.
The company's establishment of a Japanese base not only provides sustainable and delicious beverages for the Japanese market but also reduces food waste and loss and contributes to the SDGs.
To assist with the establishment of the company's base, JETRO provided support, such as provision of information, introduction of JETRO-related events, and arrangement of business matching.
JETRO supports your business in Japan
JETRO IBSCs are located in Japan's major business hubs and provide one-stop support and service to foreign firms seeking to set up or expand business in Japan. The centers, which provide free temporary office space, consultation with expert advisors and access to a wealth of business information, tailor support according to the specific needs and phase of development of each firm.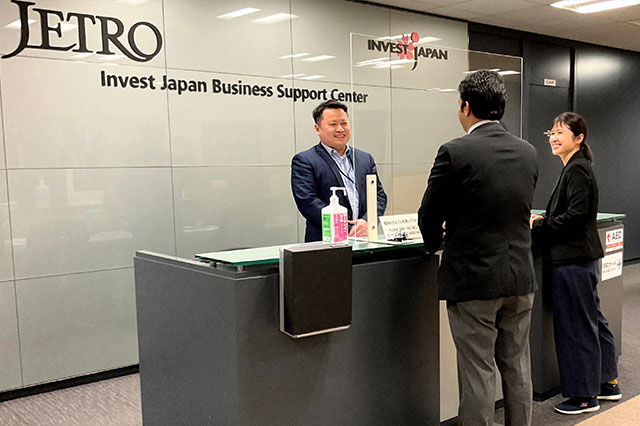 Contact Us
Investing in Japan
We will do our very best to support your business expansion into and within Japan. Please feel free to contact us via the form below for any inquiries.
Inquiry Form
JETRO Worldwide
Our network covers over 50 countries worldwide. You can contact us at one of our local offices near you for consultation.
Overseas Offices