Business Expanding

SOTI, Canada's Enterprise Mobility Management (EMM) Company, Steadily Expands its Business in Japan
SOTI Inc.

("SOTI"), founded in Canada in 1995, is a provider of business mobility and IoT device management solutions. The company has 12 offices in the United States, United Kingdom, Germany, UAE, Australia, and other countries, and employs more than 1,400 people worldwide. They have more than 17,000 Enterprise customers worldwide in the transportation and logistics, retail, emergency services, field work, and healthcare industries, with millions of devices under management.
Establishment

2018/12
Destination

Tokyo
---
ICT

Canada
The company offers the SOTI ONE Platform for Multi-OS, Multi-device, Enterprise Mobility Management (EMM), Mobile Device Management (MDM), and Bring Your Own Device (BYOD) management.
This consists of six EMM solutions, which support mobile app development and configuration, data protection and operational management of the mobile devices, defect diagnosis, and performance analysis. The solution covers a wide range of mobile device lifecycles, from introduction to disposal, and facilitates management that tends to be complicated.
Properly protect and manage mobile devices that are essential in a variety of industries and operations, such as inventory management in retail stores and warehouses, delivery staff operations, and electronic medical records in medical facilities, to promote IoT utilization in the field.
Console screen of SOTI ONE Platform
Upon the establishment of SOTl's Japanese subsidiary, JETRO's Investment and Business Support Center (IBSC) introduced to service providers, provided market information and consultation (registration, taxation).
JETRO supports your business in Japan
JETRO IBSCs are located in Japan's major business hubs and provide one-stop support and service to foreign firms seeking to set up or expand business in Japan. The centers, which provide free temporary office space, consultation with expert advisors and access to a wealth of business information, tailor support according to the specific needs and phase of development of each firm.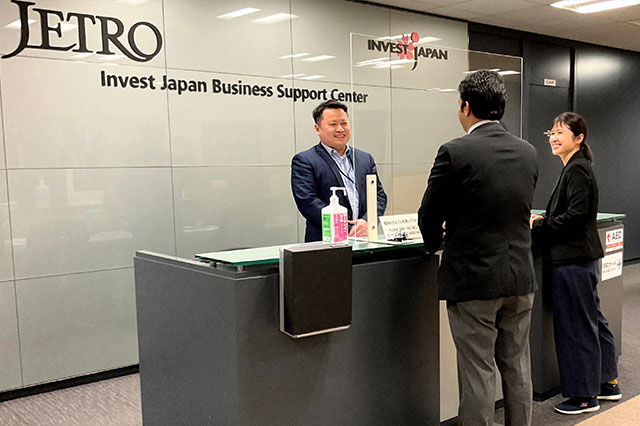 Contact Us
Investing in Japan
We will do our very best to support your business expansion into and within Japan. Please feel free to contact us via the form below for any inquiries.
Inquiry Form
JETRO Worldwide
Our network covers over 50 countries worldwide. You can contact us at one of our local offices near you for consultation.
Overseas Offices