Business Expanding

Nihon MichelinTire establishes the Gunma AM Platform (GAM) in Ota City, Gunma Prefecture, together with a group centered on manufacturing companies in the prefecture, as a base for metal additive manufacturing technologies
Nihon MichelinTire Co., Ltd.

(only in Japanese) is a Japanese subsidiary of Michelin Group, a global leader in mobility headquartered in Clermont-Ferrand, France. Michelin in France, established in 1889, has more than 123,600 employees and provides the optimal tires, services, and solutions for its customers to realize sustainable mobility in 170 countries. In addition to manufacturing approximately 170 million tires at 71 manufacturing sites (results for 2020), the company is developing businesses that make mobility a unique and fulfilling experience, such as digital services, travel guides, hotel and restaurant guides, and maps, as well as high-tech materials offered to a diverse range of industries.
Expanding

2021/07
Destination

Gunma
---
Automobiles &Transportation Equipment & Aviation

Service

France
Nihon MichelinTire was established in 1975 and has a total of about 500 employees at the Tokyo head office, the Ota site in Ota city, Gunma prefecture, and the Nagoya office in Aichi prefecture. The company opened a factory in Ota city in 1991 with Okamoto Riken Rubber and started tire production, and the Ota site has been its R&D base since then.
The company cooperated with JETRO and local governments, public organizations, universities, and companies in Gunma prefecture to discuss and prepare for the establishment of corporations, and in July 2021, the Gunma AM Platform (GAM)

(only in Japanese) was established in the Ota site. The mission of this platform is to contribute to the region by promoting the dissemination, education, R&D, and practical application of metal additive manufacturing technologies and related advanced technologies based on the needs of industry, and to contribute to the creation of new processes and industries as the cornerstone of the manufacturing industry for a new era. Industry, government, and academia will work together to transform the manufacturing industry into a high-value-added industrial base, by providing educational programs for the companies participating in this platform, as well as interested companies, universities, and communities, conducting educational and dissemination activities related to metal additive manufacturing technologies, providing consultation for the practical application of metal additive manufacturing technologies, holding joint development member salons and sharing knowledge cultivated in the member salons. As one of the concrete activities, the companies participating in this platform will actually design and produce molded objects using metal 3D printers and related software installed in the Ota site. Full-scale operations are scheduled to start in the spring of 2022.
See the press release on June 25, 2021 (only in Japanese) for more information on establishing the platform.
In December 2021, the company announced that it plans to relocate the headquarters functions of its Japanese subsidiary from Shinjuku-ku, Tokyo, to Ota city in August 2023. While scaling back the office in Shinjuku-ku, the company will expand the office in Ota city, and disseminate new "with tires, around tires & beyond tires" solutions, which are the pillars of the Michelin Group's new strategy, from the Ota site.
Upon establishing the Gunma AM Platform (GAM), JETRO's Invest Japan Business Support Center (IBSC) provided assistance in searching for business partners/business matching, PR support, arranged meetings with local governments, provided consultation (registration), and established and operated a committee to study the installation of "Gunma 3D Metal Printer Platform."
(NOTE)

Additive Manufacturing is a technology for producing three-dimensional objects by accumulating thin layers of resins, powder, etc. based on cross-sectional data of three-dimensional objects cut into sliced images.
JETRO supports your business in Japan
JETRO IBSCs are located in Japan's major business hubs and provide one-stop support and service to foreign firms seeking to set up or expand business in Japan. The centers, which provide free temporary office space, consultation with expert advisors and access to a wealth of business information, tailor support according to the specific needs and phase of development of each firm.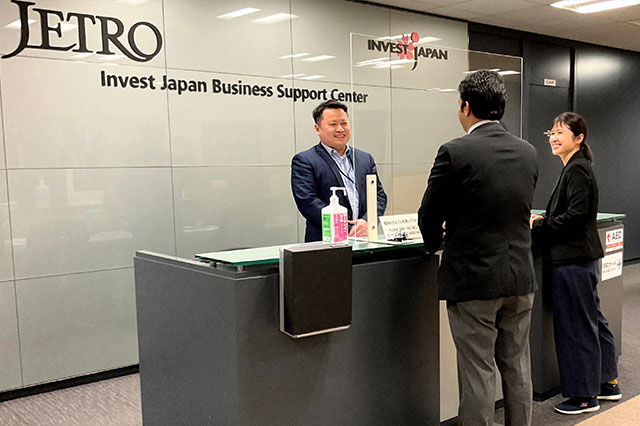 Contact Us
Investing in Japan
We will do our very best to support your business expansion into and within Japan. Please feel free to contact us via the form below for any inquiries.
Inquiry Form
JETRO Worldwide
Our network covers over 50 countries worldwide. You can contact us at one of our local offices near you for consultation.
Overseas Offices