Business Expanding

U.S. SaaS Solution Provider Apptio Establishes Japanese Subsidiary in Tokyo
Apptio

, headquartered in Washington, USA, is a SaaS company that helps organizations make smart decisions as they analyze, plan, optimize, control, and collaborate about the investments that will transform the IT operating model. The company has approximately 1,400 employees in 17 locations worldwide, including cities in the United States, Europe, Asia, and Oceania.
Establishment

2020/03
Destination

Tokyo
---
ICT

USA
The company's products give organizations the power of trusted, actionable insights to connect their technology investment decisions to drive better business outcomes. More than 60 percent of Fortune 100 enterprises trust Apptio to manage to spend across the entire IT portfolio and beyond, so they can focus on delivering innovation. Apptio automatically ingests and intelligently structures vast amounts of enterprise and technology-specific spend and operational data, and enables users across disciplines to report, analyze, plan, and govern their investments collaboratively, efficiently, and with confidence. Since its founding in 2007, the company's products have been implemented by more than 1,800 companies around the world, helping companies make innovative IT investments by improving IT efficiency and optimizing IT costs.
The "TBM Council" is a non-profit organization to advance the discipline of TBM (Technology Business Management, Note), which the company's founder conceptualized through education, standards, and collaboration. As a forum for sharing knowledge on IT department management, including IT cost management issues and evolving technology investments, the organization currently has more than 11,500 members worldwide, primarily chief information officers (CIOs) and chief financial officers (CFOs), and the company also serves as a technical advisor since its founding in 2012.
In March 2020, the company established Apptio K.K., in Tokyo, Japan, with the aim of expanding its business in Japan.
During the process of establishing its Japanese base, JETRO's Invest Japan Business Support Center (IBSC) provided temporary office space and consultations (registration).
(Note)

Technology Business Management (TBM) is a discipline that improves business outcomes by giving organizations a consistent way to translate technology investments to business value.
JETRO supports your business in Japan
JETRO IBSCs are located in Japan's major business hubs and provide one-stop support and service to foreign firms seeking to set up or expand business in Japan. The centers, which provide free temporary office space, consultation with expert advisors and access to a wealth of business information, tailor support according to the specific needs and phase of development of each firm.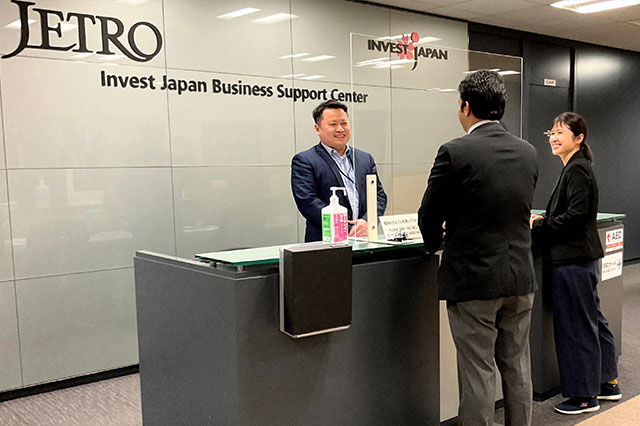 Contact Us
Investing in Japan
We will do our very best to support your business expansion into and within Japan. Please feel free to contact us via the form below for any inquiries.
Inquiry Form
JETRO Worldwide
Our network covers over 50 countries worldwide. You can contact us at one of our local offices near you for consultation.
Overseas Offices