Business Expanding

Deel, a USA startup providing a platform for hiring remote talent worldwide easier, Establishes Japanese Subsidiary
Deel, Inc.

("Deel") is a startup company founded in the United States in 2019.
The company has developed a labor management platform which provides a variety of hiring, payroll, HR, compliance, allowance, and benefits functions necessary to manage global team.
This unicorn startup works as an Employer of Record (EOR) and empowers the company to remotely hire talent from around the world and enable them to utilize human resources across borders. From last Aug, Deel starts to provide global payroll service as well. The company has more than 10,000 customers in 150 countries.
Establishment

2022/02
Destination

Tokyo
---
ICT

USA
In February 2022, the company established Deel Japan K.K. in Tokyo to handle sales and customer service for Japanese companies.
Upon the establishment of Deel's Japanese subsidiary, JETRO's Investment and Business Support Center (IBSC) introduced to service providers, provided PR support and real estate property information.
Dashboard of Deel
JETRO supports your business in Japan
JETRO IBSCs are located in Japan's major business hubs and provide one-stop support and service to foreign firms seeking to set up or expand business in Japan. The centers, which provide free temporary office space, consultation with expert advisors and access to a wealth of business information, tailor support according to the specific needs and phase of development of each firm.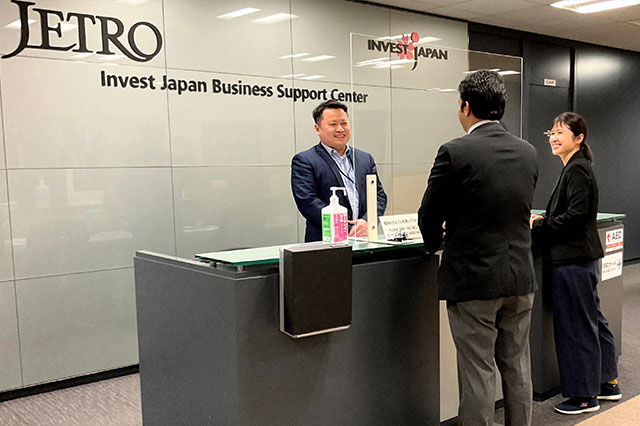 Contact Us
Investing in Japan
We will do our very best to support your business expansion into and within Japan. Please feel free to contact us via the form below for any inquiries.
Inquiry Form
JETRO Worldwide
Our network covers over 50 countries worldwide. You can contact us at one of our local offices near you for consultation.
Overseas Offices