Business Expanding

Abbeal SAS, a web & mobile application development studio, established a Japanese subsidiary in Tokyo
Abbeal SAS

("Abbeal") is a startup founded in France in 2015 that organize web & mobile application development studios.
Regardless of the size of the company, they provide a wide range of services from consulting in the planning phase to actual design phase of application development for their clients. The have assisted companies in a variety of fields in Japan and around the world such as Shippio, Le Monde, Renault, and BNP Paribas.
Establishment

2021/09
Destination

Tokyo
---
ICT

France
Abbeal has a pool of engineers with expertise in all development languages from front-end (Note 1), back-end (Note 2), and Devops (Note 3), including React.js, Node.js, Golang, Java, Kubernetes, and others. Through their pool of engineers, the company provides consulting, training, and developing services for planning to design and making it suitable for corporate DX (Digital Transformation) projects for companies, regardless of the business fields and the company scale. Also, the company's engineers are directly involved and integrated in their clients' projects and teams.
(Note 1)

Front-end: Elements that can be displayed and operated by the user in applications (information displayed on the screen, input/output, etc.)

(Note 2)

Back-end: Elements that cannot be operated by the user in an application (processing functions that realize input/output, etc.)

(Note 3)

Devops: A software development method in which development and operation staff collaborate and cooperate to develop software flexibly and quickly.
Inside the office
The company has helped develop applications for more than 50 Japanese and foreign companies in various fields such as IT, logistics, media, finance, and transportation, including Shippio, Le Monde, Renault, BNP Paribas, and SNCF. As a result of their highly acclaimed technologies' quality, Abbeal was selected as one of promising startups by well-known medias such as Les Echos, a major French financial paper (Entrepreneurs of the year) and LinkedIn Top 50 Startups.
Abbeal established "Abbeal K.K." in Tokyo in 2021 to contribute to the expansion of foreign companies into Japan and Japanese companies into overseas markets by helping Japanese companies develop applications in a more sophisticated quality and in line with global standards. Upon establishing its Japanese subsidiary, JETRO's Invest Japan Business Support Center (IBSC) provided consultations on registration and visas, introduced service providers, and assisted with public relations.
JETRO supports your business in Japan
JETRO IBSCs are located in Japan's major business hubs and provide one-stop support and service to foreign firms seeking to set up or expand business in Japan. The centers, which provide free temporary office space, consultation with expert advisors and access to a wealth of business information, tailor support according to the specific needs and phase of development of each firm.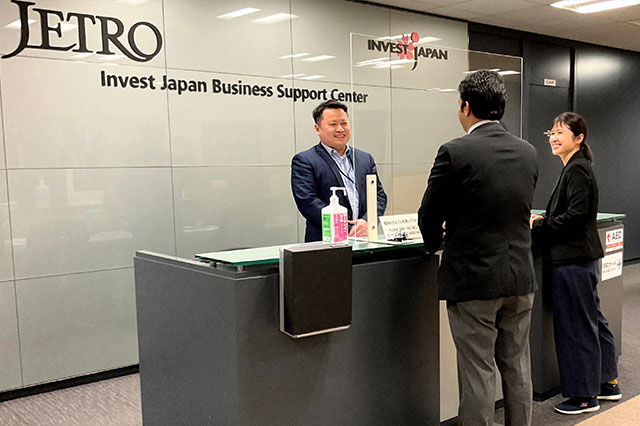 Contact Us
Investing in Japan
We will do our very best to support your business expansion into and within Japan. Please feel free to contact us via the form below for any inquiries.
Inquiry Form
JETRO Worldwide
Our network covers over 50 countries worldwide. You can contact us at one of our local offices near you for consultation.
Overseas Offices