News from Gov. and Regions

TOKYO:Tokyo Financial Award, Financial Innovation Category: Now Accepting Applications from Financial business
The Tokyo Metropolitan Government is pleased to inform you that applications for the "Tokyo Financial Award 2022: Financial Innovation Category"

are now open till Friday, July 29, 2022.
Submission period: From Tuesday, May 31 to Friday, July 29(JST)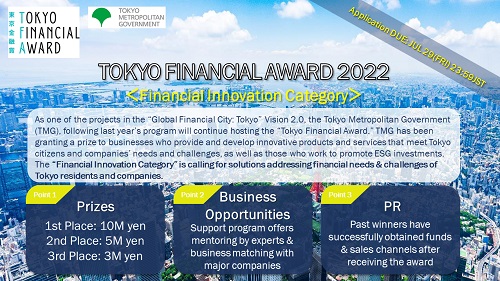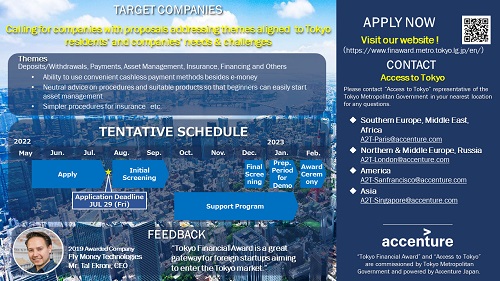 Inquiry
Tokyo Financial Award Secretariat
E-mail:finaward@accenture.com
Contact Us
Investing in Japan
We will do our very best to support your business expansion into and within Japan. Please feel free to contact us via the form below for any inquiries.
Inquiry Form
JETRO Worldwide
Our network covers over 50 countries worldwide. You can contact us at one of our local offices near you for consultation.
Overseas Offices