Business Expanding

Rollon, an Italian manufacturer and distributor of linear motion components, establishes a Japanese subsidiary in Kanagawa Prefecture
Rollon

is a manufacturer and distributor of linear guides headquartered in Italy and a group company of TIMKEN, a leading US global bearing company. Since its establishment in 1975, the company has established offices in Germany, the United States, France, China, India, Japan, and the United Kingdom, and employs about 700 people.

Expanding

2021/01
Destination

Kanagawa
---
Machinery & Semiconductor

Italy
The company primarily manufactures and sells rails for industrial applications in a wide range of fields, including industrial machinery, medical equipment, aircraft, rolling stock, and architectural interiors. It specializes in the development and production of linear guides (high-precision linear motion components for moving objects smoothly in the direction of rails), telescopic guides (linear motion components for moving heavy-load, highly rigid objects), and linear actuators (devices for converting the rotational motion of AC or DC motors into linear motion), and it also handles traveling shafts of industrial robots that utilize linear guides. To meet the application-specific needs of various industries, the company has an extensive lineup of products, and its strength lies in its ability to actively supply customized products upon request.
The company started its activities in Japan in 2017 with the opening of a branch office. In January 2021, Rollon Japan Co., Ltd. was established in Sagamihara City, Kanagawa Prefecture, to strengthen support for Japanese customers and expand the sales network.
Upon establishing its Japanese base, JETRO's Invest Japan Business Support Center (IBSC) provided information on subsidies and incentives, and on real estate properties, arranged meetings with local governments (Yokohama City, Kanagawa Prefecture), introduced service providers (translation companies, labor and social security attorneys), and provided PR support.
Linear guides and Linear actuators
JETRO supports your business in Japan
JETRO IBSCs are located in Japan's major business hubs and provide one-stop support and service to foreign firms seeking to set up or expand business in Japan. The centers, which provide free temporary office space, consultation with expert advisors and access to a wealth of business information, tailor support according to the specific needs and phase of development of each firm.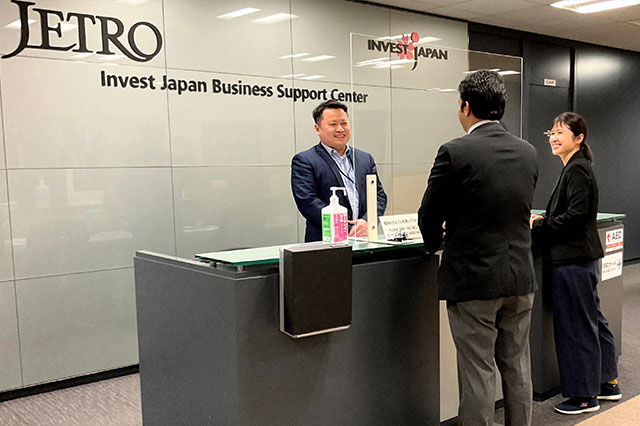 Contact Us
Investing in Japan
We will do our very best to support your business expansion into and within Japan. Please feel free to contact us via the form below for any inquiries.
Inquiry Form
JETRO Worldwide
Our network covers over 50 countries worldwide. You can contact us at one of our local offices near you for consultation.
Overseas Offices