Business Expanding

May Mobility, a U.S. provider of self-driving technology, establishes a Japanese subsidiary in Tokyo and develops its business
May Mobility

provides self-driving software development and self-driving services based on its expertise accumulated through the development of autonomous driving for over 15 years.
May Mobility aims to realize a safer, greener, and more accessible mobility society through the social implementation of autonomous driving technology centered on its proprietary MPDM (Multi-Policy Decision Making) system.
Establishment

2021/02
Destination

Tokyo
---
ICT

USA
The company was established in 2017 by members of the Autonomous Robotic Vehicle Team at the University of Michigan in the United States. To date, the company has provided more than 300,000 self-driving shuttle services (rides) in nine U.S. cities and is an industry leader in self-driving technology and self-driving shuttle services.
In February 2021, May Mobility Japan, GK was established in Shinjuku-ku, Tokyo, and has conducted demonstration tests in Hiroshima Prefecture, aiming for social implementation in cooperation with companies and local governments.
JETRO's Invest Japan Business Support Center (IBSC) provided consultation (labor) and arranged meetings with local governments for the company's business development in Japan.
JETRO supports your business in Japan
JETRO IBSCs are located in Japan's major business hubs and provide one-stop support and service to foreign firms seeking to set up or expand business in Japan. The centers, which provide free temporary office space, consultation with expert advisors and access to a wealth of business information, tailor support according to the specific needs and phase of development of each firm.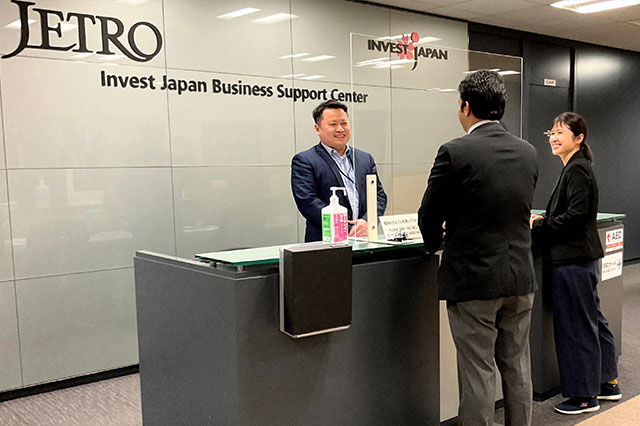 Contact Us
Investing in Japan
We will do our very best to support your business expansion into and within Japan. Please feel free to contact us via the form below for any inquiries.
Inquiry Form
JETRO Worldwide
Our network covers over 50 countries worldwide. You can contact us at one of our local offices near you for consultation.
Overseas Offices