Business Expanding

Justrite Safety Group, a U.S. manufacturer in the EHS industry, establishes a Japanese subsidiary in Tokyo
Justrite Safety Group

, based in Chicago, USA, is a manufacturer in the EHS (Environment, Health and Safety (Note)) industry with over 100 years of history, producing industrial products to store and transport hazardous materials. It is a group of companies that owns nine brands globally.

Establishment

2022/05
Destination

Tokyo
---
Other

USA
The company has manufacturing bases in North America (5 locations), Europe (4 locations), and China (1 location). Its flagship brand products include Justrite

FM approved safety cabinets; Notrax

anti-fatigue mats and disinfectant mats; Checkers

plastic ground protection mats, cable protectors, hose bridges, and wheel chocks; Hughs

emergency showers and eyewashes.
In Japan, the company's safety products have been used for more than 20 years through distributors at manufacturing plants of various industries, universities, research facilities, nuclear power generation-related facilities, commercial airlines, sports stadiums, concert halls, etc.
The company established Justrite Japan Inc. in Tokyo in May 2022 to support distributors and expand sales channels.
Upon establishing its Japanese base, JETRO's Invest Japan Business Support Center (IBSC) provided support such as introduction of service providers (banks and PR companies).
(Note)

E - Environment: Products that contribute to the environmental protection of facilities, soil, etc.
H - Health: Products that contribute to the health and hygiene of workers in facilities, stores, factories, etc.
S - Safety: Products that contribute to the safety of workers as well as the environment.
Justrite's products are widely used by NASA, automobile manufacturing plants, public facilities, etc.
JETRO supports your business in Japan
JETRO IBSCs are located in Japan's major business hubs and provide one-stop support and service to foreign firms seeking to set up or expand business in Japan. The centers, which provide free temporary office space, consultation with expert advisors and access to a wealth of business information, tailor support according to the specific needs and phase of development of each firm.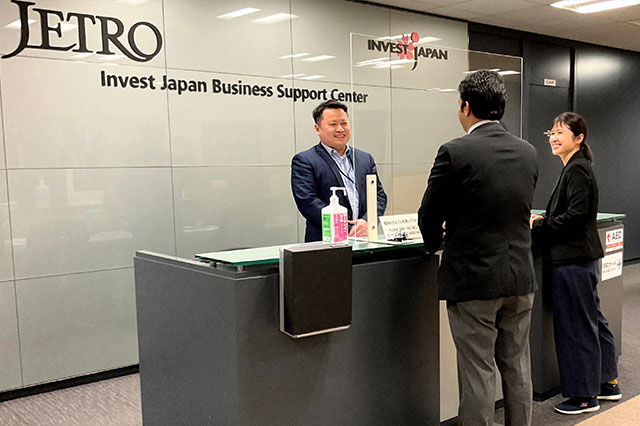 Contact Us
Investing in Japan
We will do our very best to support your business expansion into and within Japan. Please feel free to contact us via the form below for any inquiries.
Inquiry Form
JETRO Worldwide
Our network covers over 50 countries worldwide. You can contact us at one of our local offices near you for consultation.
Overseas Offices