Business Expanding

Quantinuum, a quantum computing company, is born through the merger of Cambridge Quantum and Honeywell Quantum Solutions, and its Japanese subsidiary is steadily expanding business
In November 2021, Quantinuum,

a quantum computing company, was established as a combined company of Cambridge Quantum

and Honeywell Quantum Solutions. The company currently has bases in four countries around the world (U.S., U.K., Japan, and Germany) and employs over 450 people, of which more than 350 are scientists and Engineers.
Establishment

2019/01
Destination

Tokyo
---
ICT

United Kingdom
Quantinuum is engaged in an integrated business from the hardware development of quantum computers, software development and provision of services. As for hardware, the company is developing and operating "H1, Powered by Honeywell," a high performance, trapped ion quantum computer (Note).
As for software, the company offers TKET, a software development kit, for gate-based quantum computers and InQuanto, a quantum computational chemistry software platform. It is also conducting research and development on quantum machine learning and quantum natural language processing.
In addition, it provides Quantum Origin, a cryptographic key generation platform, as a cyber security product.
In January 2019, Cambridge Quantum established Cambridge Quantum Computing Japan in Tokyo with the aim of accelerating business development in Japan. Later, when Quantinuum was established through the merger with Honeywell Quantum Solutions, the Japanese subsidiary changed its name to Quantinuum K.K. in Japan as well, it is developing its business as an integrated quantum computing company that provides all of hardware, software, and operational services.
Ion Trapp of "H1, Powered by Honeywell"
Upon establishing its Japanese base, JETRO's Invest Japan Business Support Center (IBSC) introduced service providers, arranged interviews with them, and provided consultation (registration, visas, and labor).
(Note)

A method of a gate-based quantum computer that utilizes ions as qubits. Various other methods have also been devised, including a superconducting type utilizing an electric circuit made of superconducting materials and an optical method utilizing photons as qubits.
JETRO supports your business in Japan
JETRO IBSCs are located in Japan's major business hubs and provide one-stop support and service to foreign firms seeking to set up or expand business in Japan. The centers, which provide free temporary office space, consultation with expert advisors and access to a wealth of business information, tailor support according to the specific needs and phase of development of each firm.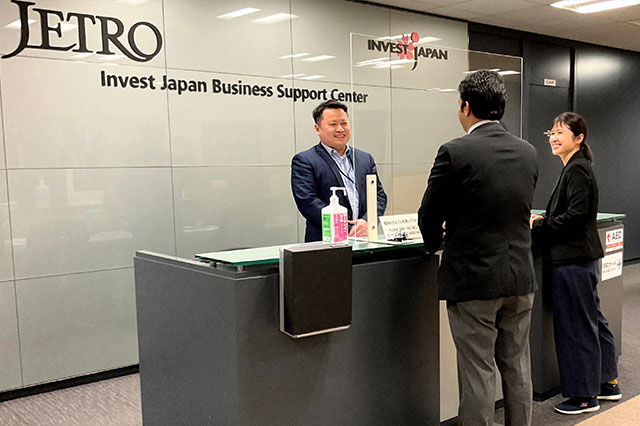 Contact Us
Investing in Japan
We will do our very best to support your business expansion into and within Japan. Please feel free to contact us via the form below for any inquiries.
Inquiry Form
JETRO Worldwide
Our network covers over 50 countries worldwide. You can contact us at one of our local offices near you for consultation.
Overseas Offices