Business Expanding

French Agri-Food Innovation Cluster VITAGORA Opens Representative Office in Kumamoto Prefecture
VITAGORA

was established in Dijon (central-eastern France) as a French government-recognized innovation cluster for the agri-food industry. With an ecosystem of over 570 member companies and organizations, VITAGORA manages a wide range of projects, including agro-processing and digitalization, food products and services for the elderly, and alternative protein development, in order to develop the agri-food industry and promote innovation among its members. In addition, in 2017, they launched "ToasterLAB", an acceleration program for agriculture and food startups, offering 12 months of expert development support and targeted business connections with the members of the cluster's ecosystem. To date, more than 50 innovative startups have taken advantage of the program.
Establishment

2020/10
Destination

Kumamoto , Kumamoto city
---
Service

Other

France
VITAGORA has a long track record of partnerships with Kyushu Bio Cluster Conference (KBCC) in Kumamoto. For example, their relation begins in 2010 when KBCC visited VITAGORA in France, and then again in 2013 as part of JETRO's Regional Industry Tie-Up Program, "Kyushu Region with a focus on Kumamoto Prefecture - Burgundy Region, France: Preliminary Study on Functional Food (Agriculture and Livestock Products) Development". As the cluster's first overseas base, VITAGORA's Japan Office was opened in the Industrial Support Division of the Kumamoto Prefectural Government in October 2020. The Japan Office aims to promote the exchange of technologies and companies related to agri-food industries not only in France and Kyushu but also in other parts of Japan, and to create new innovations through this exchange.
The Japan Office is actively involved in supporting the overseas development of Japanese companies as well, such as participating as a cooperating organization in the "Project to Strengthen Kyushu's Processed Food Exports Reflecting French Food Tastes and Preferences," a project subsidized by the Ministry of Agriculture, Forestry and Fisheries (MAFF) and implemented by Kumamoto Industrial Support Foundation in FY2021.
On the occasion of the establishment of VITAGORA's representative office, JETRO's Invest Japan Business Support Center (IBSC) provided market information.
JETRO supports your business in Japan
JETRO IBSCs are located in Japan's major business hubs and provide one-stop support and service to foreign firms seeking to set up or expand business in Japan. The centers, which provide free temporary office space, consultation with expert advisors and access to a wealth of business information, tailor support according to the specific needs and phase of development of each firm.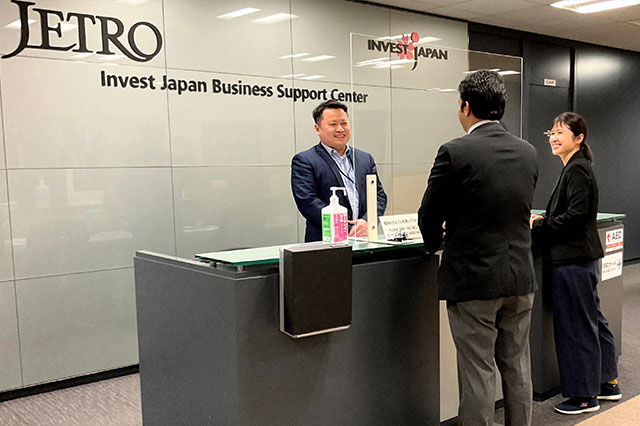 Contact Us
Investing in Japan
We will do our very best to support your business expansion into and within Japan. Please feel free to contact us via the form below for any inquiries.
Inquiry Form
JETRO Worldwide
Our network covers over 50 countries worldwide. You can contact us at one of our local offices near you for consultation.
Overseas Offices